Table of Contents:
In terms of performance, this little storage unit had amazing transfer speeds. The USB 2.0 read and write speeds were not that fast however the ESATA port was lightning fast. I would definitely say the ESATA ports are the way to go if you are going to depend on this storage unit. It allows you to transfer your files faster and save storage space on your main computer. When I ran two hard drives on the BlacX Duet, I had to admit that it runs very quietly. I mean it looks like the hard drives are running really fast and they should sound loud. However, it just ran quietly and really cool since it was stuck in a case with little air flow. I would be concerned with this kind of device in a more humid and hot environment since the hard drives do not have any cooling sources unless you plan to have a big fan next to it. That would be up to you entirely however I think that would be way too much for me.
What was kind of lame is that there was no particular GUI for this storage unit device. You would utilize the drives just as if you had your computer with an extra internal hard drive plugged into your motherboard. And you just setup the storage space in the disk management of your computer. I would have really liked to see a GUI incorporated with this device not only for aesthetics but for also an intriguing factor. Although it seems like I am basing it a lot on graphics more than performance, this kind of factors play more of a role than most people think. Otherwise people have more current motherboards that can easily connect up to 3 or 4 extra hard drives.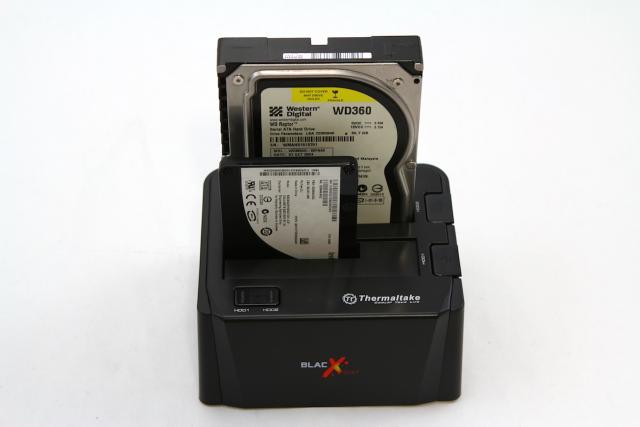 The Thermaltake BlacX Duet is a dual hard drive docking station with lightning fast transfer rates. And it is a bunch cheaper than any NAS or SAN storage unit you could find.
Pages