Compression fittings have been gaining great momentum in the enthusiast community because they are somewhat simpler to use than the traditional barb-and-clamp fittings, and they look more streamlined once installed.  Outside of the PC industry, this type of fittings is used in high pressure applications, and known for its reliability.  But in an effort to simplify their utilization even further for DIY users, vendors in our industry have adapted these products for tool-free usage, and we found during extensive testing of these fittings that such designs could easily lead to unsafe installations.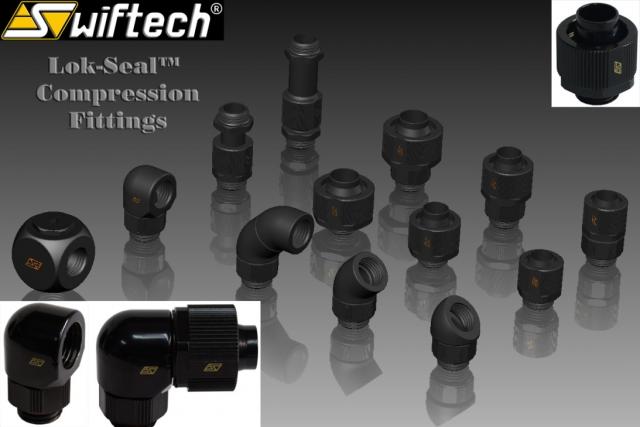 In 2012, Swiftech will be introducing the Lok-Seal™ line of compression fittings:  specifically designed to eliminate the safety issues found in current market offerings.
Easier and safer installation:  the base of the fitting features a combination of hand grip and hex-nut so that it can be started by hand, and then safely locked in place with a standard tool (adjustable wrench, flat wrench or socket), instead of just "finger-tight".  Without this feature, competing fittings risk either being unsafely tightened (finger-tight), or almost always damaged by the use of pliers, even when the plier jaws are protected by cloth or tape. 
Easier on the fingers: to ensure that fingers have a positive grip on the fitting, most competing products feature a diamond pattern on the compression nut, and many users complain of sore fingers after a while. User fatigue may lead to neglecting safety essentials, and result in catastrophic leaks. Lok-Seal fittings feature a simpler groove pattern which is gentler on the fingers but still offers a very good grip; more importantly, the compression nut features flats so that one can also use a tool to finish off tightening the nut, if desired or needed.
Lower flow restriction than any of our competitors: the Lok-Seal™ fitting's base features the largest internal diameter of any G1/4 compression fitting.
A complete range of fittings will be introduced, including rotary (swivel), 45°, 90°, SLI extensions, for ¾" OD x ½" ID, 5/8" OD x 3/8" ID, ½" OD x 3/8" ID, in durable black electrophoresis coating, or true chrome plating.
Built by Swiftech® to showcase several of its upcoming products for the first quarter of 2012, this high-end gaming system featured some of the best and latest enthusiast hardware the industry has to offer; it was demonstrated at the Xtremesystems.org Poker Tournament Event.
Pages