Table of Contents: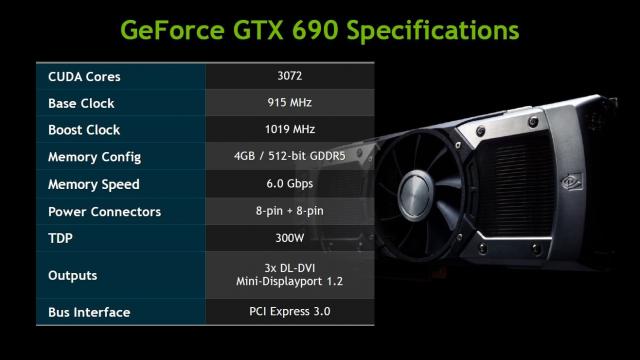 Here we have it! The GeForce GTX 690, The pinnacle or flagship and crown jewel of the Kepler crown!  This board is the Fastest and most efficient GPU ever built and being a card that is basically two GTX680's on a single card we really cannot doubt that claim.  We have tested the GTX 680 already and the performance, acoustics, thermals and power draw are all large step forward for NVIDIA.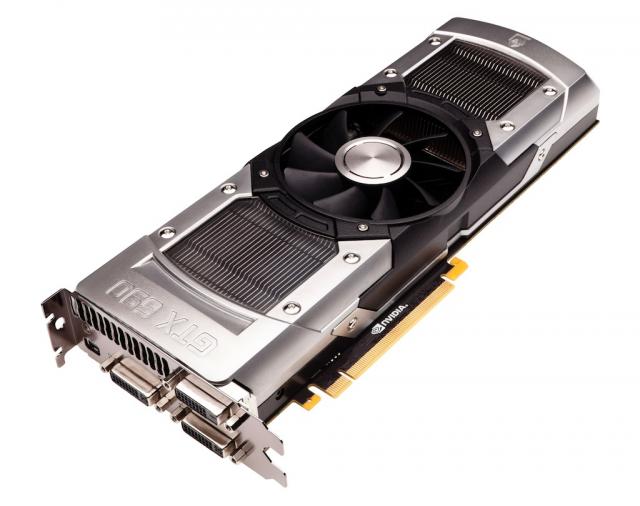 Here we see the specs direct from NVIDIA and we would be lying to say its not impressive as normally when we see a dual GPU card its not the flagship single GPU doubled up and is usually cut down or lower end model GPU to allow for a lower thermal output which can fit the thermal solution fitted to the card, not to mention the power the PCB can realistically deliver. With how efficient the GTX 680 is and the great thermal performance we have seen this is likely why NVIDIA was able to stuff two of these GPUs into this package.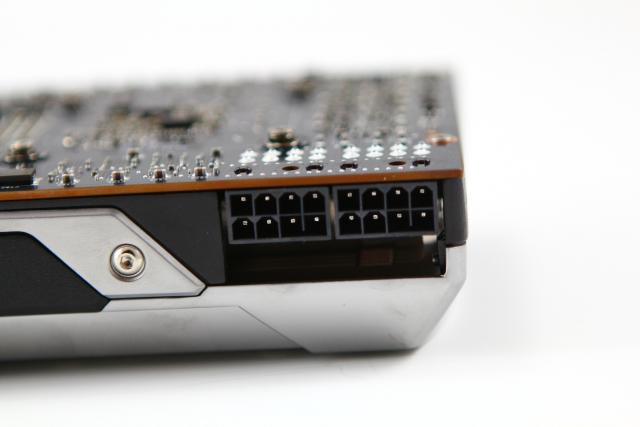 The GTX 690 offers a full 3072 CUDA cores when combining the two GPUs add to that each GPU carrying 2GB of framebuffer for a total of 4GB.  Keep in mind that since this card is 2 cards basically in SLI mode which means that the framebuffer has the same information on both sets so the units will utilize 2GB total framebuffer and therefore depending on loading of the card in some heavy texture loads we could see this 2GB get used up in the right situation (such as Skyrim with some hi res texture packs and mods). The base clock on the GPUs have been turned down a bit from the default GTX 680 1006 to a more conservative 915 MHz so just under a 100 MHz drop and the boost clock drops from 1058 to 1019 which means NVIDIA definitely got more aggressive with the boost clock to ensure that when available this card should be right at a SLI pair of GTX 680's performance levels.  Memory on the GTX 690 is still at 6Gbps which means it should be right on par with 680 as well.  One thing we notice is that the GTX690 is rated at 300W whereas dual 680's are rated at 195W a piece which total out to 90W less than using a GTX680 pair but we find rather nice for such a powerful offering.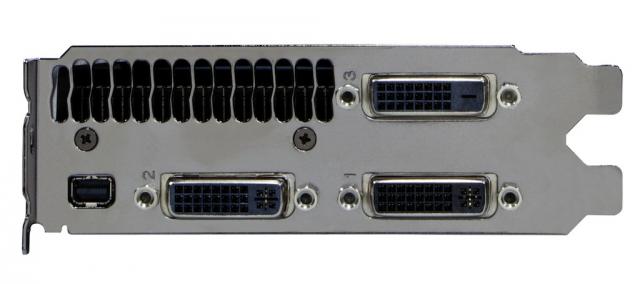 The outputs on the GTX 690 are three dual link DVI ports and a mini Displayport 1.2. This is enough to give full NVIDIA Surround or even 3D Surround with some excellent SLI performance to back it up. Another cool feature is the design of the cooler as the front you can see the horizontal grid which is actually the aluminum cooling fin arrays which is visible due to the fact that NVIDIA wanted to add some bling to the card and therefore installed clear polycarbonate windows.  This was an awesome edition and just adds to the bad ass look that the GTX 690 employs.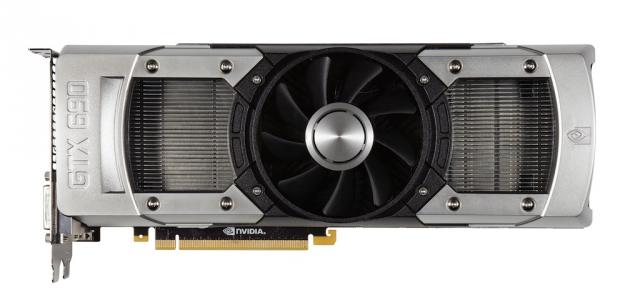 Here we have the heatsink cover, or part of it and this is not a normal plastic shroud as NVIDIA wanted to make sure this flagship card has a worthy shield.  This I believe they did damn well as the end portions are cast aluminum which is a awesome addition and adds a exclusive feel to the card that is hard to explain in words.  The cast aluminum housing we were told also has Trivalent Chromium Plating which we honestly have no idea what that even is but it looks really cool and once again I will say the feel is hard to describe in text and can only be described as just a beefiness.  This is not the first time we have seen metal casings on NVIDIA reference cards as the original dual PCB GTX 295's casing was metal and im sure countless others but this has to be one of the best in terms of fit, finish and quality we have seen in a long while.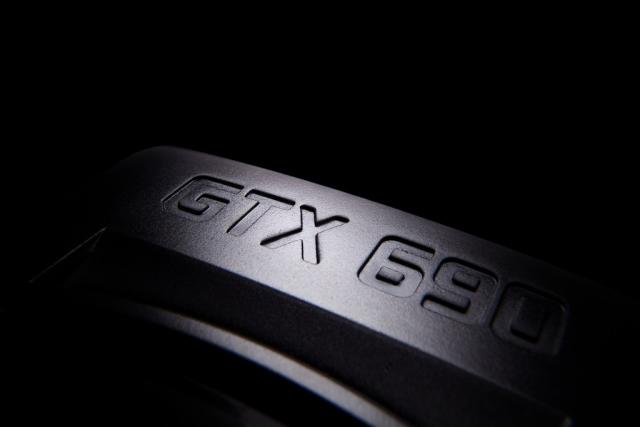 As if cast aluminum with some coating from outer space wasn't enough NVIDIA went a step further and the fan housing where the GeForce GTX logo (which is back-lit)  is prominently displayed we find that it is made of injection molded Magnesium.  For those who don't know Magnesium is a very light metal that is usually used in custom or higher end wheels to lower unsprung weight on high performance cars (hence the term "mag wheels") or other parts that needed to be strong and light, magnesium was the alloy of choice. Other applications of magnesium can be seen for instance in the Engine of a Bugatti Veyron or a F22 raptor fighter jet (150 million dollar fighter jet anyone?) And to see this on a graphics card just blows me away as the use of magnesium for such a unique design just shows that NVIDIA really wants the GTX 690 to be something special.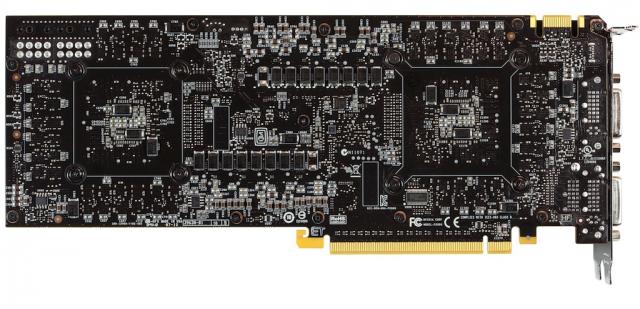 Here we see the rear of the PCB and it is honestly devoid of anything intriguing and more just a simplistic design devoid of backplates or any other oddities or additions. The omission of stock backplates is likely due to the fact that there is no VRAM on the rear of the card that needs a heatspreader whereas the GTX 590 needed such a solution. Also omitted or at least from the rear is the small additional Voltage controller section that almost looked like a mini PCB mounted on the rear of the GTX 680 cards.  This could be an excellent thing pending we don't find it when we remove the heatsink as this could mean much easier volt modding possibilities for the extreme overclockers out there.  And with that we have looked enough at the outside and the specs, now lets see what this thing has to offer internally and what makes it awesome!
If I could just summarize this entire GTX 690 launch with one word that word would be simply WOW! Everything about the new NVIDIA GTX 690 just speaks volumes of how much research and development went into this card design, as it will change things on the playing field as we know it.
Pages