Now that we've had a look at the features of the Z68 chipset, let's see how MSI has improved upon these features and what else they've offered to sweeten the pot. One of the first things that you'll notice when you take it out of the box is the how nicely laid out the board is and the black and blue color scheme that should look good in almost any build.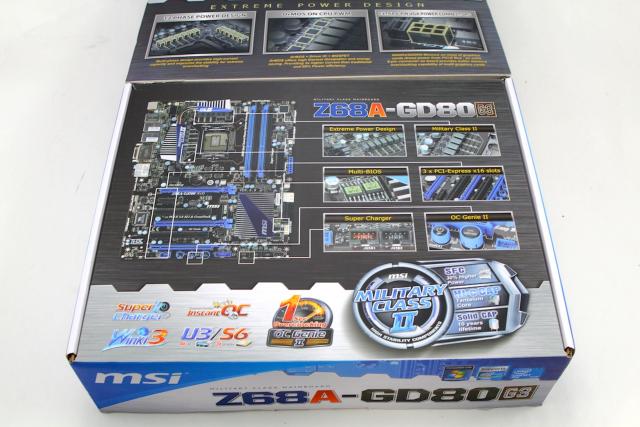 This board features MSI's Military Class II technology and it comes with a certificate that certifies the military class components on the board. With this technology and certification you're guaranteed that this board is built with only the highest quality of components and that it's built to last. This is great for those that are really planning to use this board to push their hardware because this means that it should stand up to the punishment of overclocking.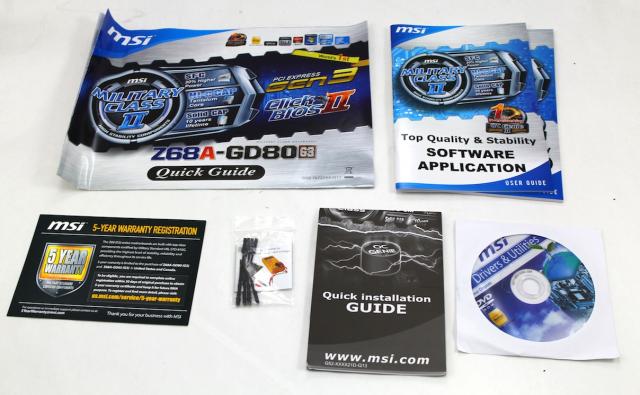 MSI's OC Genie is an overclocking solution that allows for the user to get a quick boost in performance with the touch of a button. It uses an embedded solution to adjust CPU clock speeds and voltages based on the installed hardware. This will essentially simplify your overclocking process and give you a good base to start from if you plan to push your system manually. Each experience with this technology is going to be different, but as I stated it will give you a good base to work from if you plan to push your system even further.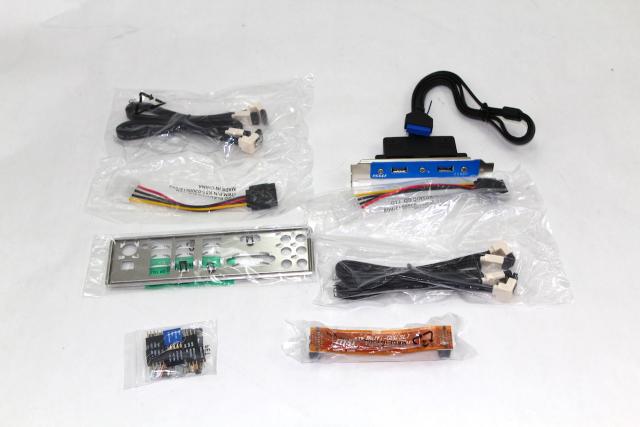 Another feature of this board is the inclusion of onboard Power, Reset and OC Genie switches. These are great for the overclocker and enthusiast. These will allow for testing and tweaking without having to fully install it in a case. For those of us that use a test bench this is really nice because it means that you don't to worry about hooking the board up to any Power or Reset switches in order to run it.  This shows MSI's dedication to providing features that their customers are going to be most interested in actually using.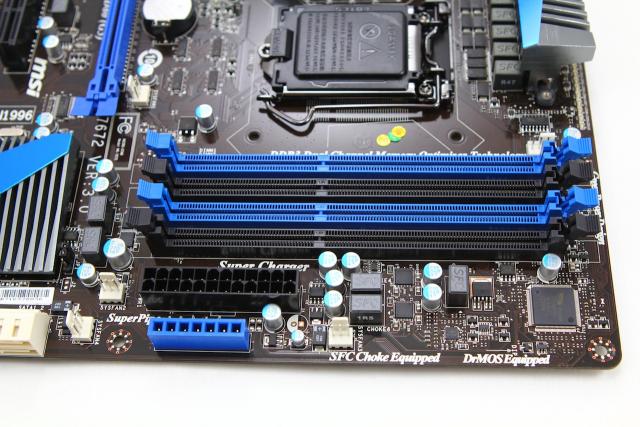 On the rear I/O there you'll find that it's got just about everything that you could possibly need. There's a mouse and keyboard combo port with an S/PDIF out above it. There's a conveniently located Clear CMOS button that's located next to an eSATA port, two USB 2.0 ports and a FireWire port. Next to theses are two gigabit LAN ports along with two USB 2.0 ports and two USB 3.0 ports. Next to these is where you'll find the DVI and HDMI ports for using the embedded processor graphics and lastly the analog audio ports for 7.1 THX TruStudio Pro audio support. This should provide ample connectivity for all of your peripherals and devices.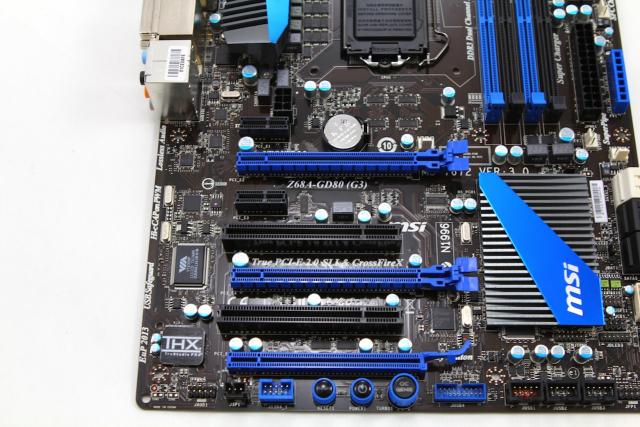 As I just mentioned this board features THX TruStudio Pro audio. This is one of the best sounding integrated audio solutions that we've heard. It provides exceptionally crisp and clear audio that makes movies, games and music sound awesome. I've really been impressed lately how good the integrated audio solutions are being implemented. This board is no exception and is one of the best we've had so far. It does take a little bit of tweaking to adjust it to your particular liking, but with high-quality speakers and the right acoustics this is an amazing audio solution. By providing such an outstanding integrated solution many will find that it won't be necessary at all to add a dedicated audio card. This will help to reduce the cost of upgrading and provide a great value to the consumer.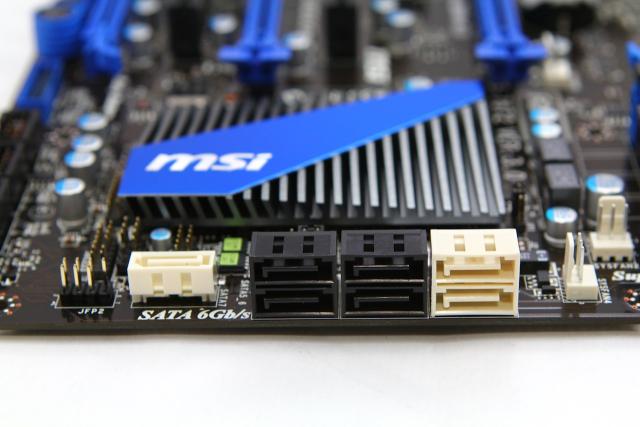 This board also features support for multi-graphics technology with either AMD's Crossfire X or nVidia's SLI technology. This board also includes support for Lucid Hydra Technology as well. This is awesome because it will allow for multi-graphics support with mixed cards. This technology has had mixed performance due to driver and hardware limitations. What this technology does is it bypasses the vendor's limiting parameters and intelligently splits the frame rendering between the different GPUs. This has the potential to be a very cost and time saving feature because it will reduce the need to go with one vendor over another depending on the discrete graphics card that you already own. There is also a great upgrade path with the inclusion of PCI e 3.0 technology which will be used by later graphics cards.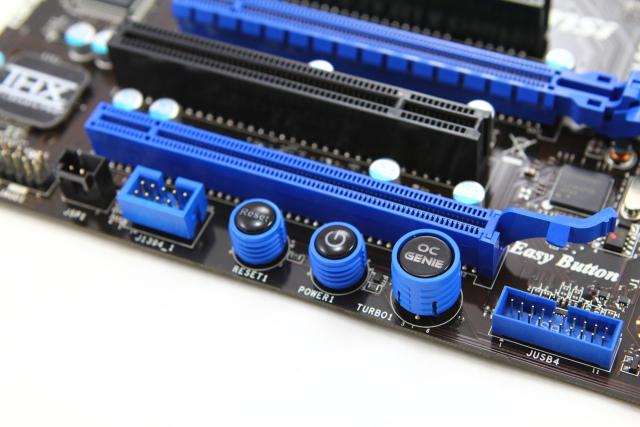 An amazing feature that MSI has included on this board is the integration of voltage checkpoints to allow the use of a multi-meter to monitor the voltages of the various ports and CPU socket. For an overclocker and extreme-enthusiast this is an extremely useful feature. This will enable the user to carefully monitor all of their voltages in real-time with the use of a multi-meter. For LN2 runs and extreme water cooling this will greatly reduce the possibility of frying or damaging the motherboard or a component. It will require that the user carefully monitor their voltages as they increase their clock speeds and component voltages. This is a feature that isn't seen very often and it's just another sign that MSI built this motherboard to be pushed to its limits.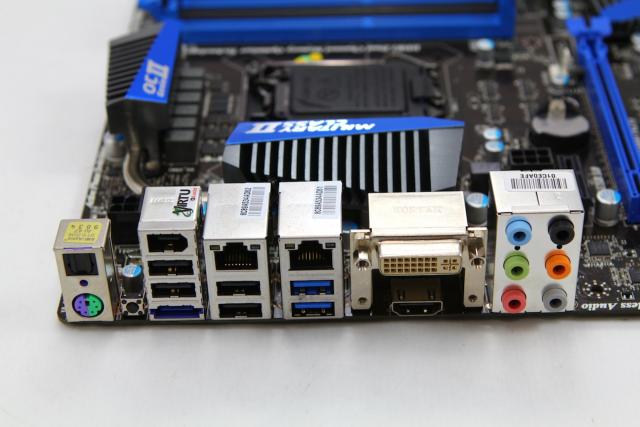 We were all very surprised and impressed with the performance of this motherboard. It posted amazing scores and it retails for a great price. MSI have really outdone themselves with this one. They hit a home run and demonstrated that they want to be the premier motherboard vendor.
Pages