Table of Contents: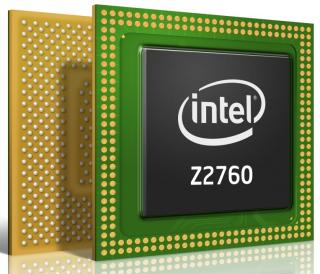 Internally, the unit we received came stock with 64GB of flash storage, with around 50GB user accessible. It's powered by a dual-core Intel Z2760 Clover Trail Atom SoC (system on chip), running at 1.5GHz, but will throttle up to 1.8" in burst mode and down to 600MHz when idle. One of the major distinctions with Atom over the Core series from Intel is that it doesn't require active cooling, and no fans means quieter operation.
How you feel about the Atom name will depend on whether or not you bought a netbook during that short period when the ultra-small laptop was as awesome as Furby and Tickle-Me-Elmo combined. Awesome, that is, until you started using those ultra-low performance, terribly slow machines to do anything. I've argued with Intel that the Atom brand is tarnished, and would be better off renaming their low power SoC line with Core "m" branding (for mobile), but they feel the name has merit.
I'll give Intel credit for one thing, the Atom Z2760 isn't remotely close to the chip that lived in netbooks. The modern Atom is a fully integrated system on chip that offers ARM-like features, performance, and battery life. However, it's still x86 compatible, meaning it will run all those legacy desktop programs you've grown to rely on. Nonetheless, it's difficult to express how the ThinkPad Tablet 2 performs without sounding negative.
Overall, I was incredibly surprised how functional the ThinkPad Tablet 2 is as a PC... when it's running one thing. This is not, I repeat, NOT a workstation you'll be doing heavy multitasking on, but that's not what it's intended to be either. The Windows 8 Modern UI and Windows Store Apps ran butter smooth with nearly every app I tried. Games you'd play on the go worked great, web-browsing was fast and fluid, even office tasks in Microsoft's Office Web Apps or Office 365 felt great.
Desktop performance is also good, so long as you look at it in context of a tablet. In my experience, the Tablet 2 can run one or two single programs (with few exceptions, like Premiere Pro) really well. Office programs, a web browser, video player, even Adobe's Photoshop ran fairly well if it was the only thing up. Task it with more than one heavy application and it will get bogged down quickly, it's mostly due to Atom's weaker in-order x86 processing chops and 2GB memory limitation.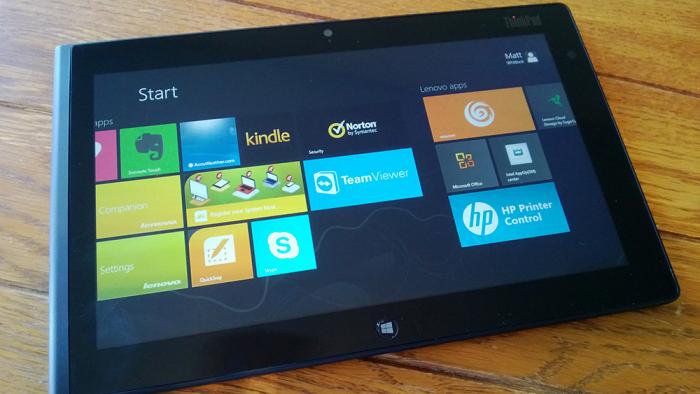 Graphics is a weak spot, too, compared to how far Intel and AMD have evolved integrated graphics in their traditional processor lines. Atom rides with Intel's HD SGX545 graphics chip, which more akin to the GMA 950 than HD 4000. It handles 1080p video well at 30fps, and can run older DX9 games at pretty modest settings. That's a feat in itself for a tablet, but don't expect to rock out with something like BioShock Infinite on your tablet.
See, I told you it would sound negative. I'm really not trying to be; it's still incredibly versatile for a tablet. Put it with Lenovo's keyboard dock, and it could serve well as a notebook replacement for basic productivity workers and media consumption.
Battery Life
If anyone tells you x86 always has less runtime than an ARM counterpart hasn't used the ThinkPad Tablet 2. Using PowerMark's battery run-down test suite, we managed to get over 10 hours of run time in the productivity test, which performs a mix of web, photo manipulation, and office tasks until the battery dies.  In the entertainment test, which performs some DX9 gaming, photo viewing, and video playback, it managed an incredible 9.5 hours. On standby it was only around 90% after 3 days, so power usage when in connected standby is nominal. The ThinkPad Tablet 2 is truly an all day device... maybe even two or 3 with lighter use.
Pages