Table of Contents:
Those familiar with Lenovo's way of designing ThinkPads could probably imagine what a ThinkPad slate would look like… and they'd probably be exactly right. Black all the way around, no hard edges, and the classic rubbery-feel also found on devices like the ThinkPad Twist and Carbon X1. It doesn't turn heads or meet the same engineering levels of Microsoft's Surface or HP's ElitePad (nor does it weigh as much, either), but it's a no-frills, attractive look that works well for business or pleasure. For what it is, it's also incredibily thin and light, 10 millimeters thick and 565 grams in weight.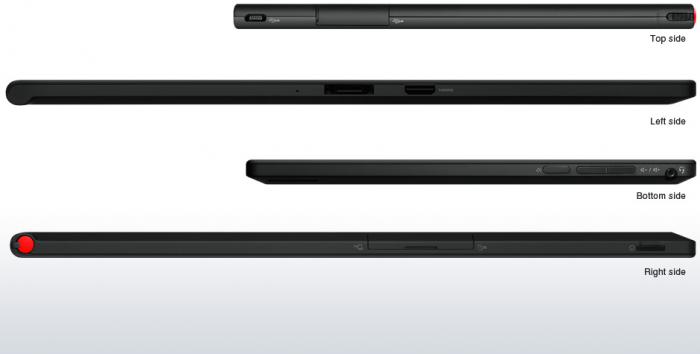 At the top is the power switch, but it doesn't feel like the power switch on a PC. Because the ThinkPad Tablet 2 runs on a SoC over a traditional Core processor, it functions much like it would on a cellphone or Android tablet, meaning it goes to sleep and resumes instantly. It also features connected standby abilities, so it can update mail and your live tiles in a low power state.
Unlike the iPad , which requires a special dongle for any kind of connection, Lenovo includes a wide variety of ports for a tablet device. On the left is a USB port, hidden by a little cover. On the bottom there is a dock connector as well as HDMI out for a secondary display. A top cover conceals a SIM slot for cellular broadband connectivity and a MicroSD slot to expand storage beyond the onboard 64GB.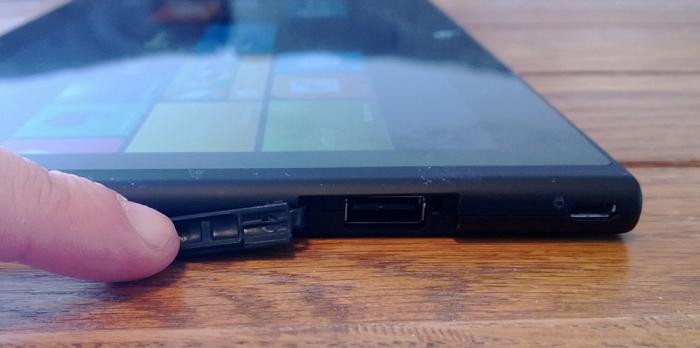 The integrated USB port, as we learned with the Surface Pro, is what separates x86 Windows 8 tablets from the iPad and many Android devices. Virtually all PC accessories both past and present will work with the ThinkPad Tablet 2. Printers, flash drives, mice, joysticks, business card readers, scanners, and webcams make up a small percentage of the things you can simply plug in to the side. Having the port integrated, without any need for a dongle or adapter, is extremely handy.
Look just to the right of the USB adapter, and you'll notice another awesome feature of the Tablet 2, Micro USB charging. Rather than force people to carry around a proprietary cable that plugs into the docking port (like on HP ElitePad, for example), Lenovo opted for a standard micro USB cable. There are no shortage of USB ports in the world. Go ahead. Plug in. 
The Display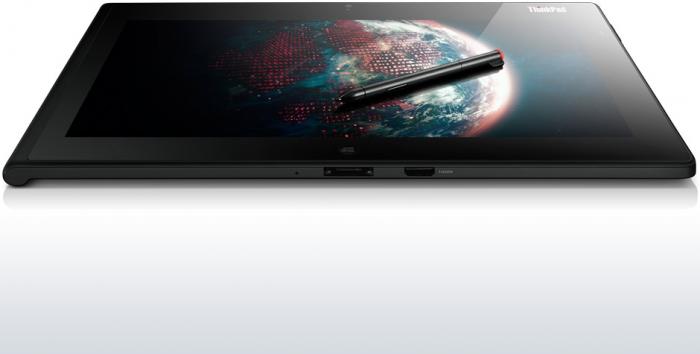 The ThinkPad Tablet 2's 10.1" 5 point multi-touch IPS display is notable for excellent color and brightness. Resolution is the standard 1366x768 found on many Windows 8 PCs, so features like snapping apps in the Modern UI are available. Still, I'm growing tired of low resolution screens. The more I use these high DPI devices from Samsung, Apple, Nokia, and others, the more I notice these larger pixel panels. I'm hoping Windows 8.1 does something to finally address desktop scaling at high resolutions. Unless you're connected to a larger display, the desktop just isn't all that useable at 1080p on a 10.1" display. The Modern UI in Windows scales perfectly across all resolutions, so until the desktop is improved (or eliminated, depending on your thoughts are for the future of Windows) these low-res screens are a functional tradeoff.
The ThinkPad Tablet 2 is available with a digitizer and pen, which offers a precision tip, pressure sensitivity, and automatically turns off the touch input on panel when the palm rests on the display. The model I received wasn't equipped with the stylus, so I'm unable to comment on how well it worked.
Pages