Our testing methodology is very straightforward and based off a system that is high-end, but still almost affordable to the enthusiast who wants good stuff and cannot afford the absolute best in class components.  The X79 platform is still the leader in performance and the highest end Intel platform geared toward the gamer so we based our system off that platform. We run all of our tests at the maximum playing level and not on standard settings like many sites do and we also test in high resolutions such as 2560X1600 on a 30"" Dell Monitor to really stress the cards abilities. The NVIDIA GeForce GTX 660Ti is geared to be used on monitors with either a 1920X1200 or 1920X1080 resolution and in the reviewer's guide it clearly states that the cards are targeted at those users.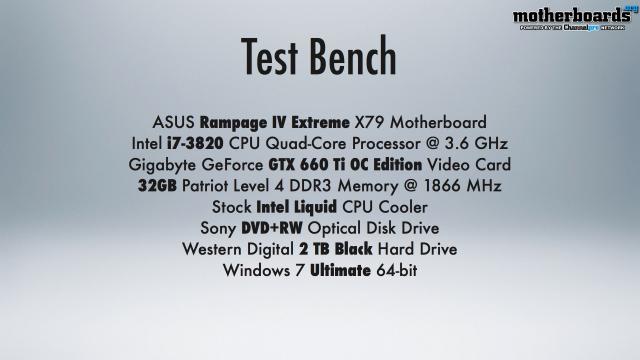 Our motherboard is the ASUS X79 Rampage IV Extreme, and our CPU is the Intel i7 3820 Running at 3.6GHz. For our system memory we are using 32GB of Patriots Division4 DDR3 with an XMP profile of 1866MHz. We use two different SSD products, the main BOOT drive is an Intel 520 series 240GB SATA3 and our media drive is the OCZ OCTANE 512MB SATA3 so both boot and access times are very fast on this system. I still use my trusty Plextor DVDRW and actually use the ASUS Xonar as my sound card in lieu of the onboard sound of the Rampage IV Extreme. The Intel CPU came with a liquid cooling unit with a really cool blue fan so that is my CPU cooler. Now lets talk testing: Tests never run the same exact way twice so we run all our tests 3 times and then balance out the numbers for a more real world rounded scoring system. The Gigabyte GeForce GTX 660Ti ran at 68 Degree Celsius under a full load running Furmark's benchmark stress test. For overclocking and monitoring your card Gigabyte user their own OC GURU 2 software. This software allows you to on the fly adjust many aspects of your VGA card such as temperature, voltages, fan speeds and core clock and memory speeds. For succesful overclocking it is recommended to set the cards voltage at a maximum of 123%, but remeber this will increase the overall heat being generated by the overclock. Be sure to adjust the fans to their highest levels to insure your card does not overheat and do damage to the VRM's making it unstable or unusable after a short period of time. Overclocking is an art form take it slow and easy until you figure out the maximum your card can handle and stii remain fully functional.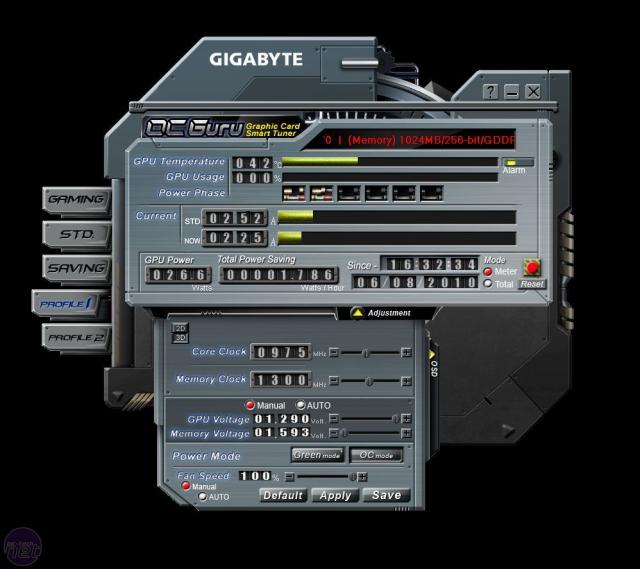 The Gigabyte GeForce GTX 660 Ti is a very solid card that offers lower noise and better cooling than your garden variety reference product.
Pages