Table of Contents:
EasyTune 6
EasyTune 6 is Gigabyte's software that allows you to overclock your computer straight from the desktop. No need to go through the bios if you want to change it on the fly and test benchmarks or increase your performance for other uses. However, I know most of us computer geeks will probably just overclock the old school way. I am worried about EasyTune 6 as well as there are many forums/people that say it doesn't install or that its really buggy. It worked for us and we were able to overclock and get better performance. If it doesn't work for you don't stress out, just read some tutorials on how to overclock the usual way.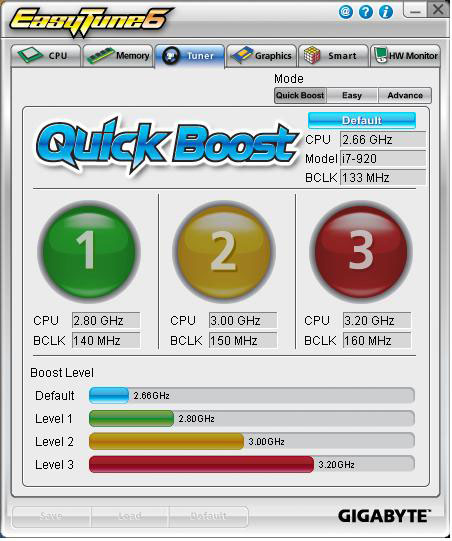 Q-Share
Q-Share is another neat software that Gigabyte has included with this motherboard that allows you conveniently share data between computers under the same network. It's very simple to install and easy to use. Once installed and launched, you are able to right click a folder and enable data sharing or disable data sharing between specific folders.
Smart 6
Smart 6 is designed with even more user friendliness since people overclocking your computer using the BIOS it seems is becoming a lost art. More and more companies are creating their own software like this one that allow even a rookie computer enthusiast to overclock his computer with easy. The SMART QuickBoost allows you to do one touch overclocking by clicking Faster, Turbo, or Twin Turbo. No messing with voltages or multipliers. This software does it for you. There are other options as well such as SMART QuickBoot, SMART Recovery2, SMART TimeLock, SMART Recorder, and SMART DualBios.

Even though this is Gigabyte's lower end motherboard for the X79 chipset, they still have included many great features on this board. It has a black a grey color scheme that I really dig and will go with most cases.
Pages