The dimensions of this mouse pad are 425mm x 287mm x 6mm (16.7" x 11.3" x 0.23"), so there is plenty of room to swing and swipe around.  There is a rubber border on three sides of the pad, which prevent the pad from sliding around the table during use and won't rub the skin off your wrist. 
There are two distinct sides to this mouse pad and they have different intended purposes.  The precision/control side is a textured cloth over rubber that many of us have been using for years.  The cloth is smooth and requires minimum force to move the mouse.  I found this side to be the most confortable for extended periods and daily typing tasks since the rubber acted as a cushion whenever I was resting my hand.  The precision/control side is very smooth and offers a comfortable experience.
The Speed side of the pad has a much smoother surface that helps the mouse slide and glide effortlessly across the pad.  This side also has a large blue Krypton logo centered on the pad's surface.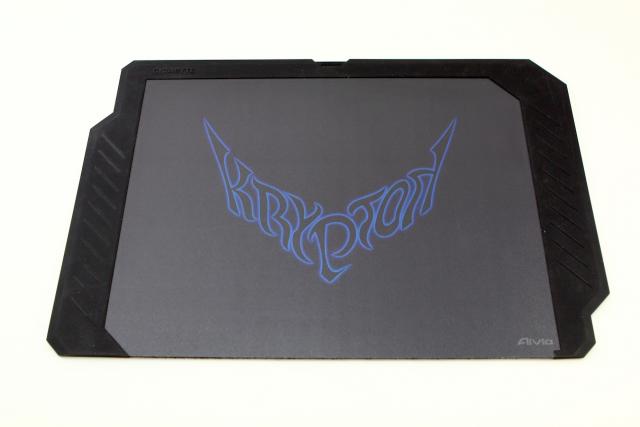 Gigabyte is a very familiar name among gamers and enthusiasts, but for the uninitiated they are best known for their performance and mainstream motherboards and graphics cards. Gigabyte has been rapidly expanding into other markets, so while they appear focused on their bread and butter business they also make several other computer related accessories and components like: Notebooks, Netbooks, Tablets, Cases, Coolers, Cell Phones, Power Supplies, Optical Drives, Keyboards, Mice, etc.
Pages