Table of Contents:
6x 3.5 inch HDD trays, compatible with SSD!
2x 5.25 inch bays, with 1x 5.25 > 3.5 inch converter included
4x USB 2.0 and Audio I/O – mounted on top of front panel
Removable filter below PSU (PSU not included)
M/B compatibility: Mini ITX, Micro ATX and ATX
7 expansion slots with sleek white painted brackets
Supports graphic card lengths up to 270mm when removable HDD-Bay is in place
Supports graphic card lengths up to 420mm without removable HDD-Bay
Supports CPU coolers with height of 160mm
Supports PSU's with a depth of maximum circa 160mm, when using bottom 120mm fan location. When not using the bottom 120mm fan location, the case supports also longer PSU's, typically
250mm
Case size (W x H x D): 200x430x480mm with front and top bezel in place
Net weight: 7.1kg
The Core 3000 has simple black on black design with a meshed front panel. As a said earlier, it is a mid-tower with plenty room and cooling options. There are up to 7 fans of various sizes that can be installed in this case. The top of the case is empty but can be installed with 2x 120mm fans and the bottom has extra space for another 120mm fan as well. Also, on the side panel there is a 120mm fan which blows in cool air straight to your motherboard. There are no screws that hold the front panel so it is easily removed by pulling it from the right side. It pops in and out of the case very easily. Now it's time to take a look at the inside of the case.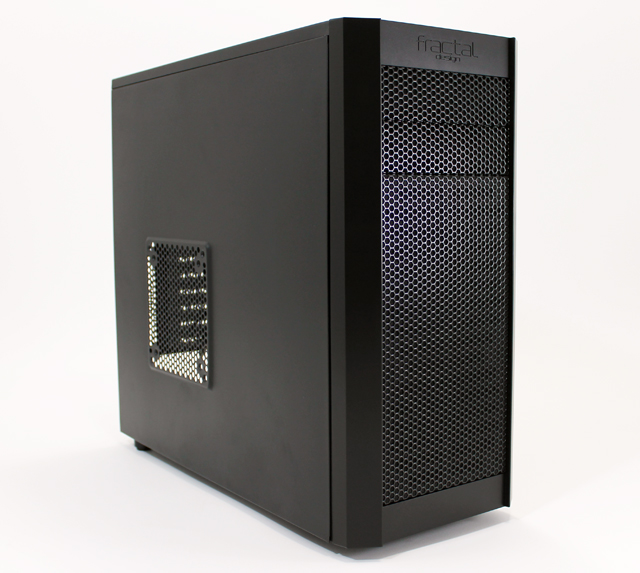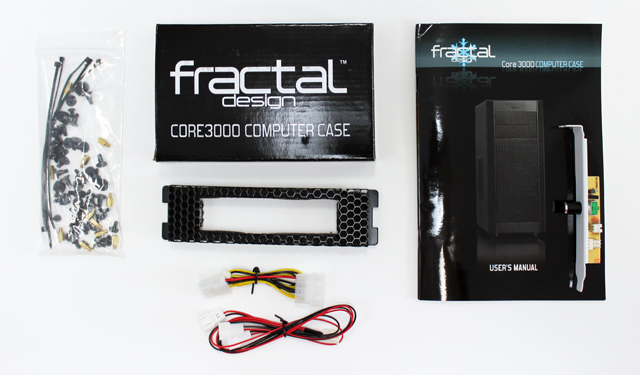 The sleek black interior is contrasted with white expansion slots and hard drive bay drives. All the bays are outfitted with anti-vibration silicon and are easy to install. They can support both solid state drives and regular hard drives. The upper hard drive bays can be removed and rotated if needed which will help if you have longer graphics card. There are only two 5.25'' bays that allow for DVD/CD drive, Blu-ray player, etc...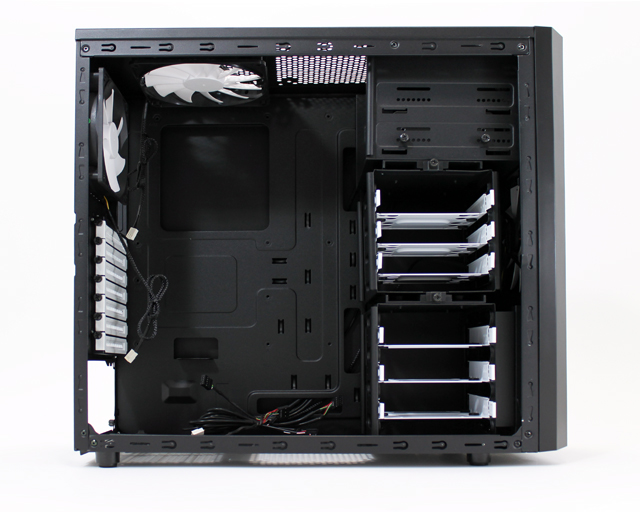 There are definitely enough clips and holes for great cable management in this case. As shown in the pictures you can see that there is enough space for you make sure you have great air flow through your case. They also include some zip ties if you need them for positioning the cables away from the air flow of the fan. There is an open space in the back of where the motherboard would be for a back plate if needed. Most heat sink and fans require a back plate since they are so huge so this is definitely a necessity nowadays.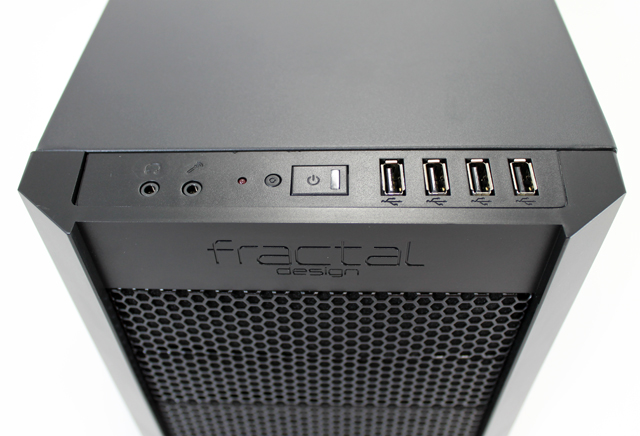 The top of the case features a good amount of ports that can be useful. There are 4x USB 2.0 ports, headphone jack, microphone jack, power button, reset button, and led indicator for when the PC is booting up or loading something. There are no USB 3.0 ports in this case however some motherboards come with their own USB 3.0 breakout box that can be installed in one of the 5.25'' bays in this case.
Looking for an affordable and simple case for your new computer? The Fractal Design Core3000 Case may just be right up your alley.
Pages