This particular block comes in two different styles and shouldn't be confused for the blocks that they now produce for Gigabyte's other 990FX motherboards. EK's block comes with either a black, acetal top or a clear, acrylic top. Both water blocks feature their new EN (Electroless Nickel) plating for improved longevity and performance and come with an aluminum heat sink for the board's south bridge.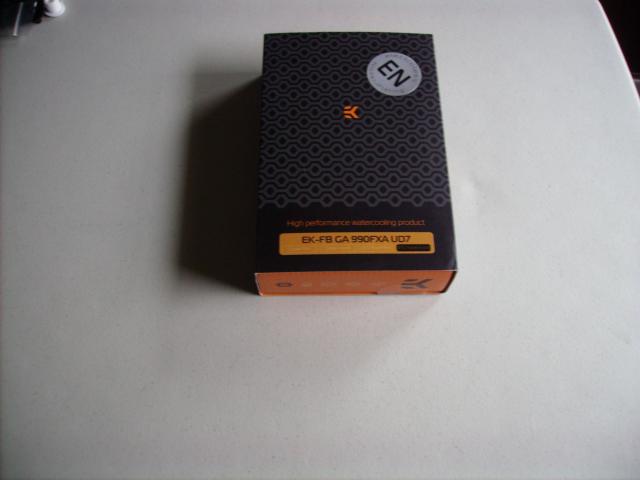 Upon opening the box you'll find that this block comes with everything that you'll need to install it except for the following items. Missing from this kit are the fittings that you'll need to connect it to your loop and thermal paste or TIM (thermal interface material). That these aren't included isn't really a big deal. Depending on your loop you may want certain fittings or barbs anyway and TIM isn't that expensive either. These items are a personal choice for the most part and users of this block would probably want to use items that they either have lying around or purchase their own anyway. This block also comes with all of the screws and mounting hardware that you'll need instructions for installation.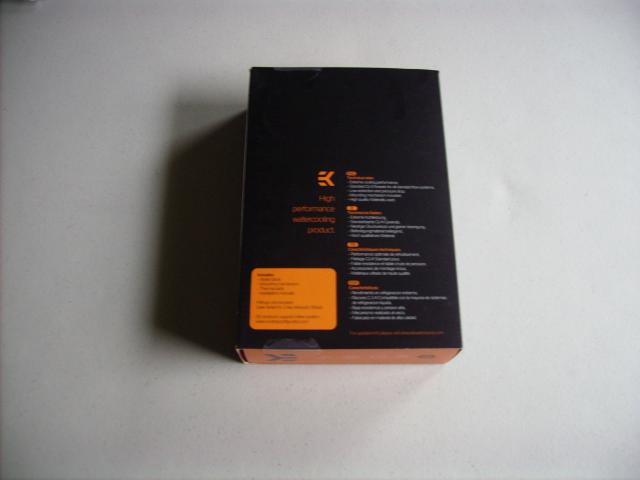 Board Preparation
Now that we've gone over what's in the box let me explain a little about how to properly prepare your motherboard for installation. Preparation will depend on your situation; if you are installing this with a new build or if you're adding this to your existing water loop.
Let's begin with if you are adding this to a new build. In this situation you will want to plan out how to route your tubes first and install all of your hardware. When it comes to installing your tubing the thing to keep in mind is that it should look neat. Many people think that there is a set order for how to cool your components in your loop. This isn't really true. As long as you have your radiator coming before your components you should get the results you're looking for. The difference between having one component come before another in your loop is about a degree Celsius if that. Just focus on trying to make it as neat as possible. You should also get all of your blocks and hardware installed before you start routing your tubing.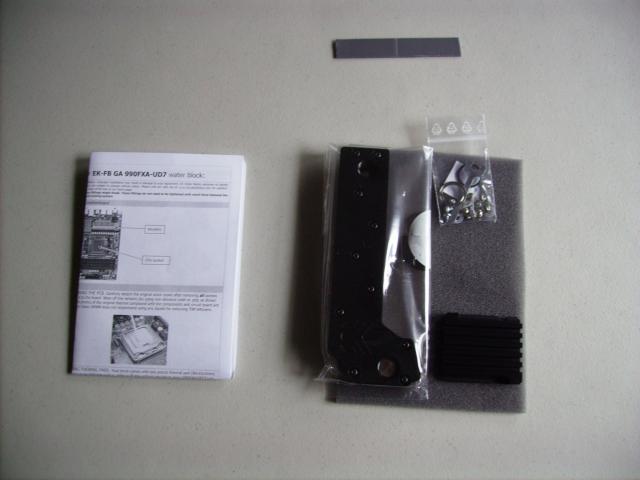 If you are adding this to an existing water loop you'll want to start by draining your loop completely of water or coolant. There are many methods to do this that will depend on your particular set up. Just make sure you are careful while doing this so that you don't end up spilling coolant on your hardware. Once the system is drained you'll need to remove all of your hardware and the heat sinks that will be replaced by the water block and replacement heat sink. To remove the heat sink from the UD7 is actually a pretty painless task. All you need to do is gently pry the heat sink away from the board. I was actually very surprised at how easy this was to do. My experience may be different than yours, so make sure you go slowly if encounter resistance. Neither myself, nor this website are responsible for damage that may be incurred from following this review. As a side note, I must inform anyone attempting to do this that removal of the original heat sink will void your warranty from Gigabyte.
For the water cooling enthusiast this is also a no-brainer. The ability to add their motherboard to their loop makes perfect sense. They are mainly going for esthetics and will enjoy the added performance benefits as well.
Pages