Table of Contents:
ECS System Utility DVD
ECS User's Guide
ECS Hardware Installation Guide
PCI Express 3.0
3x Extra Gold Contact with 15µ Gold
4 x Quad Channel DDR3 Memory Slots with speeds from 1600 to 2500 OC
6 x USB 2.0 ports
4 x USB 3.0 ports
4 Way GPU with AMD Crossfire and SLI support
Intelligent EZ Utility
6 x SATA cables
1 x SLI connector
ECS GUI UEFI BIOS
EZ Charger
4 x PCI-E 3.0 Slots
2 x PCI-E 1.0 Slots
6 x SATA 6Gb/s ports
4 x SATA 3Gb/s ports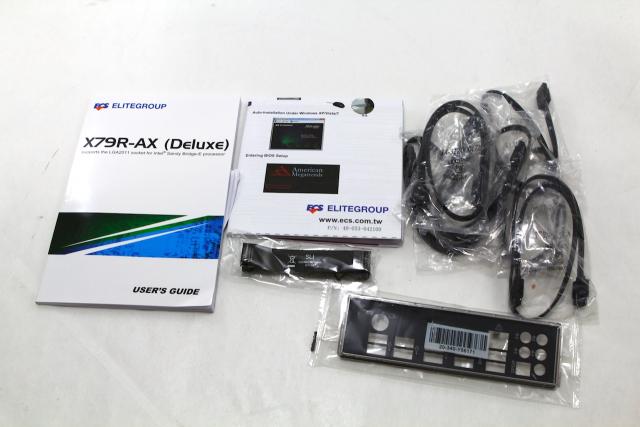 Package Contents
As mentioned earlier this motherboard comes with 6 SATA connectors, 1 SLI connector, an ECS User's Guide, ECS System Utility DVD, and ECS Hardware Installation Guide. What I don't like right from the get go is that there is no Crossfire connector and only 1 SLI connector. With the addition of extra PCI ports and no way to connect them, just seems like a real let down. Other than that though, everything seems pretty standard.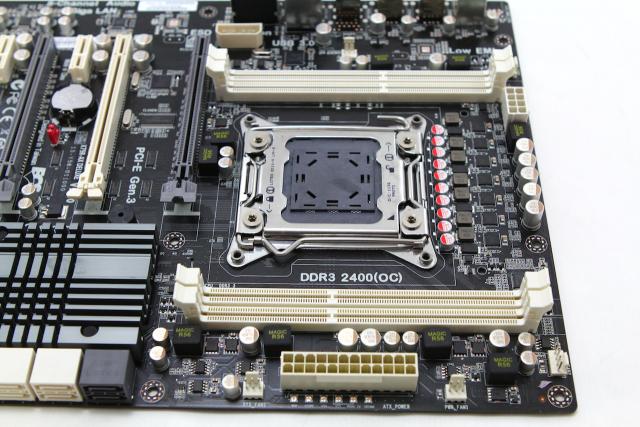 Mainboard Attributes
There are two Quad Channel memory slots on the left and right of the LGA 2011 socket and 4 nicely spaced out PCI-E 3.0 slots and PCI-E 1.0 slots. However, there are certain disturbing thoughts that are going through my head when I look at this board. If you look at the distance between the first PCI-E 3.0 slot and the Quad Channel memory slots, you'll see that there is almost no space between the two. I measured the distance between the two to about .5 millimeters of space. Most video cards with a good amount of cooling will definitely not fit there. They will have to be defaulted to the other slots. Now, I don't mean to criticize this motherboard heavily but there is also almost no cooling on this motherboard on the northbridge. This will generate a lot of heat in the motherboard and no option for cooling methods. There is however a lot of fan header plugins near the CPU.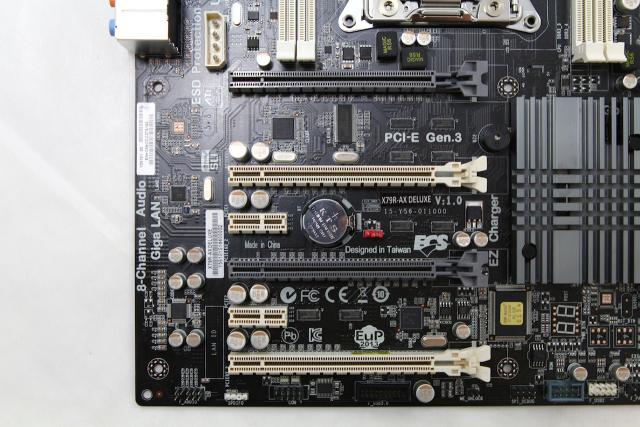 New Driver MOS and Solid Capacitors
The new Driver MOS combines a driver IC and two MOSFETs into a small package for a much higher power frequency with an amazing increased efficiency. It apparently gains a peak increased efficiency of 94% and offers great performance with add stability for gamers. This will allow your motherboard have a much longer life spam and less errors in the CPU. All the addition of solid capacitors is definitely better than electrolytic capacitors because it offers 6 times more life span and at great temperatures.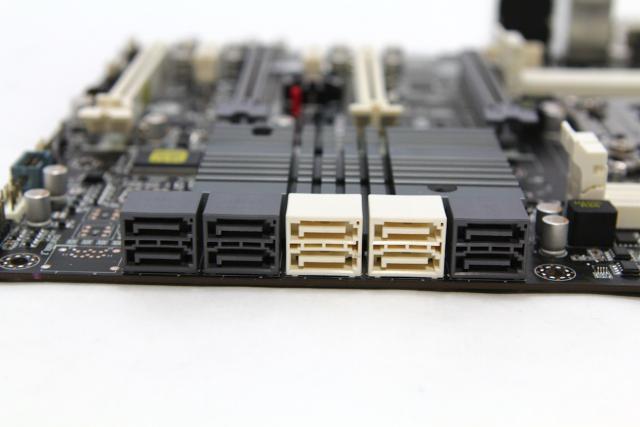 ECS GUI UEFI BIOS
ECS like many other companies have incorporated an easy to use GUI for their BIOS instead of the standard BIOS inherent in most motherboards. It is a great and convenient tool for tweaking and overclocking your computer with a mouse and keyboard. This is geared towards rookies who have not overclocked a whole lot and want a simple easy guide to overclock their computer with efficient stability. Of course if you're like me editing the BIOS is almost natural to us and this new GUI for the BIOS just makes everything look more clean and simple. Being able to use the mouse and keyboard brings convenience and a great easy-to-use experience for overclocking.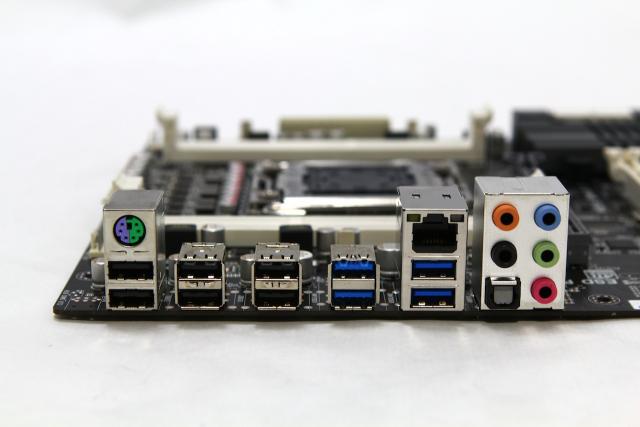 The Intel X79 Express Chipset is finally here and every competitor is releasing motherboards exclusively for it. ECS EliteGroup is just one of the major competitors we will be looking at today. They have released their X79R-AX motherboard and it is coming to the market as an entry level motherboard. It comes with great features and a smaller price tag so you can enjoy the new chipset without breaking your wallet.
Pages