Table of Contents:
Besides the keyboard the box contained a quick start manual, a roughly 6 foot USB cable and a key puller.  The first thing I did was start removing keys, so I could take a look at the Cherry MX Brown switches mentioned on the outside of the box.  The switches looked good, so I popped them back in place and flipped the keyboard over.  There are three routing options for the USB cable straight out the back or one the left or right depending on your desk/mouse configuration.  The cable is covered with braided nylon which is a nice touch and matches the cables on their mice.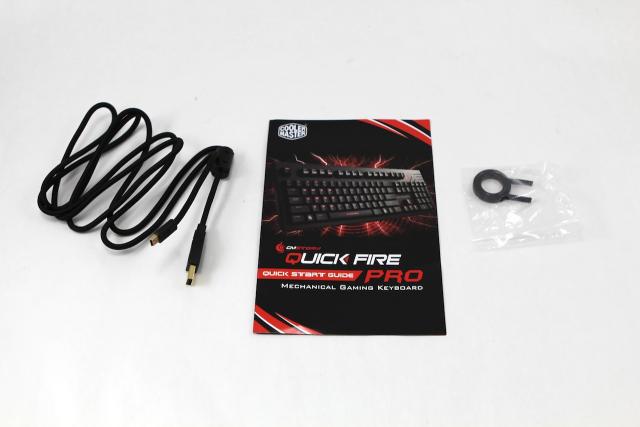 Cooler Master is planning on releasing four versions of this board with different Cherry MX switches.  The model availability will vary by region, so check with Cooler Master if you are looking for a specific model.
Here is a quick crash course about the differences between the Cherry MX Switches: 
Cherry MX Black - Strong resistance with actuation at 60g, linear feedback, no click.
Cherry MX Blue - Medium resistance with actuation at 50g, force feedback, audible click.
Cherry MX Brown - Low resistance with actuation at 45g, force feedback, no click.
Cherry MX Red - Minimal resistance with actuation at 45g, linear feedback, no click.
For reference rubber dome keyboards actuate at about 2.5-3.5mm with 55-60g of force, but there can be some variance especially over time as they tend to get mushy.
These 4 switches all share the same actuation point of 2mm with travel up to 4mm, but they require a different amount of force and give different feedback once you get there.  Force feedback is like a rough spot or bump to let you know you have successfully pressed the key.  Linear feedback is smooth and fairly consistent all the way to the bottom. The Blue switches offer force feedback and an audible click, so they are loudest of the four Cherry MX switches available on this board.
I've used a couple different mechanical keyboards over the years, but this was my first experience with the Cherry MX Brown switches. It took a couple minutes to get used to the feedback since I was initially just hammering away at it like any other keyboard.  Eventually I was able to adjust and anticipate the feedback and started moving onto the next key after the bump instead of pressing until I hit bottom.  Performance wise I noticed my typing was more even and I was hitting accidental keys less frequently.  The sound of the keyboard is louder than a standard rubber dome, but not so loud that it would annoy someone in the same room or on the phone with me.  I also believe the browns let me double tap quicker than the other mechanical switches.
The CM Storm QuickFire Pro is a new keyboard from Cooler Master that was designed with gamers in mind. Cooler Master started making gaming accessories under the CM Strom name a couple years ago and to date they have released several cases, mice, pads, headphones and a one other keyboard.
Pages