Table of Contents:
CM Storm Trooper Impressions
From the moment you get this case out of its box, you can't help but realize that you've gotten something special. This case looks amazing and the styling is very aggressive. It has a kind of armored appearance to it that is due to the rubberized exterior that covers part of the case. There is also a nicely placed handle at the top to aid in carrying it.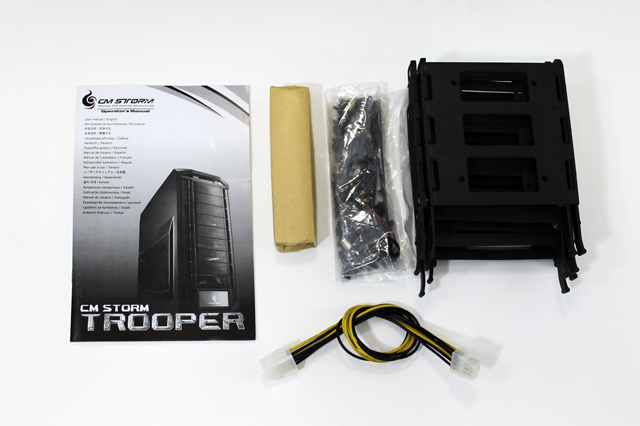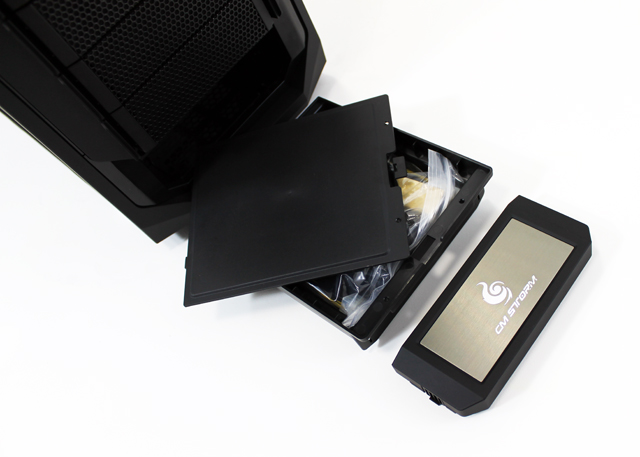 At the front there appears to be lots of external drive bays and there's even an external dock for a 2.5 inch hard drive or SSD. There are so many cool things that you can do with a feature like that. At the top is also where you'll find all of your buttons and connections. There's a large power button at the very top and you have buttons under it for controlling the LEDs for the fans. To the left of these buttons is where you'll find your audio port and to the right are the reset button and an e-SATA connection. At the bottom of this area are two USB 2.0 ports and two USB 3.0 ports.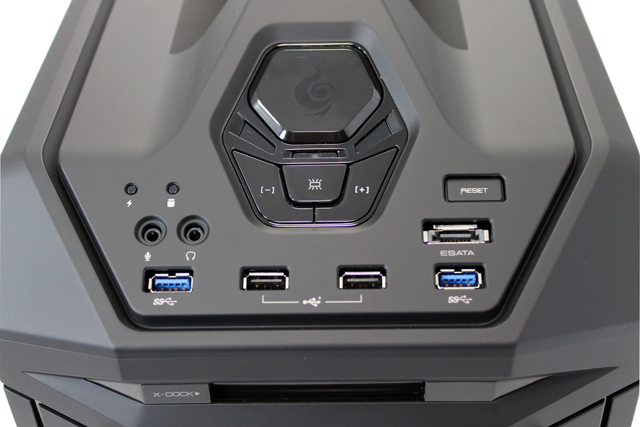 At the bottom of the case there are two dust filters. One is for the optional dual 120mm fans and the other is for the power supply. This will enable you to install your power supply with the fan facing downward and prevent it from sucking in lots of dust. There are also four feet with rubber centers. These will keep the case from scratching the surface of anything you set it on and will also help to prevent vibrations. With the ability to install two extra 120mm fans, there won't be any problem with airflow and keeping your high-end components cool. When we take a look at inside of the case in the next section, we'll see if there's room here for 240mm radiator. This would really add to the value of this case.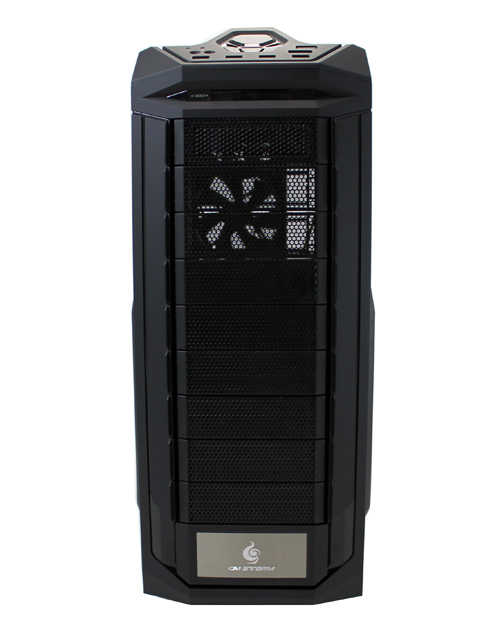 On the left side of the case there is a large meshed area for installing two optional 120mm fans. With these fans installed they will give you additional airflow over your graphics cards and motherboard. On the right side there is a smaller meshed panel to allow airflow over the hard drive cages. As with the front of the case these meshed areas also feature removable filters. This is something that more and more manufacturers are including with their higher-end cases. It helps to reduce the amount of dust buildup inside the case. These do impede airflow slightly, but the amount of dust reduction is well worth it.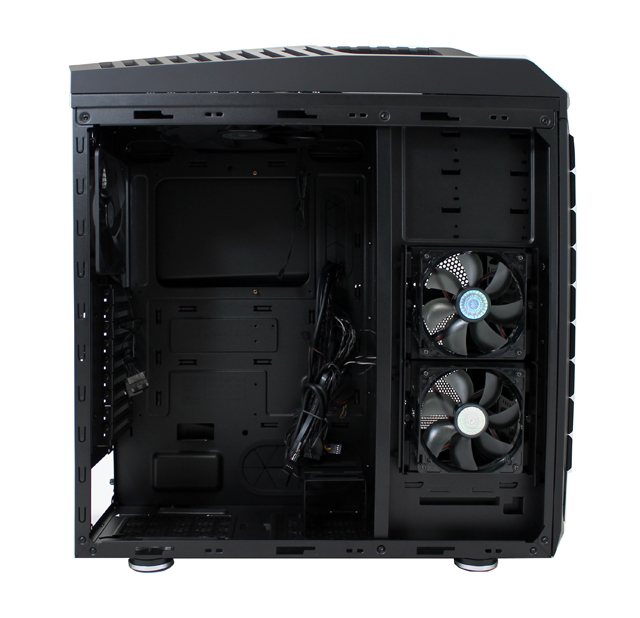 At the back of the case are two, large grommets for water cooling and one small one for passing your USB 3.0 cable to your rear I/O. There are also 9+1 expansion slots to accommodate just about any multiple graphics card configuration that you would want. The plus 1 is an extra expansion slot located vertically at the side of the case. This is for installing extra USB ports that use cables to connect to your motherboard. You could also use this for installing the switch that's usually included with most cold cathode kits. You'll also notice that at the top of the case is where you can remove the dust filter for the top fans. There is also an included 140mm exhaust fan that can be changed out for a 120mm if you choose. This is great because most of the enclosed water cooling systems have a 120mm fan for their included radiators. Four thumb screws are located at the back of the case as well and two on each side secure the side panels. At the bottom is where you'll install your power supply.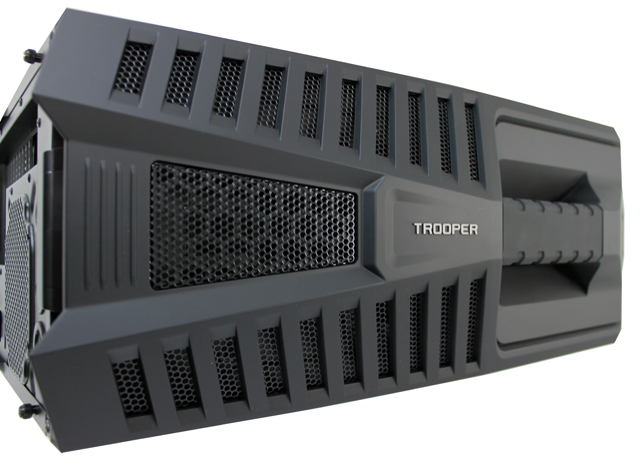 At the very top of the case there is an aggressive looking, ventilated top panel with a rubberized texture. There is also a very sturdy handle built into this top panel for carrying the case. This top panel looks really cool and should also aid with exhausting the hot air out of the case. We've seen that they've also included a filter to keep dust from falling into the case. Filters on exhaust fans though aren't really the greatest idea. They tend to impede airflow more than they help to keep out dust. It's obvious why you'd want them on your intake fans, but your exhaust fans don't really need to be filtered. It's still nice that they included it though because there will be those that will use this top panel for an intake rather than exhaust. This is particularly true if you install an enclosed water cooling system like Corsair's H100. In this case the included filter will be very beneficial at keeping dust from being drawn into this case. This shows the diversity of use that you can get from this case. It also shows that Cooler Master put a lot of thought and effort into its design.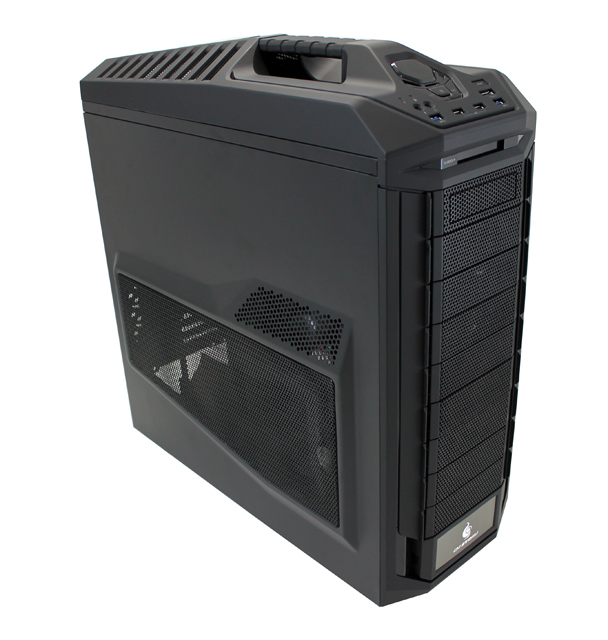 This is probably the best case on the market for this price. It comes packed with some of the most useful features that you could ask for and there really isn't anything to gripe or complain about. Sure, it could have included support for a 360mm radiator at the top, but there is plenty of room for two 240mm radiators if you're so inclined.
Pages