Table of Contents:
CPU-
We started with AMD's new A6 3670K APU. This is a very inexpensive processor that also has a built in GPU for graphics. We chose this because we want to use it in conjunction with an AMD graphics card to see if their Dual Graphics technology is really any good. There aren't too many GPUs that will benefit from this technology so we needed to choose one that would work with it. This processor is clocked at 2.7 GHz and features four processing cores. It also comes in at the price of 120 dollars. This is a good start for our budget system.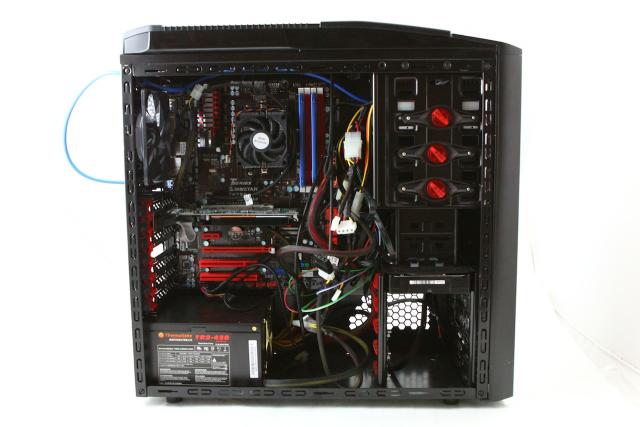 GPU-
We had a limited number of graphics cards to choose from so we selected the Sapphire Radeon HD 6670 graphics card. This card has an 800MHz core clock and a 1000MHz memory clock. It comes with a gig of video memory and uses a 128-bit GDDR5 memory interface. It also has 480 stream processors with 24 texture units. It isn't the fastest thing around, but it should suffice and it's compatible with our APU for Dual Graphics. It also has a DVI-D connector, a VGA connector, and an HDMI connector. This will ensure that it will be compatible with just about any display that we want to use it with. This card goes for about 60 to 85 dollars.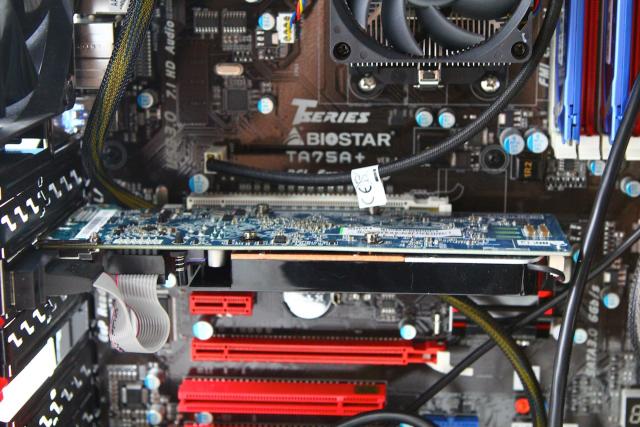 Motherboard-
To keep our system within our budget we decided to go with the Biostar TA75A+. This is a good board that has some great features. It features 2 PCIe x16 slots. One is the full x16 and the other is an x4. It also comes with a Post LED debug for troubleshooting boot errors. It supports up to 32 gigs of DDR3 at 2000MHz with overclocking. It also features an FM1 socket that's compatible with our APU. It also features very good audio support with Realtek's ALC 892 audio chipset. All of the SATA ports are the new SATA 3.0 ports and there are six of them. Biostar has earned a great reputation for producing products that perform really well and come with a price of about 100 dollars.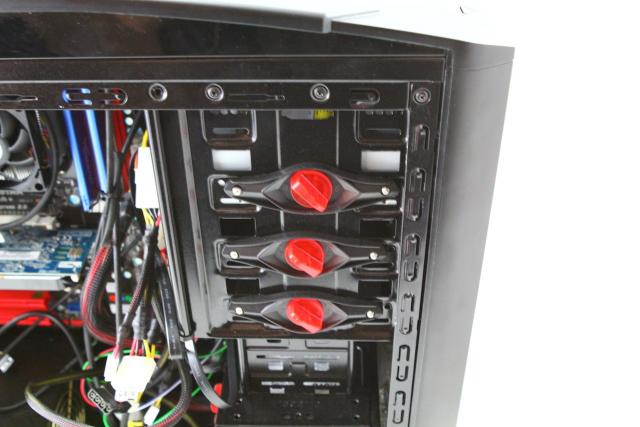 Memory-
For this system we went with 8 gigs of DDR3 Kingston Hyper X memory. This memory is clocked at 1600MHz and has a 9, 9, 9, 27 timing at 1.65 volts. It features full support for Intel's XMP profiles and these are two sticks of 4 gigs each for dual channel support. It also features a very nice heat spreader to keep temperatures down. It's a bit of overkill for this system, but we wanted to ensure that there would be as little bottlenecking as possible for Dual Graphics mode support. This memory comes in at about 40 dollars. Memory is pretty cheap right now and this is really good for our budget system. This is another reason we chose to go with an 8 gig kit as opposed to just 4 gigs. Kingston Hyper X is currently one of the very best values in the memory market and they also perform really well. This set also comes with a limited lifetime warranty.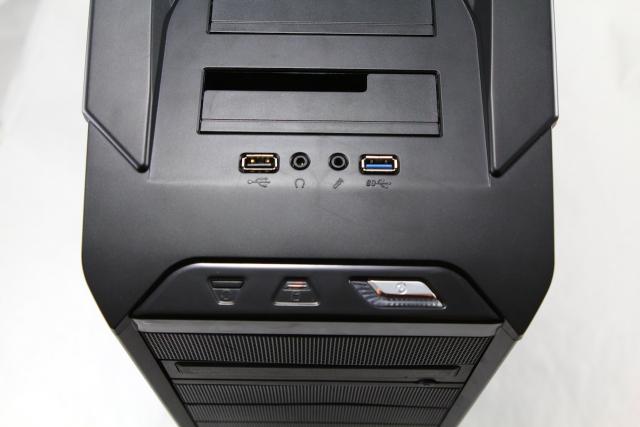 Case-
For this budget system we decided to go with Thermaltake's V9 Black X Edition with docking station. This is a relatively inexpensive case that comes with a dual hard drive docking station. It features support for motherboards up to ATX standard size and it comes with three fans. One is a 230mm fan at the top of the case, and there is a 120mm at the back, and a red LED 120mm fan at the front. This should provide plenty of airflow for all of the components that we're going to be installing in it. There are two USB ports at the top I/O. One is a USB 2.0 port and the other is a USB 3.0 port that uses a pass through cable to connect to the rear I/O port. This case uses a steel and plastic construction and it also features a tool-less installation for optical drives, hard drives and PCI expansion devices. This case only weighs about 15 pounds when it's empty so it should be easy to carry.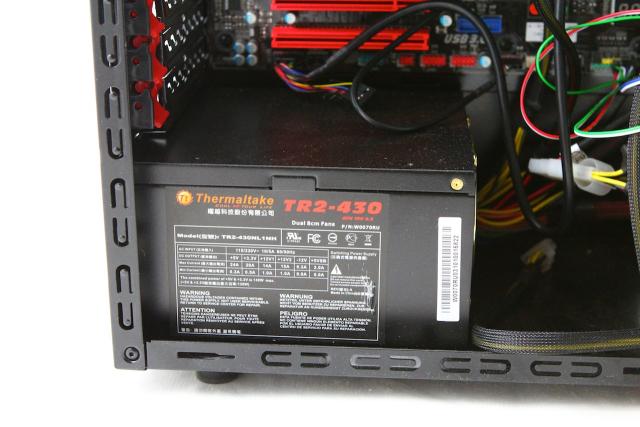 Power supply-
We decided to go with Thermaltake's 430 watt TR2 power supply. This is a really good power supply and comes in at under 50 bucks. It's made with high-grade components and comes with a great 5 year warranty. Of course there are probably higher wattage power supplies that we could have gone with. The reason we went with this particular one is simply because it gave us the power that we needed for this system and it comes with a very reasonable price tag. All of the leads are sleeved and it also runs very quietly. For many budget systems this is the perfect power supply. Thermaltake has been doing this for a while now and their experience is evidenced in the quality of this product.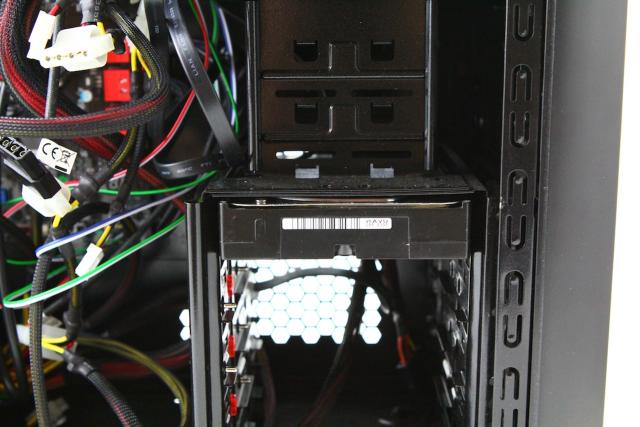 Storage Drives-
For this build we chose to with a Samsung DVD burner. This burner is capable of write speeds up to 22X and read speeds of up to 48X for DVDs. It uses a SATA interface and comes with 1.5MB of memory cache. This is really all we need for this type of a system. We could have gone with a Blu-Ray, but it would have added too much to the final cost. Our hard drive is a Western Digital 1 Terabyte green drive. These drives currently go for about 140 dollars. Many of you may have noticed that the price of hard drives has gone up sharply recently. This is due to a flood at a major production facility in Thailand. Hopefully, once the speculation about shortages dies down prices will drop back down to normal again.
So that's the breakdown of the hardware that we installed in this budget system. Many of these parts aren't exactly high-end, but they are meant to provide enough performance for a budget gaming system. What needs to be kept in mind is that in order for many games to be playable on this type of system, many of the game settings will have to be set to medium and high resolutions just aren't going to be possible above 1680 x 1050. This means that most 22 inch screens will do very nicely with this system. With that in mind let's move on to performance and discuss just what this budget system is capable of in terms of gaming and benchmark performance.
Once all of the drivers were updated we had no problem with it at all. It actually performed much better than we were expecting and that's always a good thing. It's nice to see that even if you happen to be on a budget you can still put together a fairly decent gaming system.
Pages