Table of Contents:
Since we've now had a look at what this new chipset has to offer, let's take the board out and see what Biostar has done to make it even better. One of the first things that I need to mention though is the price that this board is being offered at. This board comes in at an amazing 130 dollars! This makes this board the least expensive way to get in on a 990FX motherboard. Throughout this review please keep in mind how little this board costs because value is something Biostar has become known for.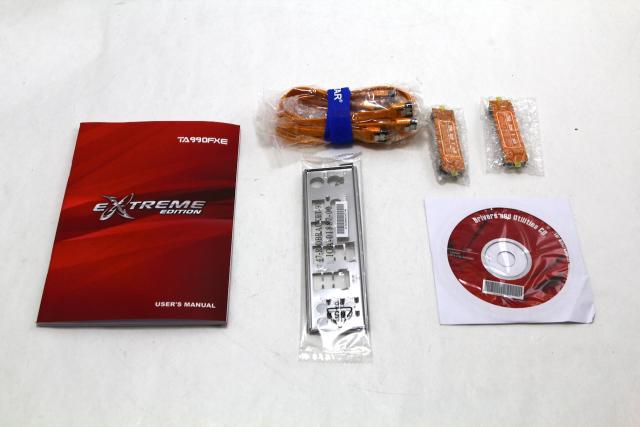 In terms of the boards layout it's pretty basic. Don't let this fool you though because it will still give most users all that they could ask for. When this board was first released it did not feature SLI support. Due to a recent BIOS update SLI is now fully supported. SLI was never a hardware issue because all it really requires is nVidia's licensing support. So vendors don't need to include it if they choose not to. Thankfully Biostar has decided to enable SLI support on this motherboard. This will definitely increase the amount of customers that are going to be looking at this board for their future upgrades.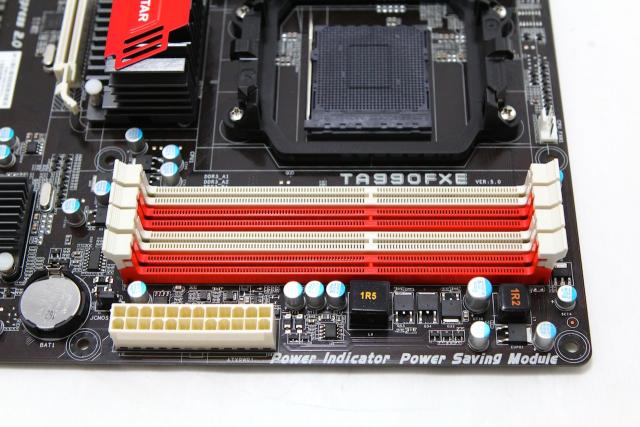 On the rear I/O there are PS2 keyboard and mouse ports. Located next to these are your S/PDIF and coaxial ports for audio. Next to these ports are a couple of USB 2.0 ports. Located next to these are two USB 2.0 ports, a Firewire port and an eSATA port. Next to these is where you'll find the gigabit LAN port with two USB 3.0 ports. And finally next to these are your analog 7.1 channel audio ports. As you can see this is a very nicely populated rear I/O, with enough ports for all of your connected devices. This board has support for eight USB 2.0 ports via four on the rear I/O, and two headers for the front panel of the case. It has support for four USB 3.0 ports via two on the rear I/O, and a header for the front panel of the case.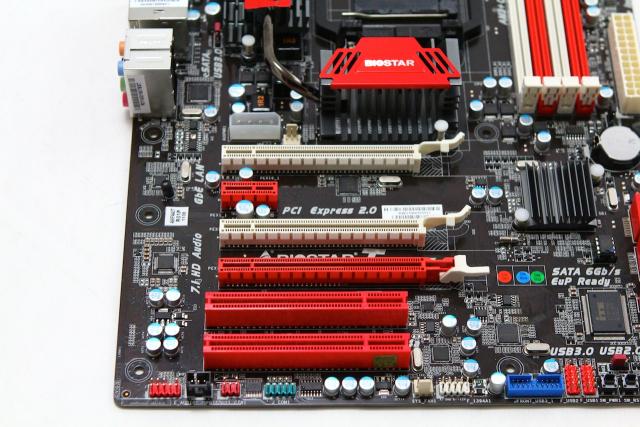 For SATA connectors this board has five SATA 3.0 ports that utilize the integrated controller on the SB950 South Bridge chip. With these ports is support for RAID 0, 1, 5, and 10. This isn't a whole lot of ports for those that are using multiple hard drives and optical drives, but it should be enough for most users. IDE support isn't featured on this board at all so any of your drives will need to be connected through the SATA ports. Of course if you really need more SATA ports you can install an expansion card to increase your available ports. Biostar developed this board to give the best features at the best cost. Most users will find that this board will provide them with what they need most and at a reasonable price.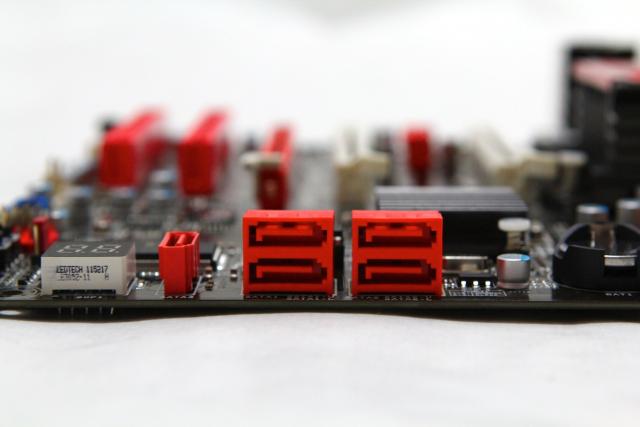 For those that are looking at this board for multi-graphics support they will be pleased to know that this board will support up to Quad Crossfire X and Quad SLI support. You need to keep in mind though that there are only three PCI e slots on this board. To use a quad graphics configuration the cards will have to have dual GPUs. The PCI e x16 slots are set up with the white slots running at x16 and the red slot running at x4. These are spaced so that you can run two dual-slot cards at x16. To run a 3-way graphics configuration you will be limited due to spacing and bandwidth. This isn't as good as some of the other vendor's offerings, but it should be good enough for most users. Biostar also includes a four pin MOLEX connector on the board to provide extra power to the PCI e slots.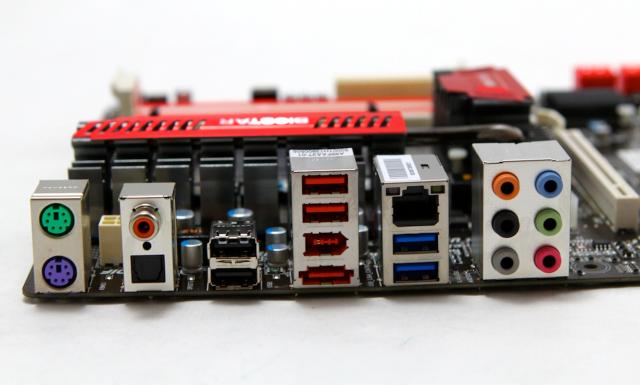 Biostar has incorporated some enthusiast-level features onto this board despite its entry-level price. This board has a Post and CPU temperature LED to trouble shoot boot errors and monitor CPU temperature. It also has onboard power and reset switches that are great for overclockers and those that will be installing this on a test bench platform. Biostar has also included On-Board LED Indicators for monitoring the CPU and North Bridge power phases. When the LED is lit it means that the phase is active and when it's off the phase is disabled. This will give overclockers a quick way to check how their processor is using the various power phases. These are the kinds of little features that enthusiasts love to see because it makes monitoring their hardware so much easier.
This board may not have the flashiest looks or be capable of the most expansion configurations, but when it comes to raw performance at a reasonable price it just can't be beat. Biostar has produced a board that really gives the consumer incredible performance for the price. It doesn't have all of the bells and whistles of some of the other vendor's boards, but it does have some enthusiast-level features.
Pages