Table of Contents:
The BIOS of the Rampage IV Extreme as stated before is excellent, and the level of tweaking options is amazing. This boards BIOS is built from the ground up with an Extreme overclocker in mind, however this does not mean that the board cannot be used in a regular desktop or gaming rig, actually quite the contrary as this board has manners of a more subtle channel board when not being pushed to the limit and fits right at home on a bench under LN2 as it does in a extreme gaming rig.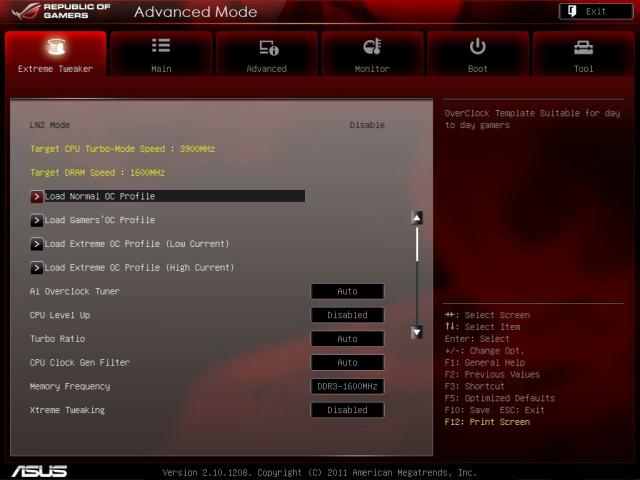 The BIOS has many sections actually the entire Extreme Tweaker section is dedicated to tweaking, tuning and overclocking this board. When first entering we are greeted with most of the top section being the preset profiles from the "Normal" overclock up to the "Extreme OC" which will quickly net us 4.9+GHz but also the need for proper cooling. Below those we have multiple frequency adjusts along with more auto overclock adjustments and some of the extreme tuning features and settings offered by this board. Items such as Xtreme Tweaking and CPU clock gen filter can make or break an overclock when pushing the limits on sub ambient cooling but many of these settings may not need adjustment when just pushing a standard gaming overclock. As a matter of fact there is actually a gaming overclock preset at the top of the menu which can give users a quick boost to an excellent gaming overclock that we really feel would meet most if not all gamers needs for performance.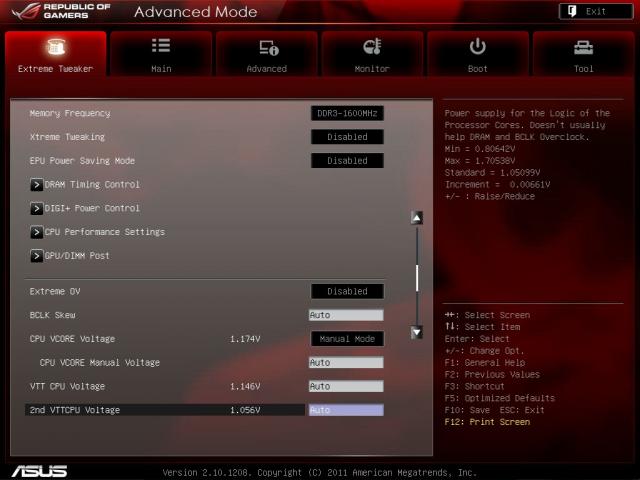 One important note before getting to the finite tweaking options is that this board employs something that we see as often overlooked or not seen for its real value and that is the GPU/DIMM post screens which give us as we mentioned before the ability to see which components in the PCIe slots or DIMM slots are detected which help greatly with diagnosis and troubleshooting, also with the PCIe simulator it is yet another useful addition to the package as it allows users to see slot lanes available with theoretical population scenarios which can help with making setup of the board and configuring what components to install where for maximum performance much easier.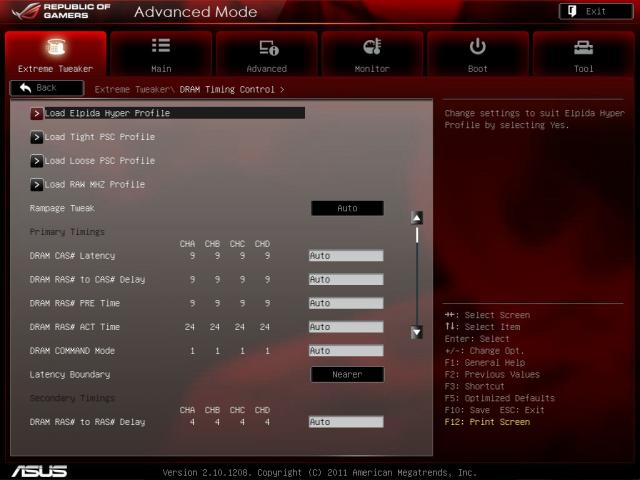 Passing a bunch of voltage settings we get to the lower section of the menu where yet more settings reside or the "tweakers paradise" settings reside more specifically.  First up would be the CPU Tweakers paradise that is pretty scant as to what it offers with basically a couple clock slews and a Drive strength setting to round it out. When pushing for the extreme sometimes the smallest setting can make the biggest difference. Next up we have the Memory Tweakers Paradise, which offers a huge amount of adjustment options for signaling and voltage references to allow for the finest tuning of the memory we have seen on any board to date. PCH Tweakers paradise is where we tune and tweak the X79 Chipset and its signaling and skew options and honestly most users will not ever need these settings as this level of finite adjustment once again is based on the board's roots as the extreme or pinnacle-overclocking platform. Next a strange but welcome addition is the VGA Tweakers Paradise that goes hand in hand with the previous mentioned GPU hotwire. This is where we can setup the GPU voltages controlled by the board and while this may not be for everyone, anyone who could use this feature (Competitive Benchmarkers/Overclockers) is going to really appreciate it!
If you would like to see and view all of the BIOS screen shots of the Rampage IV Extreme we have them here for you to download and see.
http://dl.dropbox.com/u/37093573/Bios.zip
The bottom line for the ASUS X79 Rampage Extreme is this: many motherboards made today are very similar in their feature set and their options, not true with X79 Rampage IV Extreme as it breaks the standard mold and recreates itself as the absolute king of X79 motherboards and a Solid Editors Choice Product.
Pages