Here we take a more in depth look at some of the more advanced features of the Extreme board and what makes it really special. Some of the items discussed in here may be new to some users or familiar to extreme benchmarkers more exclusively and for those of you that know about this stuff cool lets take a look, and more importantly for those who have never done this sort of thing please read on as this is really some cool stuff and can make for some really fun experiences with the Rampage IV Extreme.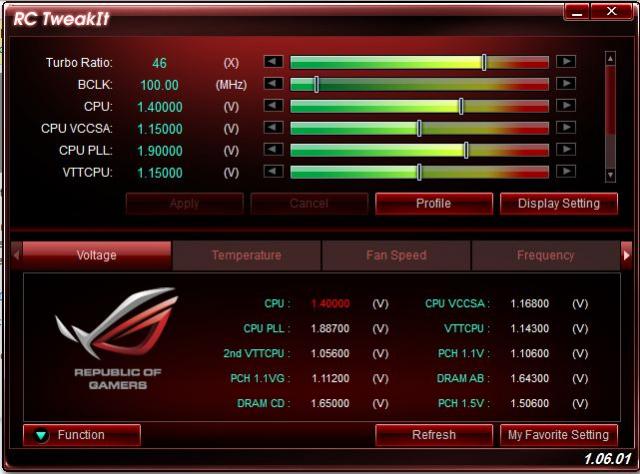 ROG Connect allows remote monitoring and management of the host system via a USB attached client system used to not only monitor but even real time overclock the benchmarking system which can be a life saver if running a benchmark at the ragged edge and having the need to adjust the clock down slightly during a more stressful part of a benchmark. The ROG Connect feature also allows overclocking of the Graphics card as well so it really is an all in one solution for the most part for the ROG board and user.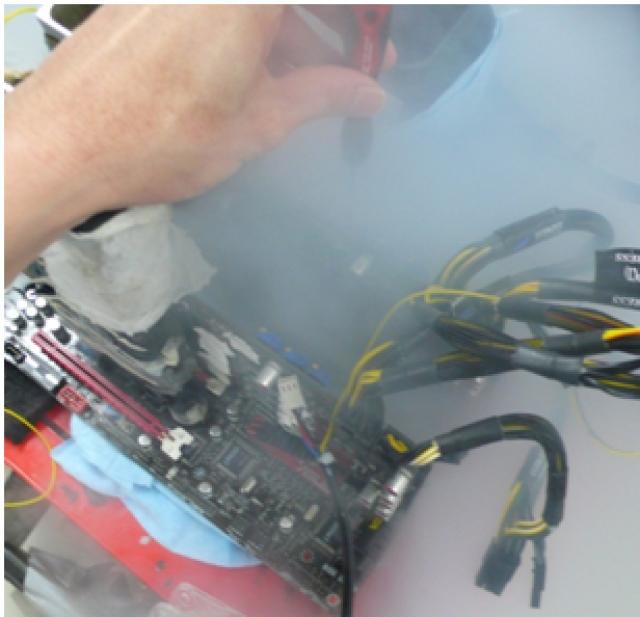 Anyone who has ever volt modded a GPU and benched on LN2 has been in the situation where the fog of LN2 makes it almost impossible to adjust the tiny trimmer on the card and probing around in a cloud of smoke with a metal screwdriver can be hazardous to hardware especially as a slip can damage components or even short a card or other items. Not to mention when making these fine tune adjustments a slight mis-turn of the trimmer can also cause serious issues including very quick hardware death and therefore finite adjustment is required. ASUS has a solution via the GPU Hotwire feature which allows wires to be soldered to a GPU and routed to the pin headers on the Extreme board connecting with standard style 2 pin plugs similar to what is used on a chassis front panel connector. These then when connected properly will allow control and monitoring of GPU voltages via the motherboard BIOS and OCKEY function to give the user finite control of GPU function with a reduced chance of an oops moment causing costly hardware damage. As Seen above these wires just connect to the appropriate pin header and away we go and overclocking and overvolting truly never has been easier.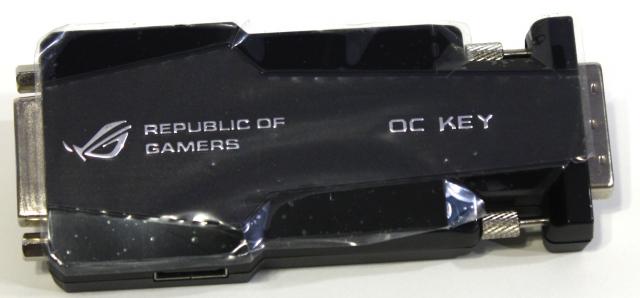 OCKEY is a very interesting and impressive addition to the ASUS ROG Family of tweaking options as it is an intermediary device that plugs into the GPU output and the monitor plugs into it. The unit is a couple inches long and has a USB connection which allows data to be displayed in a overlay fashion on a connected display while also allowing onscreen overclocking adjustment directly on the benching screen. This implementation can be very useful for anyone who may not be able to use ROG Connect due to not having an available spare system or maybe just no room for it and therefore allowing similar overclocking and monitoring functions directly on the main display it can be quite useful.  There is potential for hiccups or issues such as EDID problems or compatibility issues but from our testing and feedback from ASUS they are very on top of it and constantly working to improve the implementation of the OCKEY functions.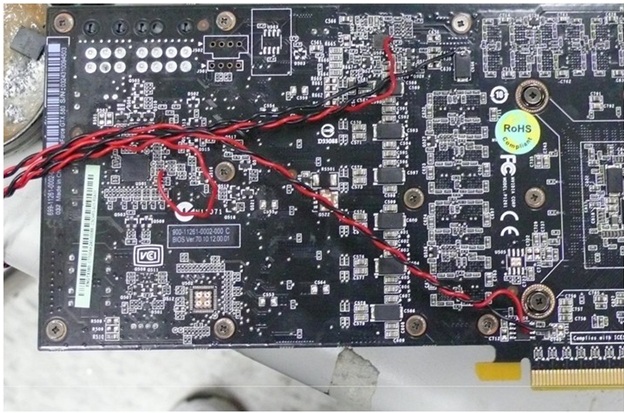 Here we have the Subzero Sense connectors, these are K probe connections which allows for accurate temperature monitoring especially in sub ambient operating conditions. Te great thing about this is that when benching subzero we need a K probe for each cooling pot or evap head which can mean a lot of money on expensive thermometer units to monitor all of the equipment, well with the Subzero Sense connectivity 2 K probes can be connected directly to the board which eliminates the need and expense of costly monitoring equipment and also allows real time monitoring of these probes whether they be CPU or GPU pots or evaps. From our testing the Subzero Sense connections were within a degree approximately of our Fluke unit which tells us they are well calibrated and therefore very useful for bench sessions.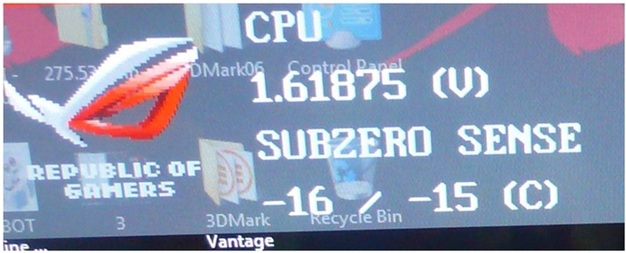 Here with the Extreme ASUS offers the Xsocket compatibility which is Asus solution to users having to go out and find new mounting hardware for their cooling solutions. With LGA2011 came threaded mounting holes integrated into the ILM unit. While this is unavoidable in most cases Asus opted to redesign the ILM and backplate to allow swapping out of the backplate with threaded holes in favor of a 1366 style solution which will allow compatibility with current CPU coolers and subzero cooling containers without having to resort to a mockup of mounting to fit the new LGA 2011 threaded mounting. The only component necessary for this swap is a swap out of the backplate as the upper ILM can be used with either the LGA2011 mounting or the 1366 style mounting as well.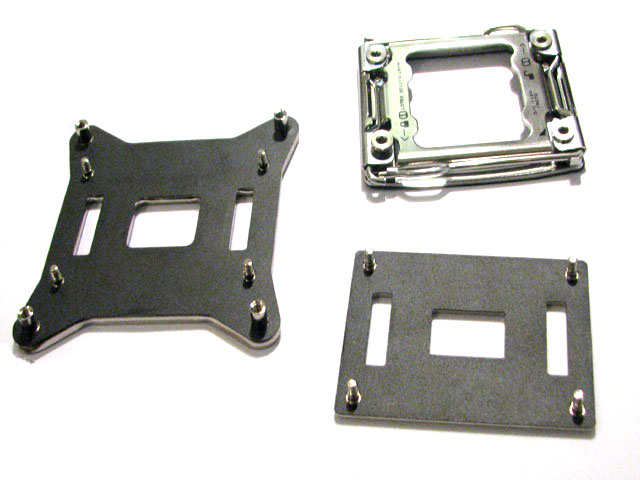 The bottom line for the ASUS X79 Rampage Extreme is this: many motherboards made today are very similar in their feature set and their options, not true with X79 Rampage IV Extreme as it breaks the standard mold and recreates itself as the absolute king of X79 motherboards and a Solid Editors Choice Product.
Pages