Table of Contents:
Here we take a more in-depth look at what these features can do for you and how they could help you in daily usage.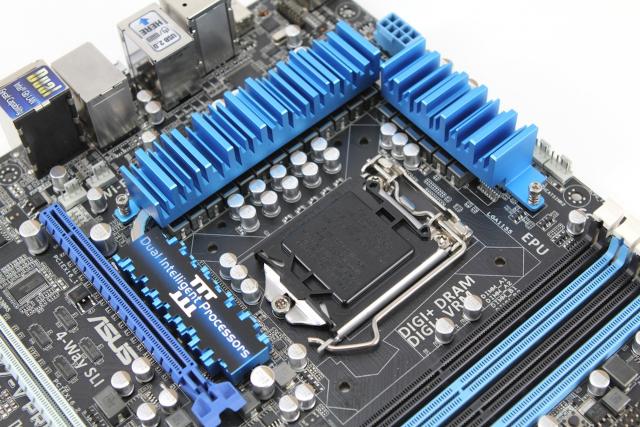 First up is the VRM, as you know we love the multitude of VRM options and how they are implemented by each manufacturer.  Many readers have actually commented on our love for ASUS as of recent but there is good reason for this as they have literally been "doing it right" for awhile now and they show no sign of stopping or even slowing down.  I have mentioned in multiple reviews now that the boards all are performing very close to each other and ASUS has even went as far as to confirm to us that their whole board stack should overclock and perform very close to one another as they are all designed to be top performers.  The only time this will change is when pushing for extreme overclocks where specially engineered boards such as the ROG line will take steps ahead due to built in features helping make such feats easier.  Even then with a skilled overclocker the standard boards can all be tweaked and tuned to a similar performance level albeit with a bit more work.

The VRM on the P8Z77-V Premium is a Digital 20 Phase Design with 16 Phases for the CPU itself and another 4 Phases for the iGPU.  Add to this the DRAM which carries its own 2 phase power design to ensure not only a full digital solution but the ultimate in control, accuracy, reliability, performance and tuneability.  The complete solution is controlled via ASUS' DIGI+ controllers to ensure not only full control but the scalability and reliability that it has become known for.  The DIGI+ controllers allow for very precise control of not only voltage but frequencies and thresholds of protections and adjustability.  The DIGI+ setup does not just stop at the controller as ASUS ensures they choose the top components for their VRM so that no matter the loading condition it should easily face the demand.  Also power efficiency and durability is established via active throttling under normal usage environments to ensure that V-regs are throttled on and off and load is balanced actively between different IC's to allow all parts to remain cooler which will allow them to run more efficiently as well.  Do take note that when setting higher performance levels on eth DIGI+ controls via the BIOS or software that the VREGS may not throttle and may stay on a constant on state which will reduce efficiency and increase thermals as well.  These settings are usually done during overclocking runs which in that case efficiency is not usually a consideration so should not be an issue.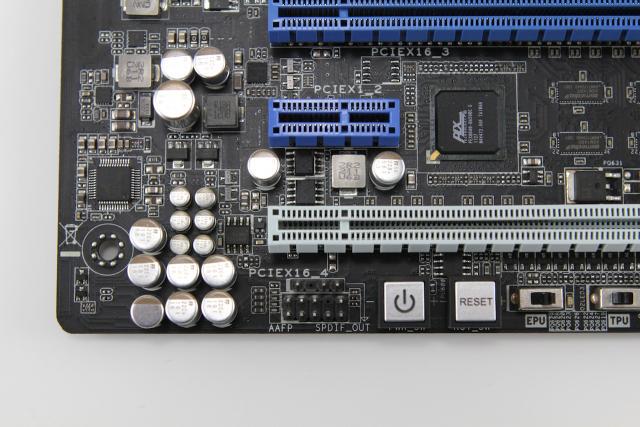 ASUS SSD Caching II is very similar in feature to the original SSD caching like we saw on the P8Z77 WS board and the P8Z77-V Deluxe.  The ASUS caching solution is similar in a way to the Intel Smart Response technology but quite a bit better.  The ASUS SSD Caching does not have a size limit on the caching SSD whereas the Intel solution has a strict 64GB limit.  For the ASUS SSD caching technology if you use a 120GB SSD for caching you can cache 120GB of data or drive space for the most common used programs.  The ASUS SSD Caching II technology takes this a step further with the capability to use multiple SSD's to cache a single drive or even the ability to do multiple drives with SSD's up to 4 ports total via the 4 add on ports by the host controller.  This is cool and an interesting next step as we are now very interested to test this new implementation with multiple and even mixed SSD's to see how it performs and even more so if we can break it.  This is not the whole deal though of course as the ports do not have to be used for the SSD Caching II technology and can be used for single drives or even high speed SSD's for standard storage expansion if the SSD caching is not needed.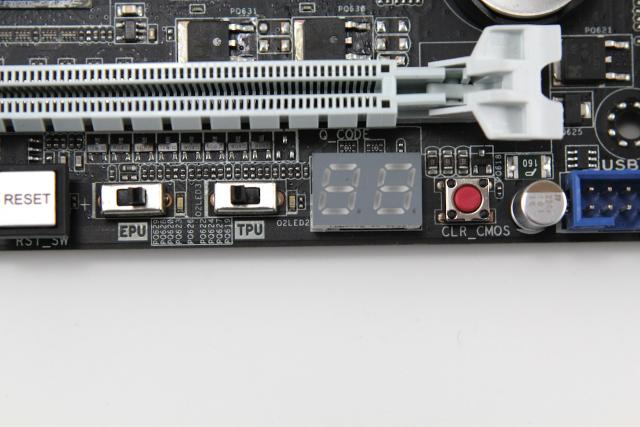 ASUS equips all of its motherboards with the USB BIOS flashback which allows flashing of the bios directly from the USB port without even a CPU.  This is something that we have covered many times and that is because it is incredibly useful.  Given you have a CPU model that may be newer and needs a newer model BIOS just to post, under normal circumstances you're screwed and have to source a CPU that is compatible just to flash the board.  With the USB BIOS flashback this is no longer the case.  With the USB BIOS flashback neither Ram nor CPU are necessary as the board will flash with simply having a PSU connected and depressing the USB BIOS flashback button and it is that easy.

Now to the king of the show, the thunderbolt port on the P8Z77 –V Premium.  Thunderbolt NDA just recently released and ASUS this board is the first to come out of the gate carrying full Intel Certification for Thunderbolt.  Thunderbolt has been boasted time and time again for its amazing transfer speed capability but very few seem to look at the video capability of the interface as well.  Thunderbolt is not all about storage devices mind you there are huge possibilities here for content professionals or multimedia users as Thunderbolt compatible devices such as Networking, cameras and pretty much anything else start to roll out its true capabilities and scalability will be realized.  Imagine many devices all easily cable managed from a single cable from your computer.
As you can see here the Thunderbolt interface not only carries the PCIe data for the amazing data transfer speed but it also carries a full function DisplayPort signal for an excellent display source at the end of the Thunderbolt chain of devices.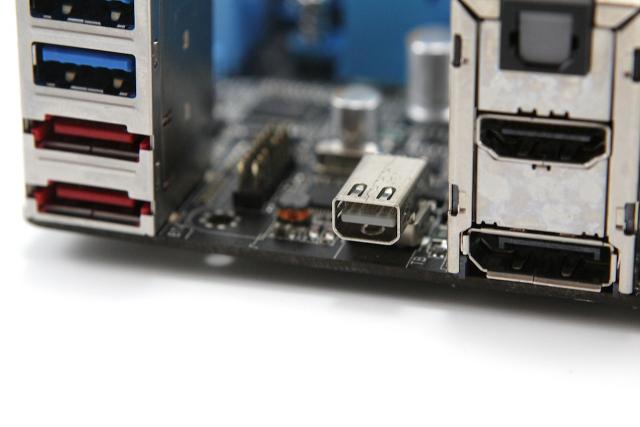 Here we see the basic layout of how the data stream flows for the Thunderbolt function.  This shows the block layout along with the bi directional nature of how the controller works with the port.
What makes Thunderbolt a desirable option?
•Dual-channel 10Gbps per port – Plenty of bandwidth for even the most demanding devices
•Bi-directional – communication both send and receive at extremely high speeds concurrently
•Dual-protocol (PCI Express and DisplayPort) – Thunderbolt is not for DATA only, it carries the DisplayPort signal for excellent video signal as well.
•Compatible with existing DisplayPort devices – Just like it sounds, existing DisplayPort devices work without an issue
•Daisy-chained devices – No need for multiple cables as up to 6 devices plus a display can be daisy chained from the single PC connected cable
•Electrical or optical cables – Thunderbolt supports both signal over copper or Optical cables for data transfer
•Low latency with highly accurate time synchronization – Interface is fine tuned for high performance and accuracy to assure no timeout or latency issues.
•Uses native protocol software drivers – Compatibility issues should be all but nonexistent as the device uses simple native drivers
•Power over cable for bus-powered devices – Power passed via the thunderbolt cable to bus powered devices which eliminates the need in many cases for supplemental power cords to devices.
Some of this may seem German to you but reality is it just outlines why it is a bad ass and very viable solution for IO needs for now and for foreseeable future applications.

Here we see some of the performance capability of Thunderbolt vs. USB 3.0, now as you can imagine USB3.0 being recently touted as such an amazing option and while it still is this just shows that Thunderbolt with a compatible device can be just that much better.
ASUS has gone through a lot of testing and engineering to ensure that Thunderbolt not only works but it works right, as they have specially designed the BIOS itself to work with the OS and help recognize hot plugs of devices downstream and avoid possible loss of response issues which can happen when not properly configured.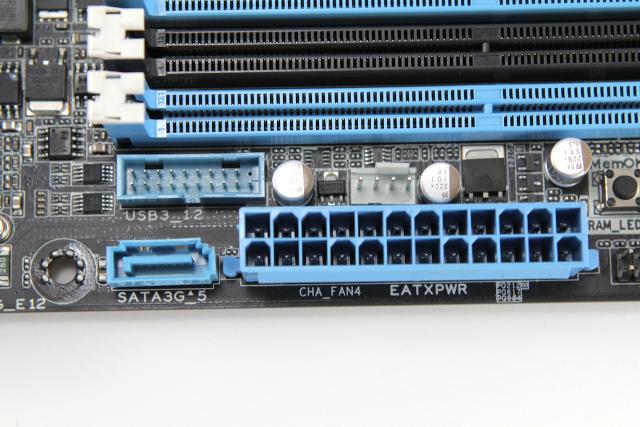 The memory interface for the ASUS Z77 boards has changed significantly.  The previous generation boards utilized a daisy chain style trace layout which has worked well for a long time but ASUS found a way to improve this further with the new T topology and therefore should offer some serious performance improvements for the memory interface.  As of now the standard daisy chain layout has served well and I think that as speeds increase and memory kits eclipse 3000MHz it's only a matter of time until the T topology will start to show its worth in the form of improved latencies and better overall performance.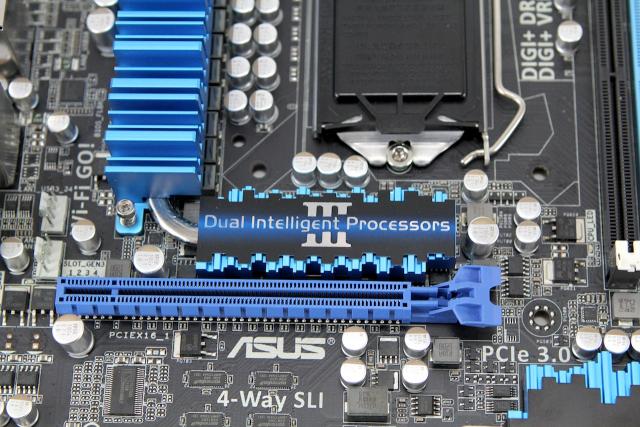 ASUS has implemented many features to protect your investment including anti surge and ESD protection IC's.  This ensures that no matter the environment, humidity or whatever there is far less risk of ESD or surge issues and there are built in protection circuits to lessen the risk of damaged components.  Remember that ESD can be in the thousands of volts and that kind of jolt can easily damage a component or cause complete system failure.
The ASUS AISuite II utility has many features that allow full control over the board and its features.  The AISuite II control panel is literally the mission control center for your board and this is a very capable one at that.  Everything from Overclocking to USB 3 boost and even the SSD caching or Wi-Fi control can all be found here.  There are also many monitoring utilities integrated along with a sensor recorder function so the voltages and thermals can be logged in the background to help gauge and diagnose the cause of system instability or issues.
Sometimes a product comes along that makes you perk up with interest as the features and options that are available appeal to what you as a user are looking for, innovation and new technologies. ASUS has a solid stack of both channel and segment motherboards that all have a basic feature package across the board. This means that the same quality parts used in the entry level –V motherboard will be the same all the way up to the Premium with feature sets being the thing that separates them from each other.
Pages