Table of Contents:
The long awaited Intel certified Thunderbolt boards have been long in the waiting.  We are happy that we have the first available that is fully certified for the Thunderbolt application. With that said while Thunderbolt is a big feature it is only a highlight as there is much more to this board and what it is truly capable of.  So let's dig in and see what this board has to offer.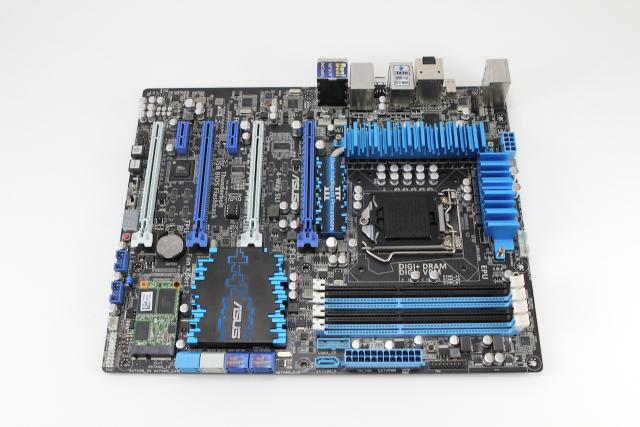 Here I have the full board to showoff everything it has to offer but as will soon be shown there is much more to this board than meets the eye here.  First off like we have seen on man ASUS boards we like the enthusiast's layout as I tend to call it.  I have used that term many times but never actually explained it.  I can remember back when header and connectors were all over the board and enthusiasts always pushed for connectors at board edge and component placement that makes cable routing easier.  But to me enthusiast's layout doesn't end there as the board needs to show attempts at total component placement consideration such as lack of tall components around cooling areas where a heatsink may be encroached upon, heatsinks for components that are short enough to allow larger heatsink fitment while still cooling effectively.  All of this amongst many other factors adds up to make for an enthusiasts friendly layout design.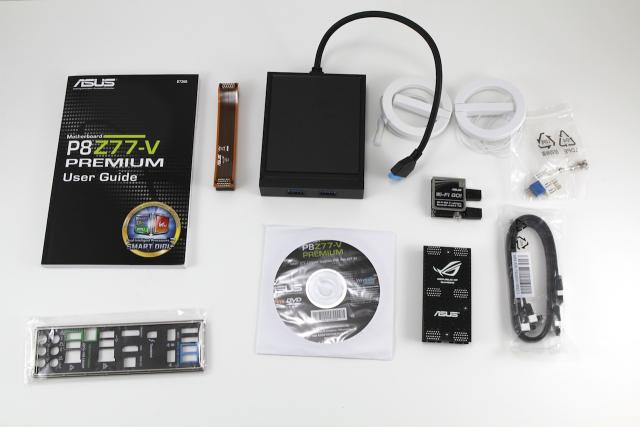 Here is part of the connected heatpipe/heatsink setup which in the middle of the board gives shelter to the PLX PCIe 3 chip exactly like the one we covered just recently on the P8Z77 WS board.  This chip allows for up to 4 slots at X8 PCIe Gen 3 or even dual slots at X16 PCIe Gen 3.  This allows for 4-way SLI or CrossfireX functionality for the most extreme configurations.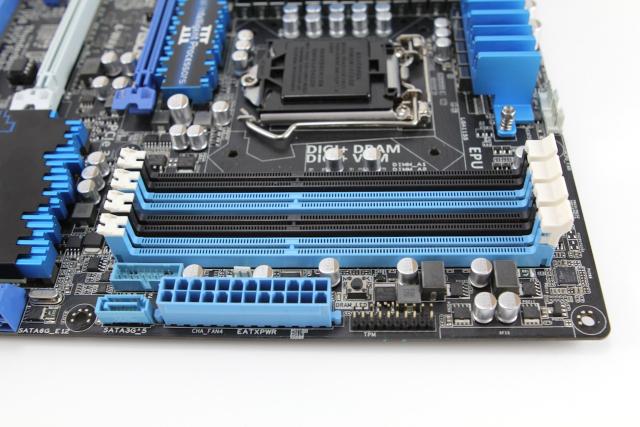 The memory is a dual channel design certified for up to 2800MHz+ with 4 slots supporting up to 32GB of RAM.  Having full density population of 4 slots with 8GB dims I'm sure will not come close to 2800MHz but that just goes to show that the board can be used for many purposes from a high memory computation/render rig to a high frequency/high performance gamer.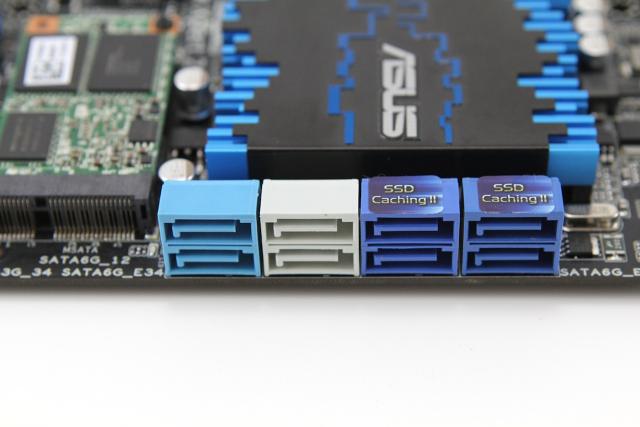 The Integrated SATA ports support is quite extensive and very capable. The board supports 6 total SATA 6G ports on the onboard side of things along with 3 SATA 3G ports. One of the 3G ports is relocated in a vertical position next to the 24Pin ATX power connector. Now we all know that the PCH supports 4 total 3G ports well the 4th is routed via the onboard mSATA port which comes pre-fitted with a 32GB mSATA SSD ready to setup in an Intel Smart Response cached setup or can even be upgraded to any available size mSATA SSD for any usage you want.  To round out the storage options we also have dual eSATA 6G ports on the rear IO via another supplemental chipset.  So as you can see there is no shortage of storage options and we haven't even looked at the USB ports.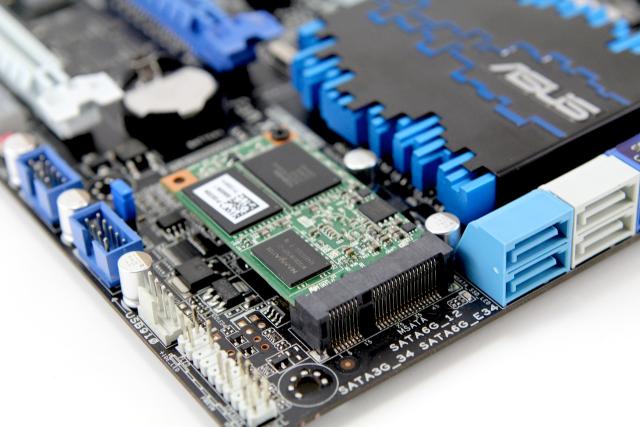 USB is not in shortage on the Premium either as it carries multiple connectivity options.  I have seen where back when USB 3.0 was first announced board had 2 ports and that was it but as of recent the Z77 chipset supports USB 3.0 natively so every Z77 board supports 4 total ports directly from the PCH.  On top of this ASUS also includes an ASMedia 1042 USB 3.0 host controller which also supports UASP function for a total of 6 USB3.0 ports.  This comes down to 4 rear panel ports and 2X via an onboard header near the 24Pin ATX power connector.  USB 2.0 is also still alive and well with 6 total ports available 2 of which are routed to the rear IO and 4 available via onboard headers at the lower edge of the board.  Firewire (1394) has been omitted from this model as adoption of Firewire for PC has been quite low so I am not really surprised to see this.
The Slot layout is definitely designed around the enthusiast's mindset.  As I said before it supports up to 4 cards in SLI or CrossfireX mode for some really insane gaming or rendering configurations.  If running dual card by placing them in the 1st and 3rd slots which are blue colored offer full X16 PCIe Gen 3 functionality.  This is significant for anyone looking at this model as the theoretical bandwidth for the X16 PCIe Gen 3 slot is up to 32GB/s versus 16GB/s on the Gen 2 parts.  This all adds up to the fact that Gen 3 is double the effective bandwidth which means even in an X8 environment on a Gen 3 board would still be equivalent to a full X16 Gen 2 part which as we have seen a top end GPU can barely be bottlenecked by a couple percent in some cases by this change which means in a 4-Way SLI setup you would be hard pressed not to look at this board or one like it with the full 32 Lanes available via the PLX chip.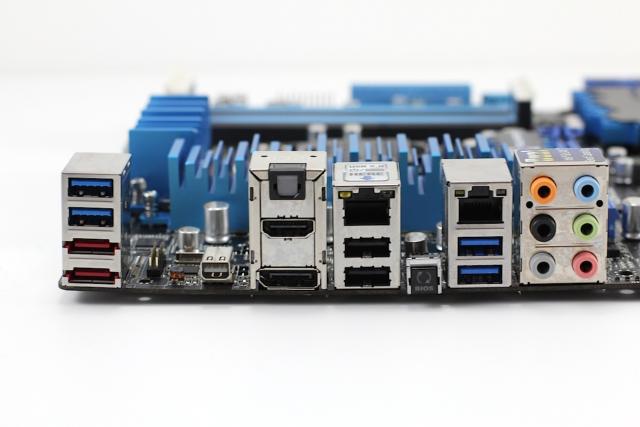 Here we see the IO side of things and this is a very bunched up area due to the massive array of connectivity but regardless I will go through each section to show what they can offer.
USB 3.0 ports x4 – The USB 3.0 ports on the rear are mixed to give the best of both worlds and options to the end user.  There are dual ASMedia ports as they have become a mainstay on the ASUS offerings and also they fully support the UASP protocol offered by ASUS USB 3.0 Boost.  The other 2 USB 3.0 ports are half of the USB 3.0 offering from the Z77 PCH native ports and they at this time do not support UASP (But will come time for windows 8) however ASUS did not rest on their laurels and did move forward with adding USB 3.0 Boost to the Intel ports as well to give a sizeable boost to storage devices even on the Intel USB 3.0 ports.
Wi-Fi/BT4.0 card – The Wi-Fi/BT 4.0 Add in card we have become familiar with on a previous board we covered in the standard channel series roundup we did with all of the other P8Z77 model boards.  This is a single card that offers wireless connectivity via Wi-Fi (Dual Band 2T2R Wi-Fi 802.11 a/b/g/n) and Bluetooth 4.0 (BT v4.0/3.0+HS) which ensures that the newest wireless technologies are already available and at your fingertips ready to run when needed.  Also included in this bundle would be the Wi-Fi GO! features which give some special functionality sets that otherwise end users may not be aware of or know how to use at all.  Here are just some of the functions supported via the Wi-Fi GO! Function.
DLNA Media Hub – This allows for the network to be used for media streaming from one system to another and is easily manageable via part of the Wi-Fi GO! Functions
Remote Desktop – This allows for a mobile/remote devices to not only control the desktop but also be a remote cloned display so you can work on your desktop from a remote device.
Remote Keyboard & Mouse – This allows remote devices to be used as keyboard and/or mouse when the connected keyboard/mouse are out of reach.
Remote File Transfer – This is a nice function as it allows remote sending/receiving of files between a mobile device and the PC with simple single clicks.  Items such as mobile phones or tablets could see this as a very powerful tool.
Capture & Send – This is a unique tool and depending upon usage could be very cool or just another niche feature.  The Capture/send feature allows for screenshots to be dumped to a mobile device and while this is cool especially from a benchmark standpoint I do question whether many high end benchmarkers would use it as the software would have additional overhead which is against everything high end benchmarking stands for so while it's a neat feature not necessarily as useful as some of the others.
Smart Motion control – This is something I am very excited about as it allows the motion sensors/gyros built into your mobile device/smartphone to be used to control the PC environment.  This is something I will be happy to test out and form what we hear there will be a SDK available to download so users can be creative and find new ways to implement this feature.  This to me is pure bad ass as its innovation that adds another level of depth and interaction with your PC.
Thunderbolt port – Thunderbolt is a very high speed port which is daisy chainable for up to 6 devices with a 7th being a Thunderbolt display.  The throughput for the Thunderbolt interface is a quite fast 10Gbit/s without a bandwidth bottleneck.  We will cover this feature more in-depth in the advanced features section.
DisplayPort/HDMI Interface – These are both digital display outputs which should allow connection of pretty much any display via the native connection or an adapter.  This port does support running via the Integrated Intel HD3000/4000 graphics processor or even a dedicated GPU via the Lucid Virtu MVP technology and the switchable graphics it offers.
2X USB 2.0 ports – The USB 2.0 are standard and have been since they came out a long time ago in mid 2000 and has been a mainstay ever since offering at the time a very high speed for of transferring data.  There are still 6 available on the P8Z77-V Premium board 2 of which are on the Rear IO and likely will be best used for keyboard/mouse functions as there is no need to take up valuable USB 3.0 connectors with such things.
Dual Gigabit Intel LAN – The standard used to be Realtek but as users got a taste of the performance and reliability of the Intel LAN ports there has been no turning back, and for any board to be considered "without compromise" an Intel NIC is a must.  Some of the advantages of the Intel NIC are not just the performance but the reliability they are known for as well as the lowered CPU usage or "Overhead" you will see during heavy network traffic.  The dual NIC setup does support performance enhancements via Teaming of both ports to allow for better performance in some scenarios but we have not seen that very often amongst enthusiasts recently which still leaves the second NIC available in the rare case it does have a fault there is minimal downtime as a simple cable swap to the other port and you would be up and running.
Digital Audio up to 7.1 channel – The P8Z77-V Premium striving to be a no compromise solution includes the Realtek ALC 898 Audio controller which offer such features as DTS Connect and DTS UltraPC II to its stable of features to ensure a feature rich a full function 7.1 channel capable audio solution including a Optical S/PDIF as well on the same block as the HDMI/DisplayPort outputs.  This is no replacement for the high end discreet audio solutions such as ASUS' very own Xonar line of audio solutions but for most gamers and PC enthusiasts it will be a pretty awesome in place solution and don't forget that a higher end discreet solution is offered by the same manufacturer which would mean seamless integration should such a thing be needed.
Just when you think there could be no other basic features to cover we have to mention something we touched on previously which is the fact that the mSATA port does come with a preinstalled 32GB full feature SSD which means either it can be used as a small scratch disk for adobe apps but was more intended by ASUS to be a ready to run solution for anyone wanting to run a cached volume via the Intel Smart Response technology.
Sometimes a product comes along that makes you perk up with interest as the features and options that are available appeal to what you as a user are looking for, innovation and new technologies. ASUS has a solid stack of both channel and segment motherboards that all have a basic feature package across the board. This means that the same quality parts used in the entry level –V motherboard will be the same all the way up to the Premium with feature sets being the thing that separates them from each other.
Pages