Table of Contents: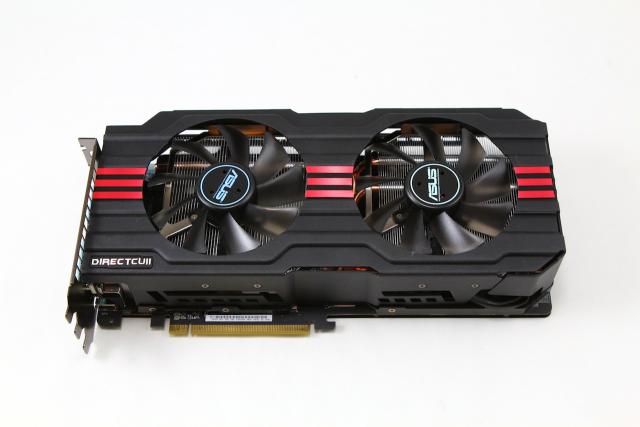 Here she is in all her beauty it is the HD 7970 DirectCU II TOP from ASUS, and yes that name is a mouthful and even harder to type correctly.  This beast of a card is a complete Custom PCB with Triple slot loving from the DirectCU II cooler which ensures temps stay nice and cool even under the worst scenarios, and it is leaps and bounds ahead of the reference cooling solution.
Here we get a glance at the specs from ASUS themselves and they as always with the TOP models push for more than just a mild overclock.  ASUS pushed the HD7970 DirectCU2 TOP a full 75MHz over the reference 925MHz engine speed for a 1000MHz clock out of the box.  Not just that but ASUS does not ever run "edge overclocks" on their top cards as many manufacturers do for their top models.  Edge Binning is when manufacturers keep pushing cards until they find the fail clock then back it off to the last stable clock setting and make that their top clock which means when you buy that card there will be very little headroom out of the box without adding more voltage or going to other means to push it further.  ASUS bins the cards to run the spec speeds with headroom to spare so that if you want to push further you know your TOP GPU is not maxed out already and should have some room to go higher.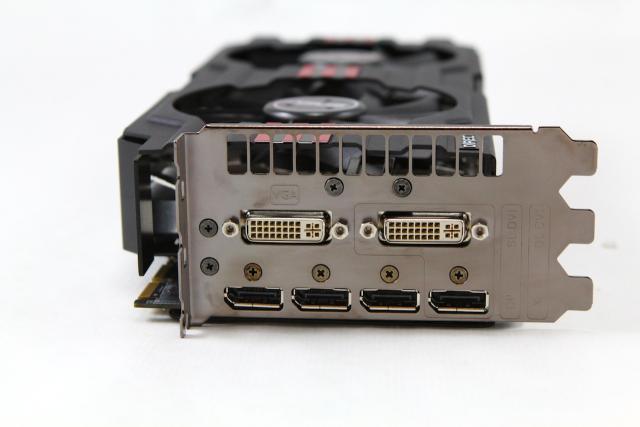 The outputs on the ASUS HD 7970 DirectCU II TOP are as follows:
2X DVI (1x DVI-I, 1x DVI-D)
4X Display Port
HDMI Is supported via a Display Port to HDMI adapter or even DVI can be adapted from Display Port as well.  VGA if needed could be adapted from the DVI-I port but using a VGA display on this card would be pure sacrilege as this monster should be purely digital connectivity to ensure maximum awesomeness.  The 6 display outputs may seem extreme but you got to keep in mind that with Eyefinity each card can support 6 individual displays for an amazing 3x2 or other crazy panel setup with some really extreme resolution possibilities although doing this on a single card with some of today's more demanding games I would probably recommend at least a couple of 7970's if you're planning something really nuts like a 6 panel monster display for some 3D gaming.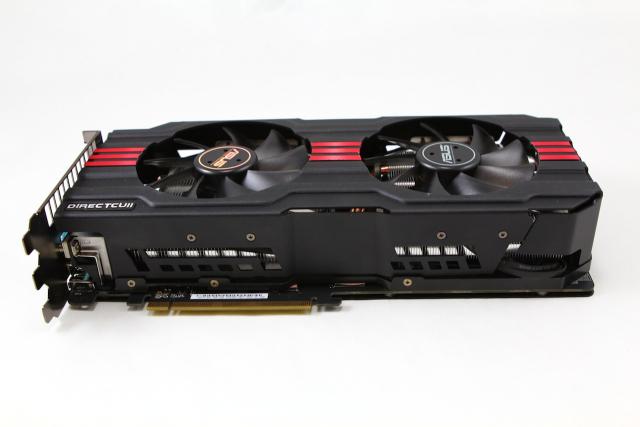 The DirectCU II cooler on the card is a triple slot design to ensure that you would be hard pressed to find a condition that this cooler could not handle.  The cooler starts with a direct touch heatpipe base which means the coolers heatpipes lay directly on the GPU itself and they are stacked together to form the bulk of the cooler base and therefore all of the heat from the GPU is quickly wicked away to the adjacent fin arrays.  Other manufacturers cooler designs use a thick metal baseplate with the heatpipes recessed into the adjacent side of the plate and while this design may work all of the heat has to make it way through this extra metal plate to get to the heatpipes and this can lead to an overall less efficient cooling experience.  The dual high performance fans help push cooling air through the array and really help accelerate the cooling efficiency of the DirectCU II design.  The Direct CU II design is a dual tower design which has 2 separate towers laying down parallel to the PCB and also the cooling air passing through it has a secondary effect of cooling the board components such as VRM as well which enables the card to be pushed even harder and faster when needed.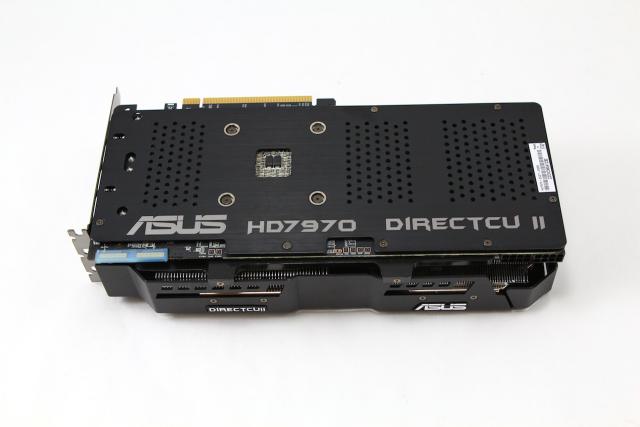 ASUS wanted to ensure maximum tweakability with the HD7970 DirectCU II TOP so they included the VGA Hotwire connections which we will discuss soon in our Advanced Features section.  Also included as default on the card is a backplate, which offers many advantages to the design.  First and foremost with the backplate fastened in multiple points it help keep the PCB super rigid which will avoid flexing and possible BGA issues caused by PCB flexing.  This also adds to the beefiness and overall solid feel of the card.  Secondly we see the backplate as being advantageous in regards to short circuit protection as with the backplate in place it is much harder to short circuit a component on the rear of the PCB, so the backplate acts as a functional shield of sorts.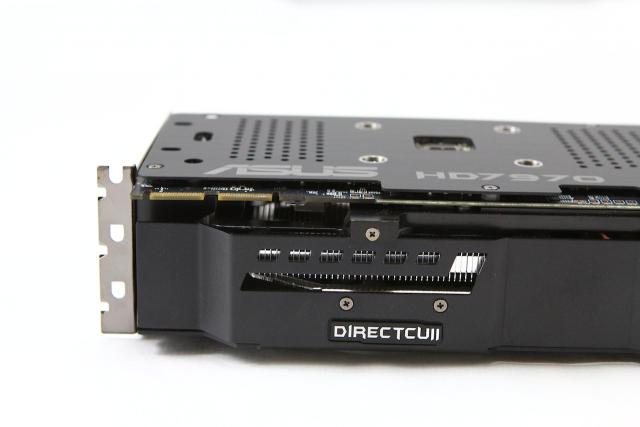 Just like any HD 7970 card this model supports full crossfire capability up to 4 GPU's although being triple slot either slim LN2 pots would be necessary or some flexible PCIe extensions would have to be used, but we have seen it done in some extreme benching scenarios.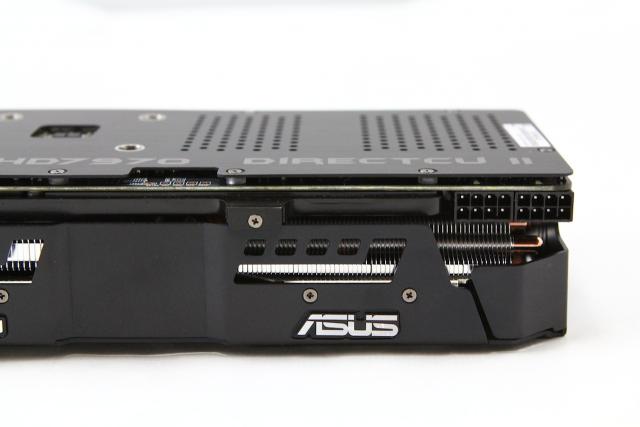 The HD7970 by default carries a 8Pin + 6Pin for supplying the needed power but ASUS dropped that idea and went to dual 8 pins knowing that anyone opting for this TOP series card is likely going to want to push it at some point.  Yes the 8/6 combo will serve most scenarios well but in their strive to offer the absolute beast of a card they simply had to add the extra capability of the 8 pin to ensure that even when pushing for extreme clocks under extreme cooling the VRM should be able to take the punishment and keep on delivering.
The HD7970 offers full support for PCIe Gen 3.0 spec which allows for double the bandwidth of the outgoing Gen 2 protocol. The TOP edition card of course keeps this functionality at full force and ensures that this card should never be starved for bandwidth when benching, gaming or even pulling render jobs if it happens to be tasked for such things.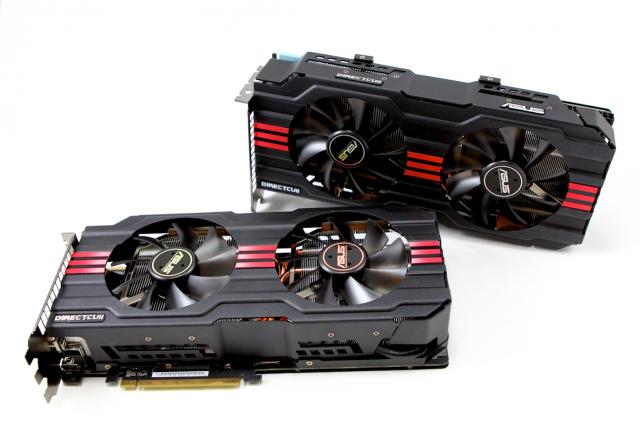 What is better than one HD 7970 DirectCU II TOP card?  Well we have two and you better damn well believe that is better.  We plan on unleashing the full power of these cards and what they are capable of in our benchmark testing.  But until then lets take a look at a few of the advanced features this card offers.
The battle between AMD and NVIDIA is a long raging one with each side taking the lead and then surpassing the other in leapfrog style action over and over with no end in sight. This is probably the only War effort I will ever support as at the sales counter this War equates to better pricing for every end-user in existence. The AMD 7970 Series of cards is the Top Dog of the approved by AMD card lineup and other than a rogue 7990 are the best cards you can get on the AMD side of the fence.
Pages