Niso Levitas - Editor
Email Niso Levitas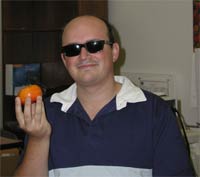 I was your typical computer geek, getting my first one when I was 13 years old. It was a Sinclair ZX with 48K memory and was my world for 2-3 years. I started with Gaming and Basic + Assembly Language, and soon after, I became a real computer enthusiast. I would read computer magazines, share games and software with others, and talk for hours and hours about computers. My parents would throw me out of the house sometimes, just to keep me from sitting in front of the computer.
Next, I got an 80286 PC. There were older, Incredibly Boring Machines with monochrome monitors around at that time, but this PC had a color screen! Well, we cannot call DOS "colorful", but the games were. My fervor for computing was re-ignited with C and Fortran Languages, and of course, games. "Norton Commander" was my best friend. By then, I could tweak my ZX Spectrum, even though it wasn't easy to play with its hardware, and I had installed my first PC. That was 11 years ago.
I studied and got a degree in Economics, and even began working in finance and was promoted to Finance Manager before I returned to my first love, computers. It took me four years to realize it, but once I did, I started a small business installing PCs for my friends and helped them setup their new companies. As they grew bigger, I moved into networking.
Meanwhile, my brother was working for the Turkish Edition of PCWorld. They were looking for a hardware tester and I thought, who better than a real PC technician? We worked for hours and hours on every kind of computer hardware there is. They really needed someone full time, but I didn't want to give up my business. While there, I proposed to test Motherboards, which was not a common thing in Turkey 6 years ago. It was a first for them, though, and soon we would be testing 27 VGA cards, 16 Motherboards or 21 scanners in a row! That was something to see! But the "taste" of having the first sample of hardware in your hands is like nothing else. So, instead of shutting down my business, I decided to do testing as well, and eventually ran the "PCMagazine Test Center" in Turkey. We never lost contact with the industry. We saw every piece of hardware as an end user and manufacturer.
For three years I wrote for PCWorld, and our team became well known. Liking what they saw, PCMagazine, Turkey, asked our team to help improve their magazine. We focused on hands-on tests and articles, not just translations of other articles. Sales quadrupled in three months, and our monthly magazine was sometimes faster to review new products than world famous Internet hardware sites. In fact, we were the first publication in the world to write about "Serial Ata", and the first Turkish PC magazine to be referenced by famous European PC publications, such as c't Magazine.
Now, as I stand in front of a bunch of Rackmount Servers, installing applications, I feel just as excited as I did as that 13-year-old boy with his first ZX Spectrum Computer. Of course, our customers don't know that this boy is actually "playing" with their new servers! But, servers are OK with me. I still like working as a technician and I love to "touch" hardware.
I'll continue to write articles for PCMagazine, but I also decided to join the Motherboard Homeworld staff and share my passion for computers with them. I especially look forward to working with the magnificent, "Doc Overclock"(Well, he is a "BIG" guy and he might beat me up if I don't say something nice about him!)
Doc Overclock welcomes Niso