Good point, Toby, with one critical exception between the two.
Quote:
When Bush was in office, everything was his fault but since Obama
arrived....nothing is his fault.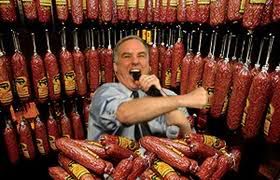 As the matter of fact, many still keep blaming everything on Bush....when is Obama going to start taking responsibility? Either Obama is too lame to take responsibility and should not have ever been president because of that or he is just as bad as Bush. One or the other.
Obama cannot be this great president and get credit for when things are going good and then when things go bad just back out and not get credit for those.
Bush was supposed to be some kind of bully and get everything he wanted, i.e. all of the wars, manipulating the market, etc. but when Obama was campaining on how he was going to change everything and when he came into office none of these bad things were his fault. Where is all the responsibility he was proposing about he was going to change everything?
He sure has changed every since he found out that being president is not all that he thought.