---
Here are some photos I took of the case before dropping it off with Bill to be painted.

You can see the side fresh air intake vents. This case has a semi-unusual setup, in that the front intake fan is set behind the hard drive cages. The side vents allow fresh air to be drawn in without going through the harddrives first. Also, you can see the vent on top. This has room for two 120 mm exhaust fans.



Front bay door open, top i/o panel open.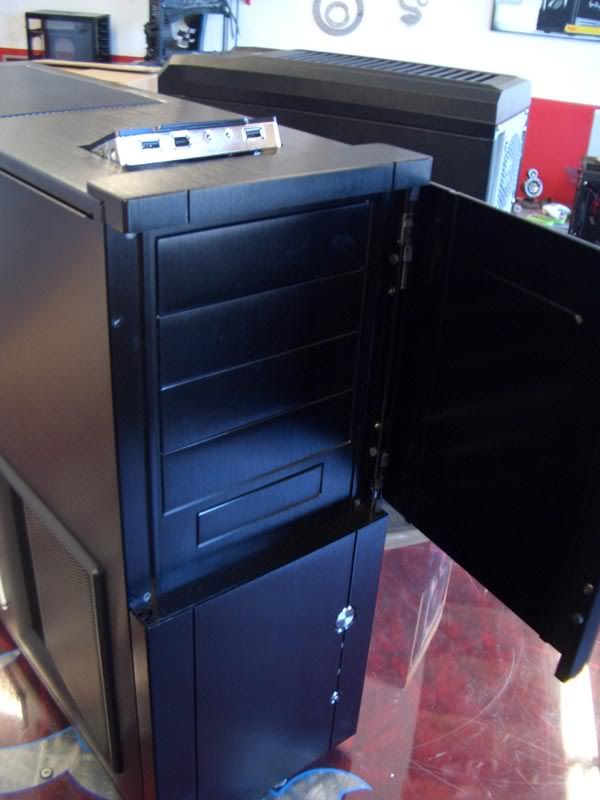 Hard drive cages, which you can't see, but there is a fan in between the two cages and a vent on the base of the case. Pretty cool design. Then behind the hard drive area, there is the middle intake fans. You can see how there is a separated vent area between the hard drive cages and the intake fan. This means totally fresh air going into the motherboard area.



Removable motherboard tray. This isn't anything to uncommon. But, what is uncommon about it in the TJ10 is that it is really nicely done. It slides like butter after removing 5 thumb screws from the back. A lot of cheaper cases don't always move very smoothly. Also, as you can see in the photo, the whole back panel surrounding the i/o ports and the expansion card slots moves with the tray. Some cases are not setup the same, and essentially you are forced to remove video cards before sliding the tray out. On the bottom of the case, you can see a vent for the power supply. This way, you can run the PSU up or down, your choice. The feet on this case are nice and tall, which means if you run the PSU fan down, it will have plenty of airflow through that bottom vent.