Moderator: The Mod Squad
Black Belt

Posts: 749
Joined: Wed Aug 11, 2004 6:35 am
Location: My own little world
Contact:
Kinda small, get out your glasses.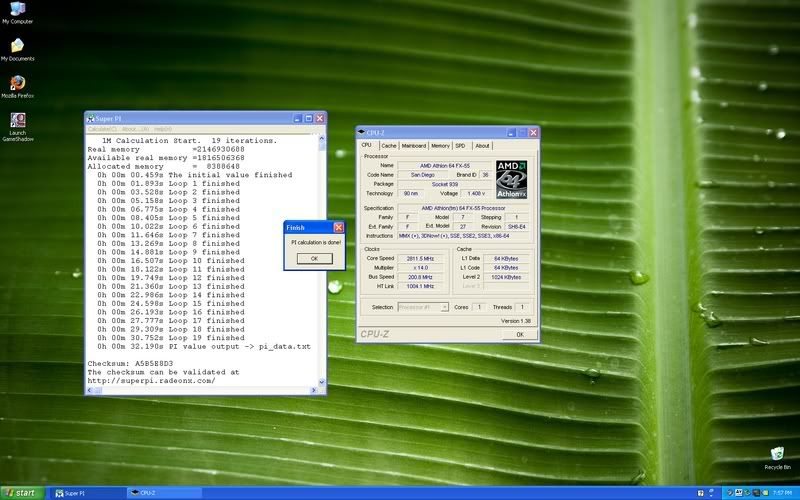 alliedtechnwa.com
Black Belt

Posts: 749
Joined: Wed Aug 11, 2004 6:35 am
Location: My own little world
Contact:
Brown Belt

Posts: 278
Joined: Sun Nov 10, 2002 3:42 pm
Location: Ararat Vic Australia
Contact:
THe rig in my sig will allow me to hit 33.95 sec. Sorry bout no screenie but I don't have the net on at home. Will try and bring one into work soon when I can.
B.t.w THe ram timmings are completley stock and stock voltage on me crappy mem lol And I can still hit 2.808 on the cpu

core i7
[email protected]
asrock x58 extreme 3
6 gig ocz ddr3 1866mhz @ 1600mhz
evga gtx 460 1gb external exhaust *2
Creative x-fi xtreme gamer
custom watercooling loop for both cpu and gpus
Black Belt

Posts: 786
Joined: Thu Aug 17, 2006 8:34 pm
Location: Iamwhereiamtoday (CA)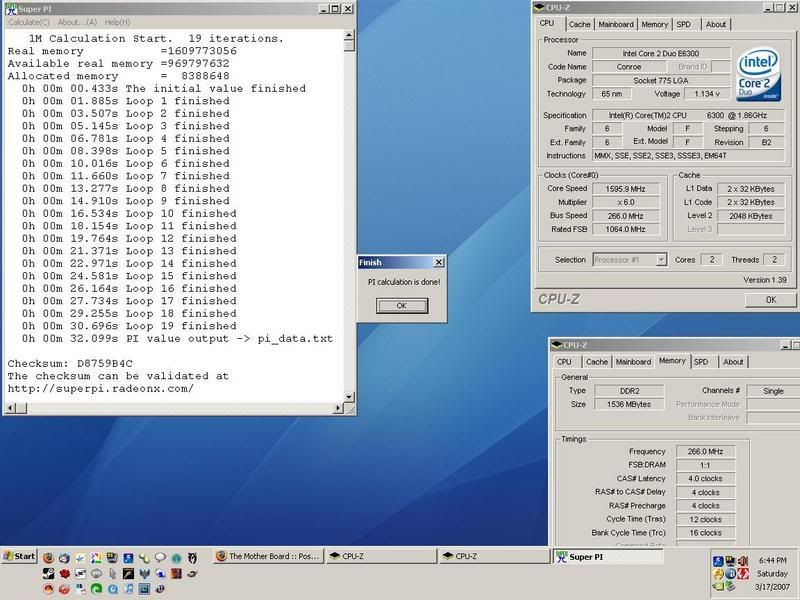 The picture shows my CPU as having a 6x Multi, but it really has a 7x and is clocked at 1.86ghz. The reason for the difference is that it auto underclocks by a full multi when it's not under load.
I know it's not a ultra good score, but it's fairly good.
People who have gone through Starfleet academy should be taught how to fix everything. Even a Roman aqueduct.
Black Belt

Posts: 887
Joined: Fri Jun 03, 2005 9:33 pm
Location: NH
Okay, I ran the Pi calculations and the CPU-Z programs. I've sent my screen-shot to Tulatin.

Using the system indicated in my signature, the result was 55.071 seconds.
I tried using a "Point of View Gun", but my aim was lousy. ;-)

ASUS K8N, AMD Sempron 3100+(1.8ghz), 1gb RAM, eVGA 5500FX 256mb AGP, two WD120gb SATA drives in RAID 0 (striping), 450w power supply.

Fold well, so that others may prosper.
Green Belt

Posts: 108
Joined: Sat Mar 04, 2006 6:40 am
Best I can do for right now..............

My other C2D...............

Brown Belt

Posts: 288
Joined: Thu Sep 09, 2004 10:31 am
Location: 665 > The neighbour of the beast!
Contact:
heh, I thought I was doing pretty good looking at the chart on page 1 then I skip to the last pages and see the soc775's kicking everyones arse!
ah well, its still not too bad. My FX-60 oc'd to a wee bit over 3g. and 2 gig ram.
Oh and I put up 2 pics, one screen cap of all 3 monitors and a croped version of important parts.
[i][b]There 2 ways to write bug free code, only the 3rd way works.[/b][/i]