dun dun dun....duna dun dun. (cool drum beating music to show superiority)
okay heres my rig remember it is far from done which i will explain later.
My Baby
Abit AI7 w/ uGuru
Intel Pentium 4 2.5C @ 2.91ghz
512mb Corsair XMS Pro Series pc3200
Aerocool DP-102 Deep Impact w/ Dual 80mm fans
Ultra X-Connect Black 500w 34A on +12v
Western Digital Raptor 36.7gb 10,000rpm (os and games)
Seagate 20gb (storage) (yea i need to buy a new storage hdd)
Lite-On DVD-RW Dual Layer
Logitech X-530 Speakers 5.1 Surround Sound
Zippy Mini Keyboard
Viewsonic Wirless Optical Mouse w/ cradle charger
Raidmax Cobra Case
What I Still Need To Get
512mb Corsair XMS Pro Series pc3200 (need a gig and dual channel)
Western Digital Raptor 36.7gb 10,000rpm (need to stripe raid my os and games)
Western Digital 200gb or more (need more storage)
6600GT or better vid card
CREATIVE Sound Blaster Audigy2 ZS 7.1 PCI Sound Card
KWORLD Video Magician Video Editing Kit (video capture card and more)
And I need a new cpu cause this 400fsb is bottlenecking the crap out of my rig.
Yes so expensive but yet it gets the floor.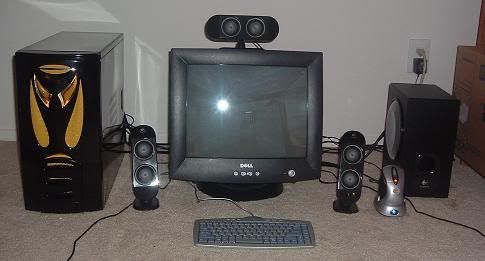 Yes my rig is on the floor next to my bed and my dirty clothes.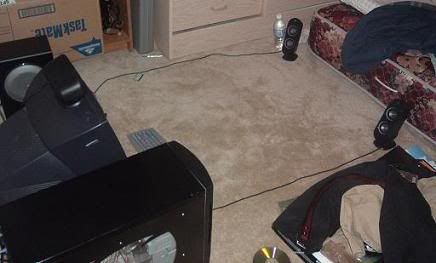 It is just too pretty.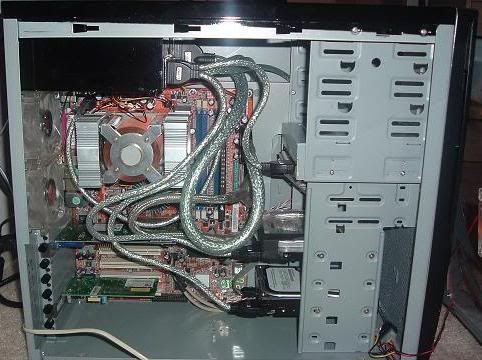 You can see my memory is hard at work by its activity leds.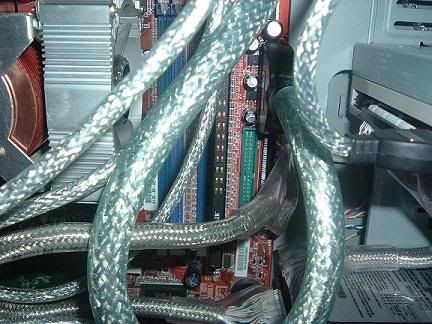 Look how reflective my psu is!!!
Yes it is massive.
It is so little and cute.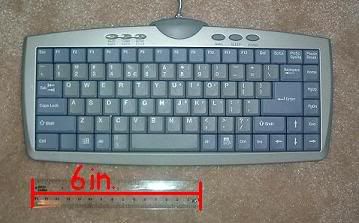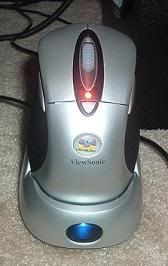 5 and a half inches of raw power.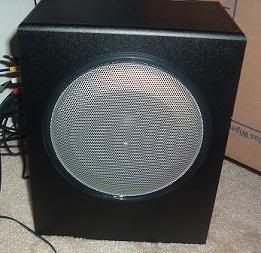 Half Life whoop whoop!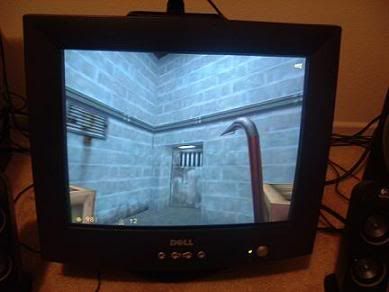 Yes I do save my boxes.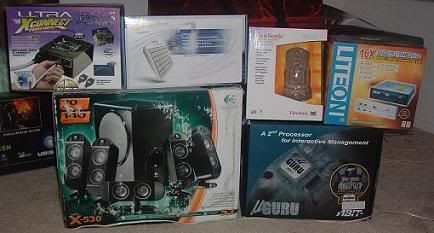 EB Games gives me all there stand-ups and posters cause I'm the bomb at Halo 2.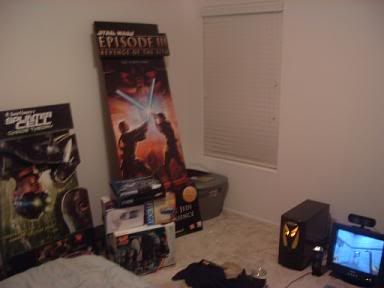 well that's about it and please tell me what you think in the member rig discussion forum seeing this took a total time of about 3 hours to do.