Table of Contents:
Now that we've gone over the parts that come in this kit let's go over how you would go about installing it. My case had some advantages that others just won't due to its size and build quality. This is just something that you should keep in mind. The case that this kit was installed in was a Cooler Master HAF X NVIDIA Edition.  This is a very sturdy full tower case that lends itself really well to water cooling. These cases were definitely made with air cooling in mind, but due to their size and build quality, these just really shine as water cooling cases as well.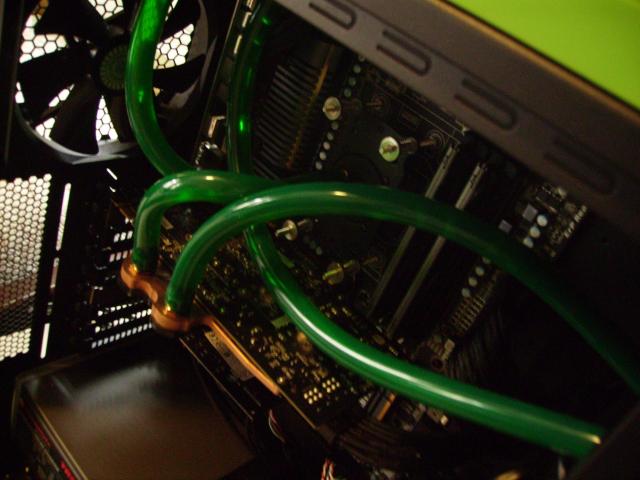 When you get a kit like this the first thing you should do is make sure all of the parts are there and that everything seems to be undamaged. I found that due to the way that FrozenCpu packed and shipped these items everything was in flawless condition. I then proceeded to remove the radiator from its box and flush it out. This is a very important step because of the way these units are manufactured. Their manufacturing process tends to leave small metal shavings within the radiators that can eventually damage or even kill your pump. To flush it all you need to do is continually fill it and drain it several times to remove all of the particles. You can do this with tap water, but I would then highly suggest that before you install it you flush it one last time with distilled water and then leave it to dry. You want to do this because you don't want any of the minerals that are normally found in tap water to end up in your loop. These minerals will typically conduct electricity and that's the last thing you want in your water. The reason for this is in case you have a leak. Distilled water is non-conductive and therefore won't ruin your expensive hardware.  This is generally the case, but to be safe you really don't want any leaks anyway, because the smallest amount of minerals or particles can cause your distilled water to become conductive.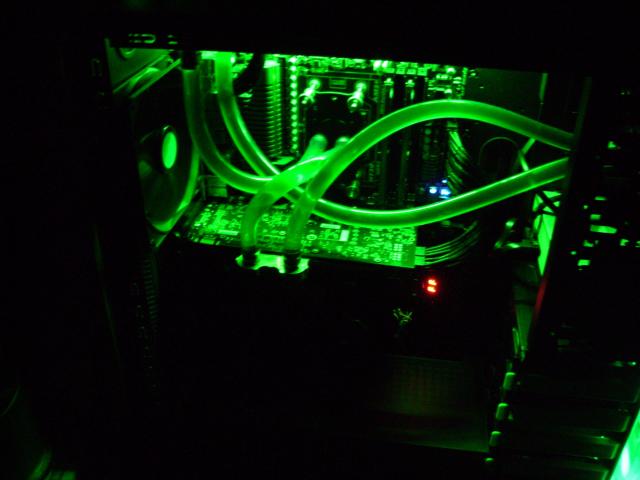 Once I had finished with the radiator and left it to dry I proceeded to mount the CPU water block onto my motherboard. This is a very different block than anything I had worked with before. I was a little annoyed that this block didn't come with instructions that were specific to this particular adapter. I was able to find some instructions online that helped me to figure out the best way to install this adapter. This particular water block doesn't need a back plate. It comes with plastic washers that go on the back side of the motherboard. This is to keep the metal screws from making direct contact with the board itself. I was a little skeptical of this at first, but found it to be completely functional once everything was in place. The most important thing to keep in mind with this type of water block is that you want to tighten the screws evenly. This is best achieved by tightening the screws down in a diagonal pattern, tightening two of them together at the same time. With your motherboard removed it is usually pretty easy to tell if you have the block flush with the top of your CPU. Just set it on your table or work bench and get down to eyelevel to take a look. Then just turn your board and watch to see if the block is on evenly. This is what I did and it seemed to work pretty well. This isn't the nicest looking water block around, but being that it's black it would definitely go with my build. This block was mounted onto a Gigabyte GA-990FXA-UD7 motherboard that just happens to have a very sexy looking black PCB.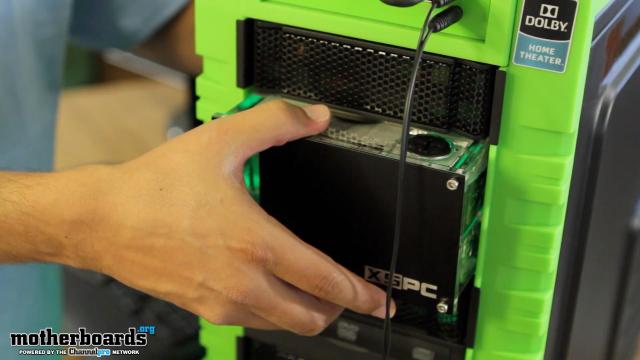 With the CPU block installed I then began to install the reservoir and pump combination unit. This was extremely easy to install. With my case all I had to do was unlock two 5 ¼ inch bays and then insert the unit until the latches lined up with the holes on the unit itself. This was then followed by me just locking the bays again with the tool less bay locks to keep the unit from moving around. It was just that easy. This unit features a fill port at the top of the unit to make it easy to fill and clean out the loop when you need to. One thing I had to keep in mind is that when I got to installing the tubing, that I would need to leave enough slack going from, and coming to the unit so that I would be able to fill it. With the fill port being at the top, this unit will need to be pulled out and forward a little so that you can get to the fill port. This is extremely important, because if you can't get water into your loop there really isn't much it's going to be able to do for you.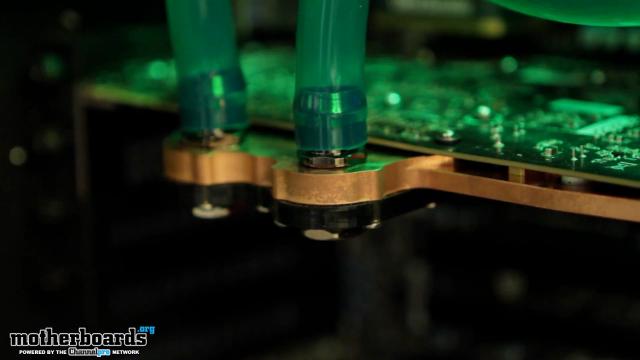 You have to remember that I also added a GPU block to this set up, but I'm going to skip that and go over that particular installation in a later review. So now we get down to the juicy part of this review and I get to explain how to install your hoses and then fill the loop. This is the most complicated part of this process. This is due to the fact that this is where everything that can go wrong will go wrong. If you forgot to tighten any of the barbs down or you forgot to hook anything up properly it's going to show in the form of leaks, or improper functioning. To cut the tubing the most important thing that you want to remember is to always cut a little more than you think you'll need. The reason for this is that you can always cut a little off if the tubing is too long, but you can't add any if it's too short. My first mistake is that when I was cutting the tubing that went from my GPU back to the reservoir, it was just long enough. I had forgotten that I needed extra tubing so that I could pull out the reservoir to fill it. This was a rookie mistake, but it was easily fixed by removing the tubing and replacing it with a longer section. I also learned just how hard it was to remove tubing that is just slightly smaller than the barbs you're using. I had to actually cut the tubing to remove it. There was no way that I could just pull it off of the barb. This let me know that I didn't need the included clamps. This tubing was going to be secure simply because it was smaller than the barbs. This tubing didn't fit very easily over the barbs either, to be honest with you. It was quite a pain to get it to fit over the barbs. This was especially true with the barbs that I had on my radiator. I had placed my radiator at the top of my case and the fans actually sit under the plastic cover of my HAF X. I used a pull configuration so that all three fans are drawing air directly onto the radiator and then into the case.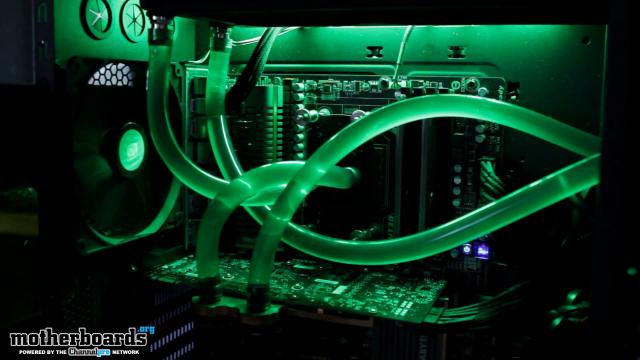 With all of the tubing installed I then placed paper towels all over the inside of my case and proceeded to fill my loop. With this type of a kit you will need to use the pump to force the water through the loop. Conveniently, this kit does come with a power supply adapter that allows you to jump your power supply to power just the pump. At this point I used the included adapter and then began to slowly add distilled water to my reservoir. I continued to do this until I noticed the tubing getting filled and then the reservoir itself started to fill up. Once I started to notice this I began to tip my case from side to side in order to bleed all of the air out of the loop. This didn't take very long at all to accomplish. This is also a very important step. It can be possible to think that your loop is full, when in fact it still has quite a bit of air in it. If this is ignored you can end up with a situation where you'll find that your hoses are suddenly dry, and your pump has failed due to the fact that it's been sucking on air. These pumps require water to continue working properly. If your loop has a lot of air circulating through it, the first thing it will do is cause your pump to run noisily. The second thing it will do is kill your pump entirely. I don't think I have to explain to you what a bad day you'll have if this happens. Let's put it this way, when you go to turn on your computer you'll either get an immediate shut down, or it won't start at all. This is because your CPU is either overheating, or the overheating has killed it.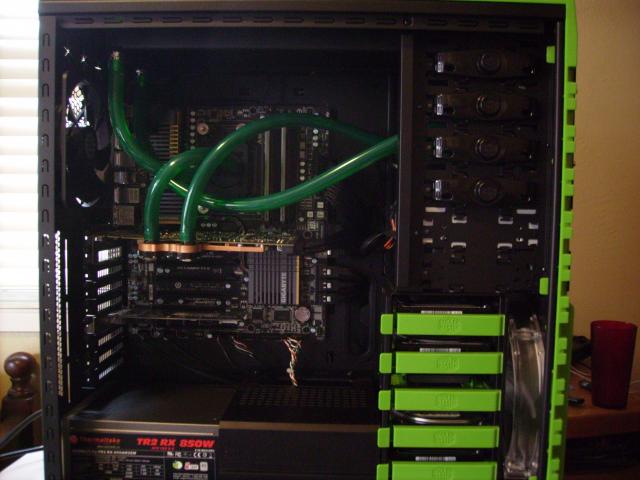 XSPC is a company that is based out of the UK and has been making water cooling units for a few years now. There isn't a lot of information about them on their website, but I know from my own experience that they've been around for at least 3 years or so. This review will be looking at their Rasa 750 RS360 water cooling kit. This unit comes courtesy of Mark over at FrozenCpu.com.
Pages