Table of Contents:
900MHz Engine Clock
1GB GDDR5 memory
1050MHz memory clock
134.4 Gbps memory bandwidth
2 TeraFLOPs compute power
Double slot form factor
TeraScale 2 Unified Processor Architecture
1120 Stream Processors
56 Texture Units
128 Z/Stencil ROP units
32 Color ROP units
PCI Express 2.1 x16 bus interface
Eye-Definition graphics
DirectX 11 support
Shader Model 5.0
DirectCompute 11
Programmable hardware tessellation unit
Accelerated multi-threading
HDR texture compression
Order-independent transparency
OpenGL 4.1 support
Image quality enhancement technology
Up to 24x multi sample and super-sample anti-aliasing modes
Adaptive anti-aliasing
Morphological anti-aliasing
16x angle independent anisotropic texture filtering
128-bit floating point HDR rendering
AMD Eyefinity multi-display technology
Independent resolutions, refresh rates, color controls, and video overlay
display grouping
AMD EyeSpeed visual acceleration
AMD Accelerated Parallel Processing technology (APP)
OpenCL 1.1
DirectCompute 11
Accelerated video encoding, transcoding and upscaling
UVD 3 dedicated video playback accelerator
MPEG-4 AVC/H.264
VC-1
MPEG-2
Multi-View Codec
MPEG-4 part 2
Adobe Flash
Enhanced Video Quality features
Advanced post-processing and scaling
Dynamic contrast enhancement and color correction
Brighter whites processing (Blue Stretch)
Independent video gamma control
Dynamic video range control
Dual-stream HD (1080p) playback support
DXVA 1.0 and 2.0 SUPPORT
AMD HD3D technology
Stereoscopic 3D display/glasses support
Blu-ray 3D support
Stereoscopic 3D gaming
3rd party Stereoscopic 3D middleware software support
AMD CrossfireX Mutli-GPU technology
Dual GPU scaling
Cutting-edge integrated display support
DisplayPort 1.2
max resolution 2560x1600 per display
Multi-Stream Transport
21.6 Gbps bandwidth
High bit-rate audio
HDMI 1.4a with Stereoscopic 3D Frame Packing Format, Deep Color, xvYCC wide gamut support and high support and high bit-rate audio
max resolution 1920x1200
Dual-link DVI with HDCP
Max resolution 2560x1600
VGA
Max resolution 2048x1536
Integrated HD audio controller
output protected high bit rate 7.1 channel surround sound over HDMI or DisplayPort with no additional audio cables required
AMD PowerPlay power management technology
Dynamic power management with low power idle state
Ultra-low power state support for multi-GPU configurations
AMD Catalyst graphics and HD video configuration software
Unified graphics display drivers
Certified for Windows 7, Windows Vista and Windows XP
AMD Catalyst Control Center
Software application and user interface for setup, configuration, and accessing special features of AMD Radeon products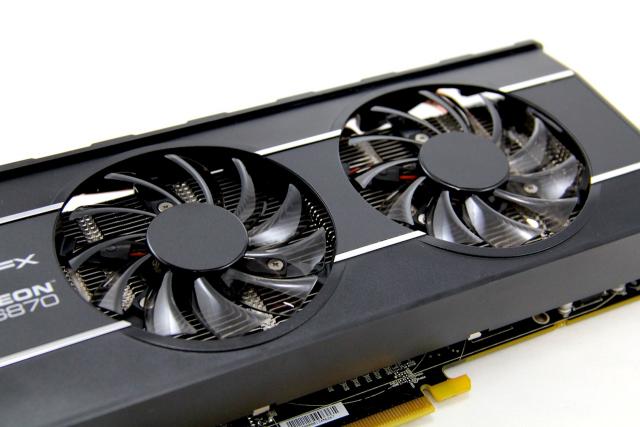 The XFX Radeon HD 6870 1GB card is based upon AMD's Barts architecture which was their 2nd generation DirectX 11 architecture after their HD 5xxx series launched in late 2009.  The Barts architecture is a chip composed of 1.70 billion transistors on TSMC's 40nm fabrication process. The HD 6870 is codenamed Barts XT and is the higher-end of the two cards in the family.
The Barts XT chip has 1120 Stream Processors split into 14 SIMD engines each with 16 SPs capable of doing a 5D operation in a single clock.  The SP can do four simple and one medium operation each clock. You might notice that the 6870 has less SP than a HD 5870 or HD 5850, but that is because the replacement for those cards is the 6970 and 6950, not this card.
The Radeon HD 6870 has a feature called AMD PowerPlay technology. Just as the CPU doesn't need to run at full speed 100% of the time, the graphics card also doesn't need all of the power required under the TDP all of the time. With PowerPlay the HD 6870 only takes a maximum of 19W at idle, compared to the 151W under full load. If you don't need the power you can save a lot on energy costs.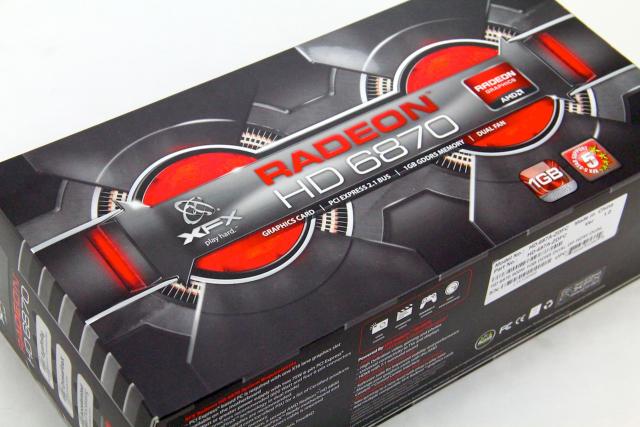 When AMD launched the HD 5870 in 2009, they touted the ability of the card to do 3-monitor gaming on a single card regardless of the cost. They also released an Eyefinity 6 version of the HD 5870 which allowed up to six monitor gaming from a single card but required six mini-DisplayPort connections to use all six monitors. With the launch of the Barts chips, AMD has taken it a step further by allowing up to six monitors to be used with a MST hub.
AMD has supported DirectX 11 since its inception in 2009. DirectX 11 brings solid features like Tessellation support, Multi-threaded support, and support for DirectCompute 11 to AMD's graphics cards. Tessellation breaks up polygons into finer pieces. The easiest way to think about it is if you take a square and cut it across the diagonal, forming two triangles. You haven't actually changed the data but can make coarse models smoother. Once you apply displacement mapping you can come up with much more realistic characters and terrain. A perfect example of Tessellation occurs in HAWX2 where the mountains and valleys all have higher degrees of detail with it enabled (up to 1.5 million polygons/second).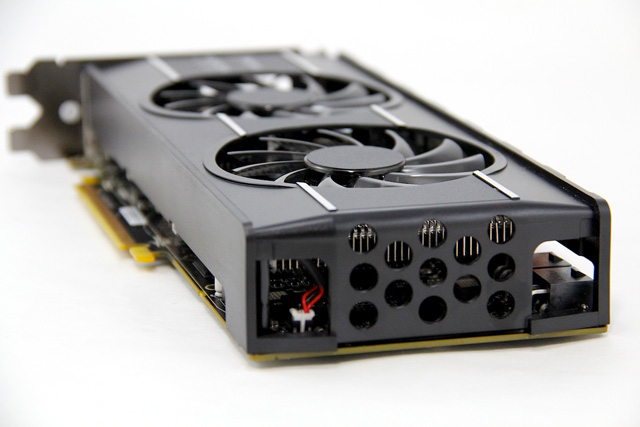 The XFX Dual-Fan HD 6870 is one of the quietest video cards I've seen in a long time. Even at full 100% fan speed the card was subjectively quieter than the reference HD 6870 card was at normal operating speeds.
Pages