Table of Contents:
The XFX Radeon HD 6950 is an interesting card. In terms of performance, the card comes very close to the 6970, as the difference between the two cards is negligible with 22 instead of 24 SIMDs and core/memory clock speeds very close to the HD 6970 reference clocks. In most cases the HD 6950 card has performance within 10-15% of the HD 6970. This card has a MSRP of $309.99 making it into a class of its own. The closest competitor is the GeForce GTX 570, which is $30 more expensive.
The card performs just below the GTX 570 and in some cases faster which is perfect for the product positioning. At the end of the day it comes down to personal preference as both NVIDIA and AMD cards offer great performance at this price point. AMD has the PowerTune technology which dynamically adjusts the power draw from the card to keep within the TDP maximum at all times meaning it will save power over the GTX 570. If you are looking for a high end VGA card and are a fan of the RADEON name, look no further than the new XFX HD 6950 as it has a niche all of its own.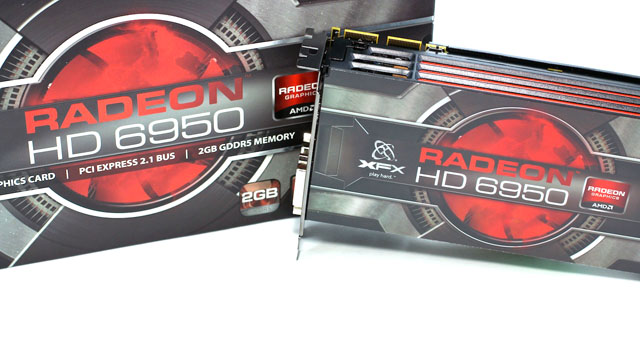 XFX lets loose their all new HD RADEON 6950 a card that is in a class by itself, check out this awesome new video card.
Pages