Table of Contents:
Features and Installation
 At the left side of the case there is a large 220mm, blue LED fan. And it also features a large, meshed window for airflow. The top of the case is where all of your front peripherals will get plugged in. There are 2 USB 2.0 ports, 2 USB 3.0 ports, 2 SATA ports, a Fire Wire port, and your audio ports. You will also find your Power, and Re-set buttons here. At the back there are 8 expansion slots. This is a nice feature if you are planning to run a 4-Way SLI, or Crossfire setup. At the top there are 4 rubber grommets to pass water-cooling tubes through, or your USB 3.0 connectors. There is also an included 120mm exhaust fan. On the right side of the case there is a bulged out panel to manage your power supply cables. It also features a 120mm, blue LED fan. And at the bottom of the case there is a ventilated area to install your power supply with the fan facing downward. The feet on the bottom swing out to give the case added stability, and they feature two rubber pads on each foot. Just by looking at the outside of this case, we can see that it comes with a great deal of nice features.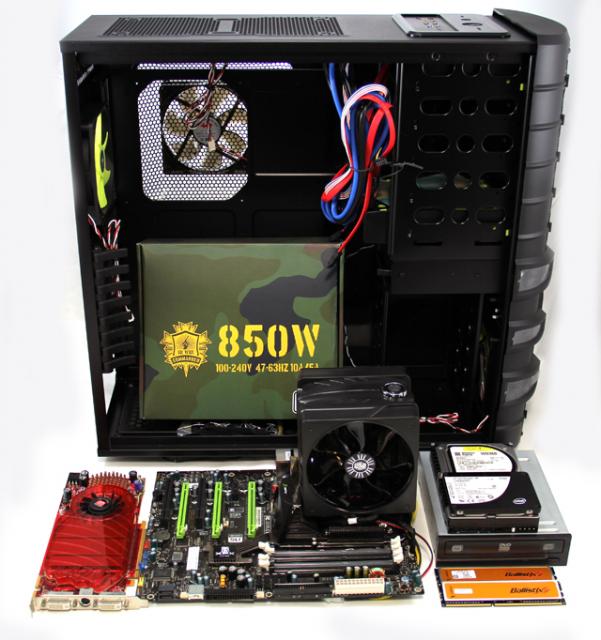 Installing your hardware is a fairly tool less operation. On the expansion slots there is a very nice locking mechanism. This system seems pretty sturdy, and should hold even dual-slot video cards. Cable management has been well thought out as well. All of your cables can be routed behind the motherboard tray. With the way the side panel bulges out there is plenty of room to hide cables, even if you aren't using a modular power supply. Just take your time, and you should end up with a very clean looking case. There is also a large cutout for installing your after-market coolers, without having to remove your motherboard. On the top of the case you have the option of removing the 120mm fan, and installing a dual 120mm radiator. With the large interior, even the most complex water-cooling systems can be installed. Under the area where the power supply gets installed, there is a fan filter. This is a nice feature, but I would have preferred if this filter were on the outside. You're front drive-bay covers are easy to remove. There are five external 5.25" drive bays, six internal 3.5" drive bays, one 2.5" drive bay, and an included 5.25" to 3.5" adapter. This chassis has ample cooling, and can accommodate a total of eleven 120mm fans. With the large side fan, there is an issue with installing some of the larger processor heat-sinks. Noctua's NH-D14, for example, would require the side fan to be removed. This is something to keep in mind.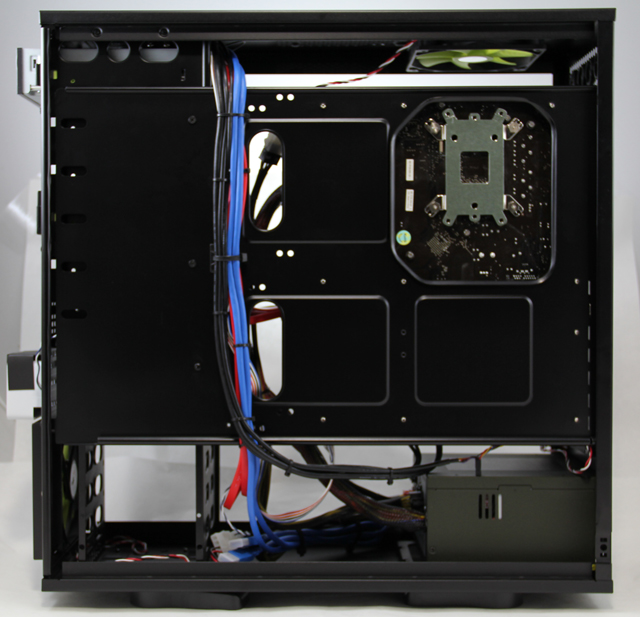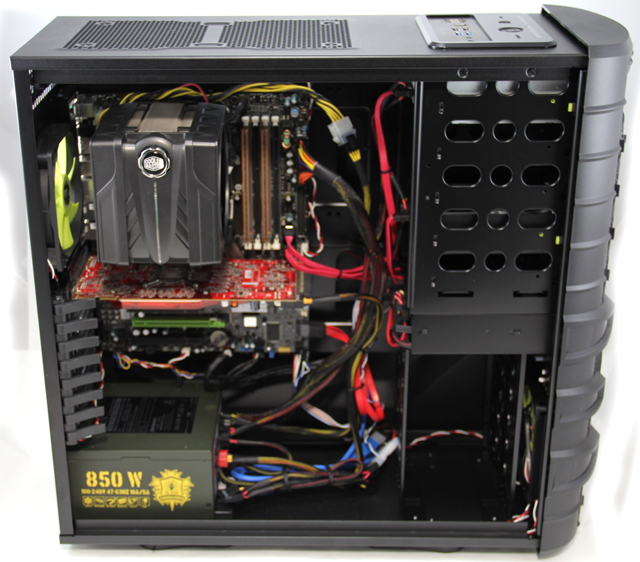 This case is almost entirely tool-less. And it does have some good cable management features as well. The real question is whether or not the provided features are enough to overlook its issues?
Pages