Table of Contents:
So you want to set up a Macro? This is an easy process with the Thermaltake Challenger Pro keyboard. First step is to bring up the Graphical User Interface by hitting the icon either on your desktop or on your taskbar. This brings up the application for the keyboard. Hit the appropriate Profile button (1-4), hit the appropriate T button on the UI, and a keyboard button to activate it and you reach the dropdown menu. Note that this keyboard has 10 Macro keys, which you can program to do various things with the UI.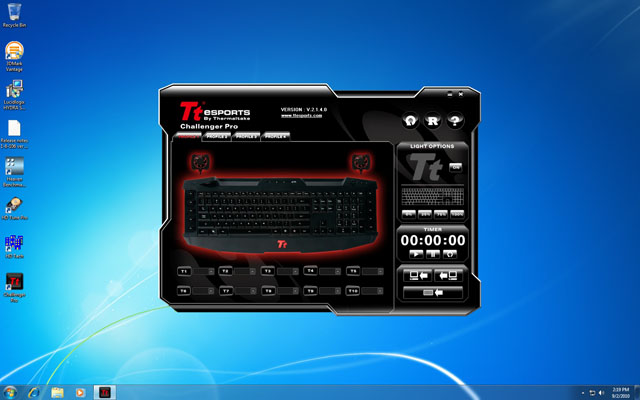 The dropdown menu consists of a series of commands you can choose from including Macros, Cut, Copy, Paste, Undo, All, Find, New, Print, Save and Launch. These are pretty self-explanatory. Selecting the Macro key brings up the Macro Key setup window. The top left hand corner has the macro key the gamer is programming. The menu below that shows what keys will be pressed when the Macro is executed.
There are a series of buttons below that. The buttons are: Record, Stop, Delete, Up, Down, Repeat, Load and save. Setting up a macro from here is easy simply hit record, and press the buttons you want the macro to execute when the macro button is pressed.  The record button starts the recording of the keystrokes of the Macro. Once the Macro is fully executed the next button is stop, which will stop the Macro recording.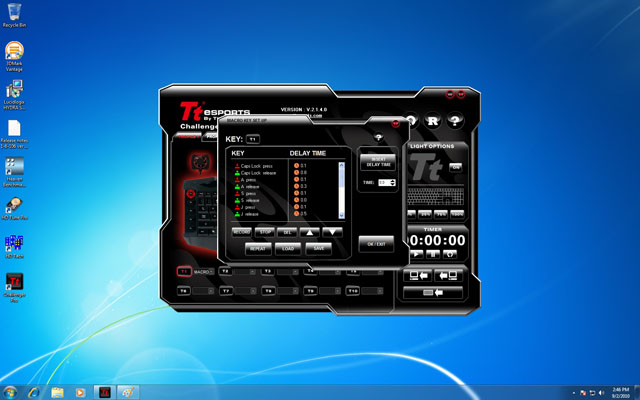 The keys seem to have a natural feel to them. Some keyboards have a light touch to them that require a slight press but this keyboard requires a little more force to press a key.  In practice the Tt eSports Challenger Pro keyboard was easy to use as a general-purpose keyboard just like the Challenger is. Where the keyboard is targeted at, however is at the gamer and here where the extra keycaps come in.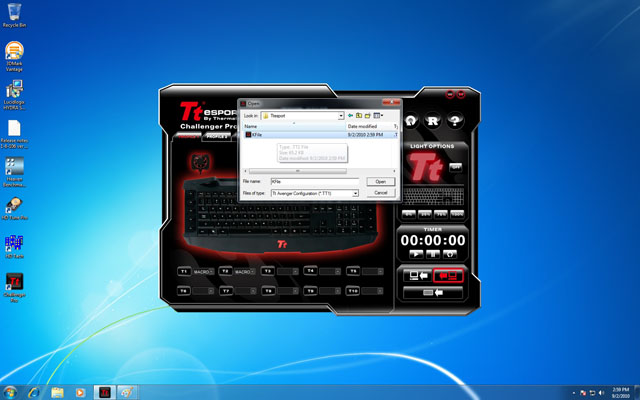 One of the cool features is the detachable WASD and Directional arrow keys. For those gamers that are left-handed or invert the controls to control a FPS game, this facilitates the process by giving you the choice to see a visual representation of those keys on another position of the keyboard. To remove the keycaps use the remover to remove the cap and lower the keycap into position to insert it. Simply place the keycaps over the keys that you set your game settings to for the WASD or directional arrows and you are done. A simple and elegant solution is to be had in setting up this MACRO.
The Tt eSports Challenger Pro has a MSRP of 89.99, making it a worthy gaming keyboard and worthy of the Hot Product award.
Pages