Table of Contents:
•            Thermaltake Tt eSports Challenger Pro Gaming keyboard
•            Driver CD
•            User Manual
•            8 detachable keycaps
•            Fan
•            Bag for cord
•            Bag for keyboard
•            Bag for keys
Thermaltake has bundled the Challenger Pro keyboard inside a nice long box. The front of the box jas the picture of the keyboard with the Tt logo lit up and the fan installed. The Tt eSports logo is on the upper right hand corner of the box with the name of the keyboard, the Challenger Pro Gaming Keyboard below that. A picture of the keyboard fan positioning, the hand cooling fan, the 10-macro keys and the backlight are below that.
The back of the box has the main features of the keyboard listed in 15 different languages. Opening the front box flap we see the features listed and explained with a description of the UI and the Macro key setup so anyone can set up their new keyboard without difficulty. Opening the box itself, we find that Tt has bundled the keycaps and fan inside a small black cloth bag. Another bag holds the detached cable cord. There is a keycap remover that allows you to remove the keycaps easily also. Finally, Thermaltake has taken the extra step of wrapping the keyboard itself inside a cloth bag. These little touches make this keyboard stand out from the competition.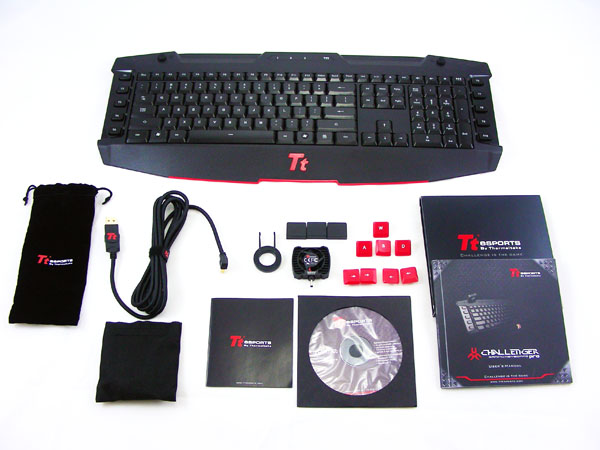 The Tt eSports Challenger Pro has a MSRP of 89.99, making it a worthy gaming keyboard and worthy of the Hot Product award.
Pages