Table of Contents:
•            Red Illumination Back Light
•            2x USB 2.0 ports
•            User Interface
•            Macro Keys
•            Multimedia Keys
•            64KB Onboard memory
•            Onboard profile switch
•            Back Light switch
•            Fan device
•            Windows Dummy keycaps
•            Smart cable management with detachable cable design
•            8 additional removable keycaps
| | |
| --- | --- |
| Interface | USB |
| Operating Systems | Windows 7/Vista/XP |
| Number of Macro keys | 10 |
| Number of Multimedia keys | 6 |
| USB 2.0 ports | 2 |
| Switch lifecycle | 10 millions |
| Cable length | 2m |
| Body dimensions (LxWxH) | 505x195x27mm |
Hand cooling fan specification
| | |
| --- | --- |
| Fan speed | 6000 RPM (+/- 15%) |
| Max airflow | 2.7 CFM |
| Noise level | 21.7dB |
| Rate voltage | DC 5.0V |
| Life expectancy | 50000 Hours |
| Body dimensions (LxWxH) | 30x30x10mm |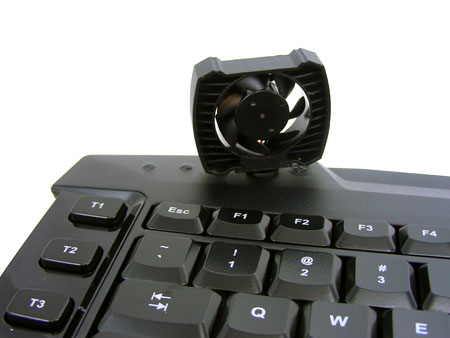 Thermaltake has included a slightly different user interface for their Challenger Pro keyboard from their Challenger UI. The Challenger Pro has 64KB of onboard memory compared to the 32KB on the Challenger. This allows the storing of up to four profiles with up to 10 macro keys or single keys up from the 6 found on the Challenger and 18 profiles stored on that keyboard's 32KB of onboard memory.
There is a small fan attachment for this keyboard. Gamers and professionals who type a lot can get sweaty hands especially if the gaming room gets hot. The small cooling fan can be attached to either of two spots on the keyboard and will keep the hands cool while typing. The fan is a 30mm fan with a 6000-RPM speed. The life expectancy is 50000 hours, which is a little over 5 years.
The keyboard has a series of multimedia keys to play back movies and other media content. There is also a profile switch, which allows you to change the profiles from the one your keyboard is currently set to. Next to that is the onboard backlight switch that allows you to set the backlight level. One issue with modern keyboards is accidentally pressing the Windows key will exit the game, this board comes with windows dummy keycaps to remove that issue.
Thermaltake went the extra mile with the cable on this keyboard. The cable is detachable; meaning that storing the cable is easy when it's not in use. There is also a guide for the cable to hold part of the keyboard cable in place.  The last feature is definitely not the least. There are 8 detachable removable keycaps for directional arrows, meaning you can change the positioning of the keys for WASD and directional keys to a different set of keys in game and use the keyboard caps to cover those keys.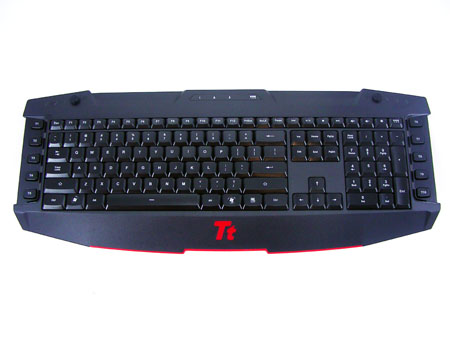 The Tt eSports Challenger Pro has a MSRP of 89.99, making it a worthy gaming keyboard and worthy of the Hot Product award.
Pages