Table of Contents:
I think the Thecus interface for the N5200XXX model is the exact same as the N4200PRO model. You have your usual system information tab that shows you everything you need to know about your model. And then it breaks down into other various tabs that will help you setup the NAS device to handle any job you need. It helps with RAID configurations, Space Allocations, Server setups, Disk information, users, schedules and others.
I have always enjoyed the benefit of having a schedule that I can program into the Thecus models. It's a great way to save energy and just run the unit when you know you will be using it. There is no reason to keep a NAS server up all night if you don't need it to be and Thecus has provided a way to manage that. Also, the RAID configuration was fast and simple. I used RAID 5 with 5 x 1 TB Hard Drives during testing however I could have also configured it to RAID 6 as well. As mentioned earlier in the specifications, this N5200XXX model supports RAID 0 through RAID 10 just like other Thecus Products.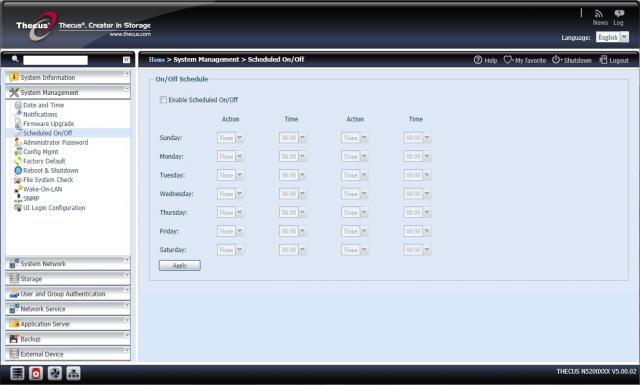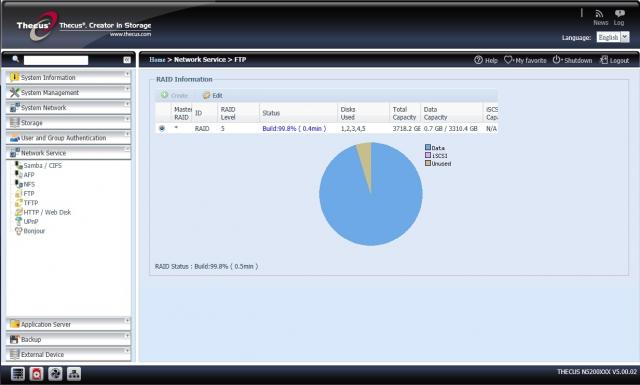 Thecus is one of the biggest companies for NAS units and they create some great products at competitive prices. This N5200XXX is one of their more recent units that comes equipped with 5 hard drive bays that can each store 3 TB hard drives.
Pages