Table of Contents:
Swiftech Polaris 120 Review - Final Thougts
Now that we have had a good look at the new Swiftech Polaris 120 heatsink and CPU cooler, let's wrap up this review.
To give you the positive aspects of the Polaris 120, it is important to keep in mind what it costs. The Polaris 120 is a CPU cooler with a price tag around 60 bucks. This falls into the medium price-point range for this type of cooler, appealing to both the heavy and the average user.
The Swiftech Polaris 120 will easily outperform your stock Intel or AMD CPU cooler. It also will fit into most towers, although it will interfere with some side panel fans. I recommend you check your clearance first before purchasing a third-party heatsink and fan assembly of any kind. After all, it really sucks to purchase something like this and find out it doesn't fit. Trust me, I've been there myself.
The included thermal paste is adequate, but I'm an Arctic Silver user. Swapping out the Polaris 120's included thermal paste for Arctic Silver will net you temps a degree or two lower. Just for your information, the included thermal paste does have a silver content of 25%, which isn't bad at all.
My only complaints are the initial installation problems I encountered in understanding the manual's explanation for Intel installs, but Swiftech fixed the manual after being told about it. Since that issues is resolved, it's now a moot point. The installation is a little straighter forward with an AMD socket. I would like to see full color pictures in the future. I realize that this might increase the cost of this unit by a few bucks though. This is just my suggestion to make the installation a little easier to understand. I think it would also go a long way to make the product seem a little more professional. At least the box itself looks really good and professional.
I found that the included hardware was of very good quality. It's true that once the Polaris 120 is installed it's in there for good. Iif you aren't too worried about taking your time to do the install right then it really isn't such a big deal. I'm the kind of person that is always changing out the cooling system on PC. If you're like me, it's nice to have something easy to install.
In retrospect, the Swiftech Polaris 120 just takes some extra time to install properly unless you can remove the motherboard completely. Even if you have a case with a large cut-out for CPU cooler, you will find the space requirements will make it difficult to install it. My recommendation is to simply take your time and read the instructions carefully. If you have any questions just go to Swiftech's website and look at their PDF file. It's very clearly laid out there. This is what I had to do, and I know I'm not the sharpest tool in the shed at times, either. The included hardware will keep this nice and snug for the life of the product.
In summary, the Swiftech Polaris 120 does perform very well for its price point. If you were in the market for a mid-range cooler, I would consider this an excellent product for the price. Just make sure you have ample free time to install it properly. As a final perk, The Polaris 120 does look pretty nice once it's installed, too.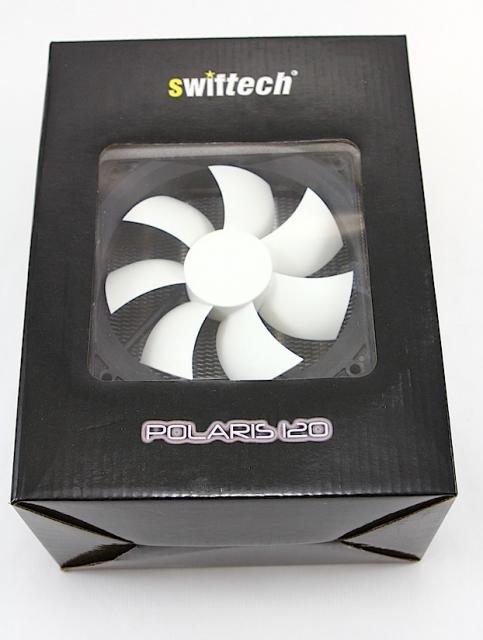 At $60.00, the Swiftech Polaris 120 does a good job for a mid range cooler and has the flexibility to work on almost any socket, be it AMD or Intel.
Pages