Table of Contents: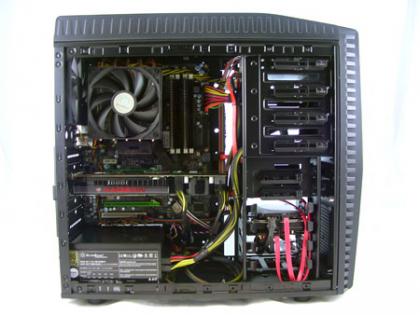 Building the system is always an important part of the reviewing of a case. The motherboard installation is easy as the risers are part of the case itself, not requiring more standoffs on an ATX motherboard. A M-ATX motherboard would make use of the included two extra stand-offs and screws to mount them in the appropriate place.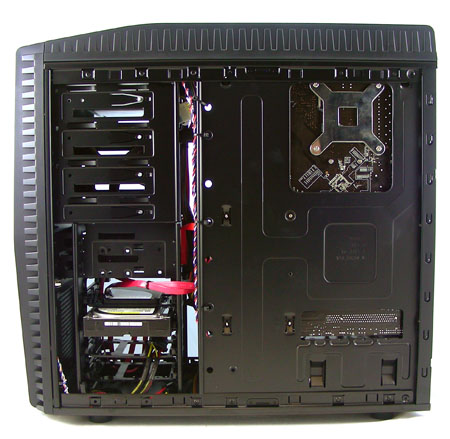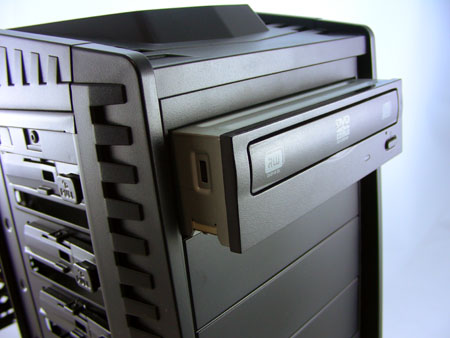 Installation of a 5.25" drive couldn't be easier. The front pulls off with a slight tug. Remove a cover and slide the drive into place. The lock for the drive locks in place as it is pushed in. The 3.5" drive bays also are installed with a slide lock. There are four hard drive racks, which have tabs to pull the drives out and in. To install an HDD simply pull out the screw locks slide the drive into place and replace the lock. After sliding the rack into the bay the HDD is installed.  The PSU is mounted on the bottom and there is plenty of room for a regular PSII PSU.
The SilverStone PS05 Precision Series case is an excellent purchase at $39.99. Installation was easy as pie to do, and the tool-less design worked wonders.
Pages