Table of Contents: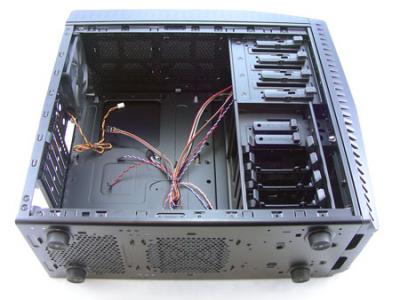 Opening the case up requires removing four screws holding the sides in place. One especially nice touch is the inside of the case is painted black like the outside.  This is where the lack of a window becomes missing, but again not important in the final analysis.  The motherboard tray is fitted to mount either a Micro ATX or ATX motherboard.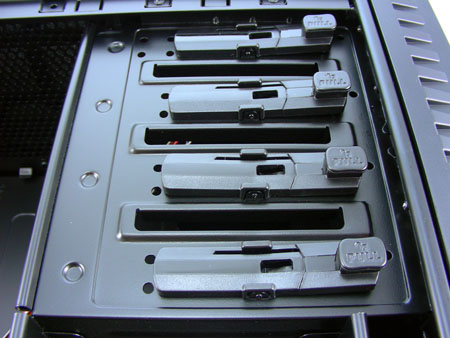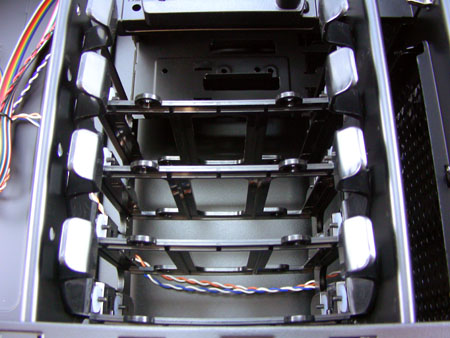 The motherboard tray has a nice large hole where the CPU cooler would be mounted on the motherboard.  This allows the user to remove the CPU and CPU cooler without removing the motherboard from the tray. The top of the case has the two grills for 120mm fans and a removable dust filter allowing you to clean the filters.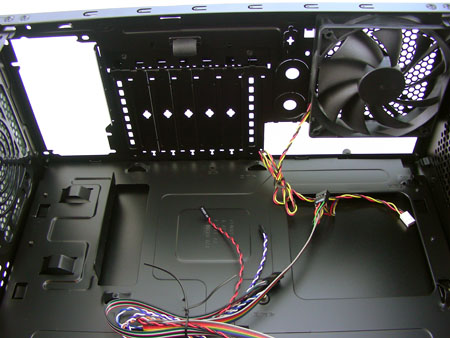 There are four 5.25" drive bays, two bays for FDDs or Zip drives and four bays for the Hard Drives or SSD drives. The HDD bays have a nice feature in that they have holes for SSD drives if you have them so you can easily mount 2.5" drives on the HDD racks which is a definite plus on a mainstream case.  The drive bays are tool-less unless you have SSD drives. The HDD bays have racks that have screws built in simply slide the HDD into the screws and you are done. The 5.25" drives are also tool-less with locks that lock once the drive slides in. To unlock the 5.25" bays just pull the tab in the front.  The 3.5" drive bays use a slide lock with a release button.  There are two holes for water-cooling if you wish above the expansion slots.
The SilverStone PS05 Precision Series case is an excellent purchase at $39.99. Installation was easy as pie to do, and the tool-less design worked wonders.
Pages