Table of Contents:
Now let's take a look at the features of this beautiful case from our friends at Silverstone. As we open the side panel and take a look, we can instantly see that this going to be very different from most other Micro ATX cases. The design of this case has been very well thought out. The 90-degree motherboard layout is a very prominent feature of the FT03. This case can accommodate a standard ATX power supply, and it mounts at the bottom to allow for better heat dissipation.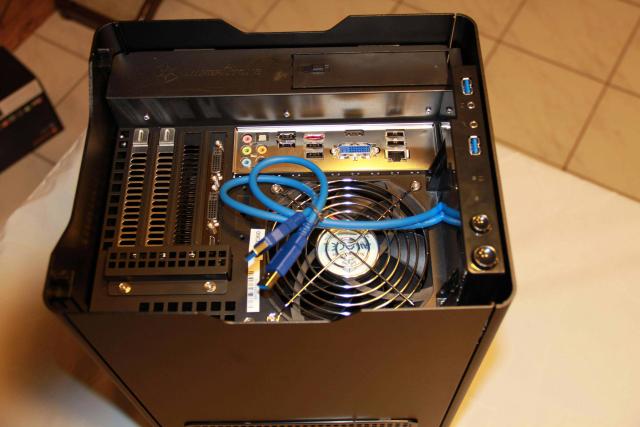 Thermal properties are a major feature of this case, and I think we will probably see more designs like this in the future. It only features 1 single, slot-loading, slim, optical drive bay. Three internal 3.5" drive bays, and 1 internal 2.5" drive bay. The case can also accommodate video cards up to 13.77 inches in length. For a case of this size and form factor this is really impressive. Don't let the size of this case fool you. There is actually quite a bit of room to work in for a Micro ATX case.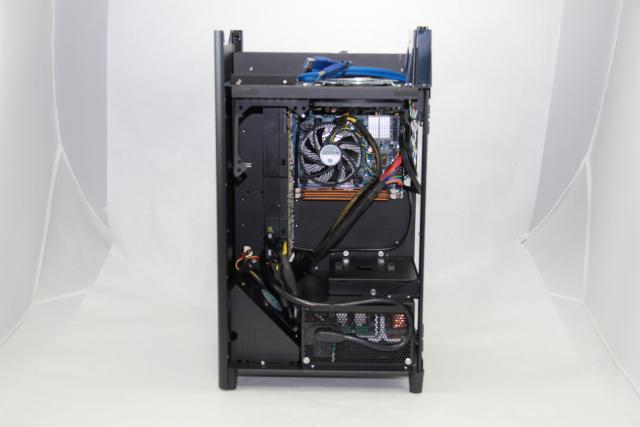 This case does have its limitations. The CPU cooler is limited to 167mm in height and the power supply is limited to 180mm in depth. These are definitely things to keep in mind when you are considering your hardware. The top features a hot-swap hard drive bay. The top I/O ports feature 2 USB 3.0 ports, 1 Headphone and 1 Microphone port. The cooling inside this case is handled by 1 120mm exhaust fan at the top (1200rpm, @ 22dBA) and 2 120mm intake bottom fans. The case stands 19.17" tall, it is 11.18" long, and 9.25" deep. It weighs just less than 15 pounds without any hardware installed, and because of its unique design, there are no noticeable cables on any of its four sides.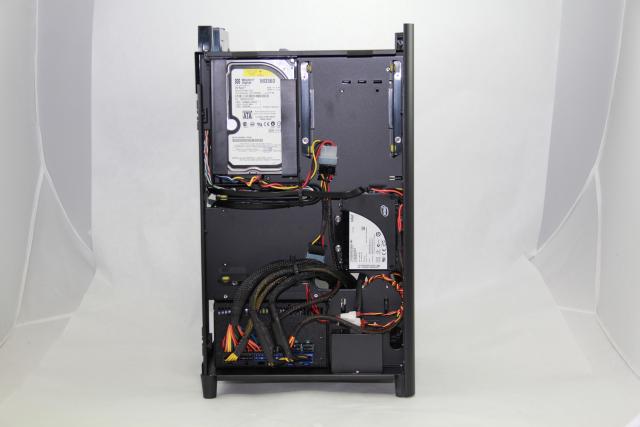 Now let's take a look at cable management once all the hardware is installed. Installation itself can be accomplished with just a standard screwdriver, and assembly itself isn't much different than any other Micro ATX case. Again, we find that this case has some very nice design features. If you take your time with this case, most of your cables can be neatly hidden away behind the motherboard tray. I highly recommend a modular power supply with this case. If you plan to use a standard PSU, keep in mind that it may take some extra time and effort to hide all of your unused cables. The only cables that will prove difficult to hide will be the 20/24 pin motherboard power cable, and your video card cables, if you are using a card that requires its own power. This case has pass through wholes at the top for your USB 3.0 connectors as well. The overall layout of this case is exactly what I would expect from the Silver Stone team. Innovation and aesthetics are abundant in the FT03.
The paint finish is superb and the edges are all nicely rounded to prevent you from cutting yourself while installing hardware. The I/O shield being on the top is convenient for installing all of your peripherals. The top of the case also
Pages