Table of Contents:
•            USB to Mini USB Cable
•            USB to External SATA cable
•            Power Supply
•            Stand
•            Manual
•            SilverStone SST DS221 drive
The drive enclosure comes in a black box with the SilverStone logo on the top left hand corner. On the bottom of the log is the device usage: External 2.5" HDD dual bay RAID enclosure along with the features of the enclosure listed next to a picture of the enclosure. The model number and Silverstone's website link is on the bottom right hand corner of the box.
The back of the box has a list of the main features of the unit along with the specifications of the unit in a chart. Side and front views of the drive are present here as well. Opening the box we find that SilverStone has provided us with both the external SATA cable and a USB cable along with the Power cable for the unit. A Stand is included as well as the manual and the drive itself.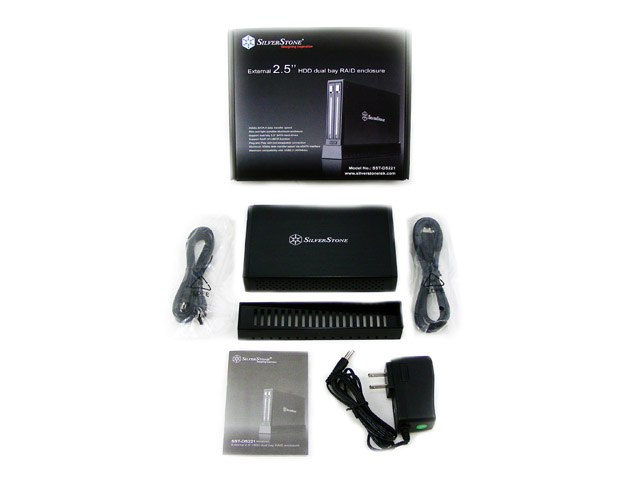 Looking for an external enclosure for your 2.5'' drives? Check out the SilverStone Dual Bay RAID Device DS221, it may be just what you need.
Pages