Table of Contents:
In many respects, the Sapphire HD 6970 should be considered a competitor to the GTX 570 and it does a good job of doing that as performance is just a little ahead of that card in most respects.  It is released at 880MHz for the core and 5.5GHz for the memory, or the reference default clocks. Sapphire includes the game Battlefield Bad Company 2 Vietnam, which will be released in the next week or two, making it a great add on to this product.
Everything hinges on the price, which should retail for $399.99 or a little above the GTX 570. AMD should have plenty of stock and the price should fall into line with the performance. The HD 6970 is a new chip with VLIW 4 instead of the 5-way of previous generations and has new features like PowerTune which is especially useful for those worried about power consumption from their systems.  and Enhanced Quality Anti-aliasing for better image quality For now the fastest single-chip card remains the GTX 580 and at the end of the day it comes down to preference and budget as it always does. Sapphire gets an Editor's Choice Award based upon the outstanding game bundle and the performance of the HD 6970. Plus a briefcase for the card box is just a cool thing altogether.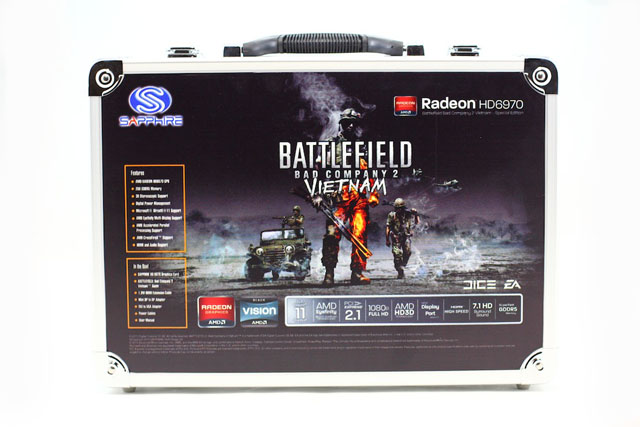 Sapphire busts out of the gate with an exclusive Bad Company 2 Vietnam Edition RADEON HD 6970 that is going to fly off the shelves this holiday season!
Pages