Table of Contents:
The HD 5770 FleX Edition card has a standard heatpipe/heatsink/fan design found on many of the Sapphire HD cards on the market. The fan is in the center of the card above where the graphics chip is and has 9 fins. The heatsink has the Radeon HD 5770 logo, a FleX edtion logo, the ATI Radeon Premium Graphics logo and the Sapphire logo.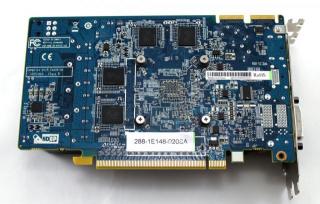 The  back of the PCB has  the four mounting screws for the graphics chip. There are four memory chips surrounding the graphics chip, giving a 128-bit memory bus. The card is clocked at 850MHz with 1200MHz memory clock. The memory bandwidth on the HD 5770 is 76.8GB/second which corresponds with the clock speeds of the reference card.
The card requires a 6-pin power connector to provide extra power beyond the PCI Express bus provides. The card also supports up to four-way CrossfireX, allowing up to four cards to be connected via Crossfire bridge cable to improve performance in games. the Crossfire bridge is located on the top forward area of the card.

The I/O on the card is interesting as mentioned several times in the review already. There is a Single Link DVI connection supporting up to 1920x1200@60Hz, a Dual-Link DVI connection supporting 2560x1600, a HDMI port supporting 1920x1200 and a Display Port connection supporting 2560x1600. This allows up to four 1920x1200 monitors to be connected at one time to the card.
Sapphire once again scores a hit with their new ATI Radeon 5770 Flex, a 1GB gaming solution aimed at the mid level gamer and priced quite right!
Pages