Table of Contents:
·       Sapphire HD 5770 FleX Card
·       HDMI to DVI adapter
·       DVI to VGA adapter
·       CrossfireX bridge
·       6-pin to 4-pin Molex adapter
Sapphire bundles the Radeon HD 5770 FleX edition card inside a black box with the Sapphire logo on the top left side of the front of the box. There is a female character to the right of the Sapphire logo reminiscent of Ruby. To the right of Ruby is an explanation of what the FleX Edition is all about, three monitor gaming without the DP or four monitors with DP.
The back of the box has the Product Highlights and a list of the awards that Sapphire has won from various websites. There is a brief breakdown of the various technologies that the HD 5770 card supports and a sticker saying the box was made out of 100% recyclable paper.  One side of the box has the system requirements and the contents.
Opening  the box, we see that Sapphire has put a cardboard tray with the graphics card, the accessories on the side tray, the Driver CD and User Guide on top. The card itself is packaged in the usual anti-static bag. The card also comes with a card for Sapphire Select Gold membership which you automatically are a part of as a purchaser of this card. This gives warranty service and free promotions on games or DriveCleaner.
Ok lets talk a bit about the FleX technology in action. Normally, a HD 5770 card has two Dual-Link DVI, and a Display Port connector for monitors. Two-monitor setup is easy, simply attach the monitor cables to the appropriate connection and you are set up hardware wise. You can either clone the screen on two monitors or stretch it to the two monitors' resolution, for example 3840x1200 (2 1920x1200 monitors). You can also install a third monitor with the use of the DisplayPort adapter.
With the FleX Edition card you get more choices. You can either install three monitors via the Dual-Link DVI+Single Link DVI+ HDMI connections, or four monitors if you use a DisplayPort monitor. You can also do 2x2 display resolutions which is up to 3840x2400 with four 1920x1200 monitors. The interesting thing about the FleX technology is you have the choice which you would not have on any other card from the ATI side of things without a DisplayPort adapter.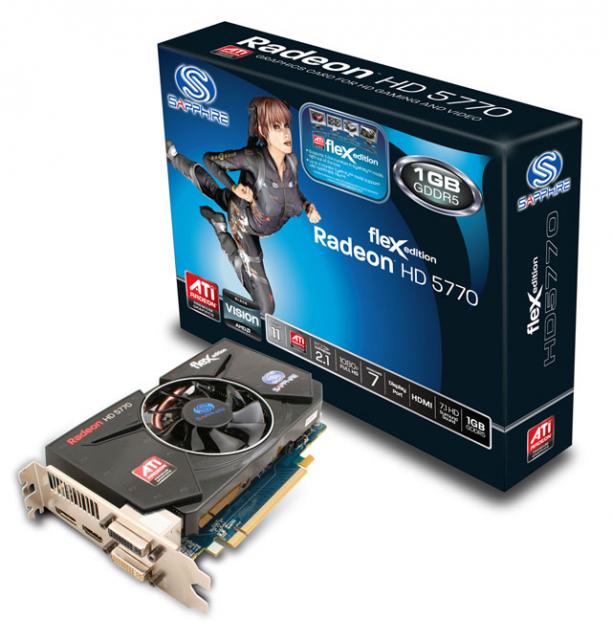 Sapphire once again scores a hit with their new ATI Radeon 5770 Flex, a 1GB gaming solution aimed at the mid level gamer and priced quite right!
Pages