Table of Contents:
•            MSI N470GTX Twin Frozr II card
•            DVI to VGA adapter
•            mini-HDMI to HDMI adapter
•            HDMI to DVI adapter
•            Two 6-pin power adapters
•            Driver DVD
•            Quick User's Guide
•            Manual
MSI bundles their card inside a long black box. The MSI logo is on the top left hand corner of the box along with the 3 year warranty sticker.  To the left of the MSI logo is the Military Class logo along with the MSI Afterburner logo and NVIDIA logos for the various main features of the GTX 470 card. Below the 3 year warranty logo is the card in all its glory.
Lifting the front lid we find that MSI has given descriptions of their specific features. There are also awards here that various websites have given MSI cards in the past. The back of the box has the features of the GeForce GTX 470 card and the minimum system requirements. To the right of that is a listing of the card features in a wide variety of languages.
Opening the box we find that the card is on the upper portion of the box while the driver DVD and accessories are below that. MSI provides us with a HDMI to DVI adapter, a mini-HDMI to HDMI adapter and a VGA adapter to connect various types of monitors to the computer. Also included are two 6-pins to Molex power adapters in case your power supply doesn't support those connectors.
MSI offers the Riva tuner based Afterburner software for overclocking the video card. The card was able to overclock to over 700MHz which is a remarkable achievement considering it comes clocked at 607MHz for the core by default. MSI's cooling solution is top notch to allow such a high overclock over the standard clock speeds stable.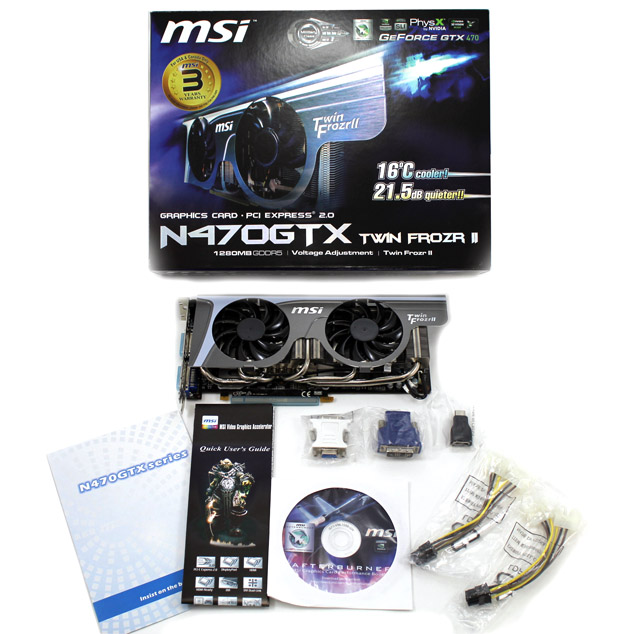 MSI unleashes their latest video card the all new N470GTX TWIN FROZR II, it runs cooler than most and has very decent overclocking options.
Pages