Table of Contents:
•            448 CUDA cores
•            607MHz Core clock speed
•            1215MHz Shader Clock Speed
•            3348MHz memory clock speed
•            320-bit memory interface
•            GDDR5 memory
•            133.9GB/second memory interface
•            1280MB memory
•            Microsoft DirectX 11 Support
•            NVIDIA 3D Vision Surround Ready
•            Interactive Ray Tracing
•            3-way SLI
•            NVIDIA PhysX
•            NVIDIA CUDA
•            32 anti-aliasing
•            PureVideo
•            PCI Express 2.0 support
•            Dual-link DVI Support
•            HDMI 1.4a support
•            Military Class components
•            Overvoltage
•            Afterburner
•            SuperPipe technology
•            MSI Live Update online
•            HDCP Capable
•            Blu-ray HD-DVD Support
•            MSI Live Update 4
•            MSI Solid capacitors
•            Dual-link DVI
•            HDMI Support
•            Twin Frozr II Thermal design
NVIDIA's GeForce GTX 470 chip is based upon the same design specification as the GTX 480 with 3 billion transistors manufactured on TSMC's 40nm manufacturing process. NVIDIA currently uses the 40nm process node on all of their current video cards. The chip measures about 576 square millimeters and forms the basis of the GTX 470 card.
The GF100 chip on the GTX470 has a maximum of 512 SPs separated into 4 GPCs or Graphics Processing Clusters with 4 Shader Multiprocessors each having 32 SPs. The GTX 470 has two of those SM disabled, meaning that there are 448 SPs enabled on the chip, 64 less than the GTX 580 and 32 less than the GTX 480. It's important to note the chip is virtually the same across all three chips just the number of functional units is different.
The GF100 chip is the first NVIDIA chip to fully support DirectX 11 features including Hardware Tessellation, Shader Model 5.0, DirectCompute and other features. Tessellation is the creation of geometry by subdividing smaller groups of triangles into larger groups of triangles. The GeForce GTX 470 has 14 Tessellation units which improve the performance over single unit cards like the HD 5 series. There are 40 ROPs on the GeForce GTX 470 divided into five groups of 8 ROPs each.
Each ROP group has a 64-bit memory controller tied to it meaning that the GeForce GTX 470 has a 320-bit memory interface. Each memory controller also has 256MB of GDDR5 memory tied to it, meaning the card has 1280MB of memory. The memory is clocked at 837MHz which with the 4x multiplier on DDR5 memory means the card has an effective memory clock speed of 3348MHz or 133.9GB/second of memory bandwidth. MSI's card has a core clock speed of 607MHz which means the Shader clock speed is 1214MHz as Shader clocks are double the Core clock speed on NVIDIA GTX 4 series cards.
MSI has specific features including dual 8CM PWM fans, and a Nickel-plated Copper base. The 80mm fans are similar in size to the single fans found on most graphics cards but with two of them there should be enough airflow to cool the GPU/Memory/Power Module at the same time. There are five heat pipes which are 8mm thick or about 60% thicker than traditional heatpipes with a corresponding increase in cooling. The use of Copper on the base plate helps keep the graphics chip cooler than the traditional metal used on the base.
MSI uses military class components with their N470GTX Twin Frozr II card meaning Hi-C capacitors that provides more precise GPU voltage to the card, Solid State Chokes that have no buzz noise and higher current for better overclocking ability and all solid capacitors for longer lifespan versus the traditional capacitors. The card also supports over voltage when used in combination with Afterburner, MSI's overclocking utility which can increase performance by up to 15%.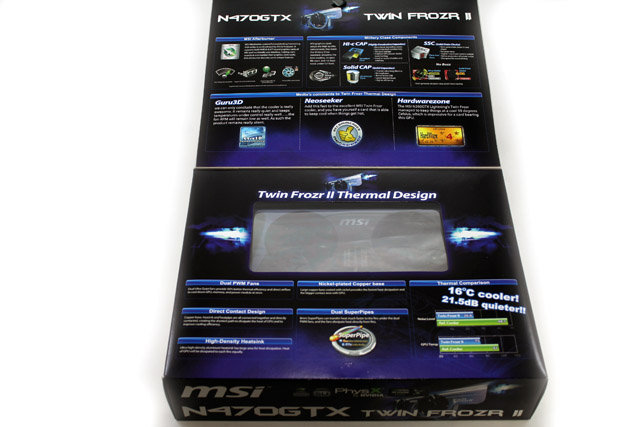 MSI unleashes their latest video card the all new N470GTX TWIN FROZR II, it runs cooler than most and has very decent overclocking options.
Pages