Table of Contents:
The MSI N460GTX Hawk Edition card is one of those outstanding cards that overclocks very well, with clock speeds nearing 1GHz. Considering that the standard GeForce GTX460 has a clock speed of 675MHz, the HAWK nearly overclocks by 50% which is simply amazing. Performance on the card is outstanding for this price point. The card will retail for $249.99, making it one of the better bargains on the market today. Consider that a standard reference 768MB GTX460 card will retail for $199.99, and a 1024MB GTX460 card will retail at $229.99, the HAWK card has a price only $20 more.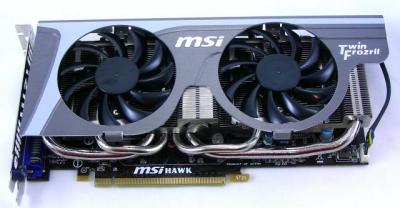 MSI's Afterburner software allows gamers to overclock their graphics chip with 1GHz achievable on certain chips. I was able to reach 950MHz completely stable but 1GHz was usable in a lot of games. Some of the more stressful games could not handle that clock speed even though the temperature never reached above 60C. Of course your mileage may vary. MSI brings military class components, an innovative cooling solution with two fans and a heat pipe, MSI's N460GTX HAWK is an excellent example of its breed. The GeForce GTX460 is based upon NVIDIA's second generation of Fermi chip, the GF104 with fewer SPs but designed to be more for the mainstream consumer with less transistors, lower heat and great performance for the price.
Highly Overclockable and almost as fast as its big brother the GTX460, the new MSI N460GTX HAWK is a smoking gun of a video card!
Pages