Table of Contents: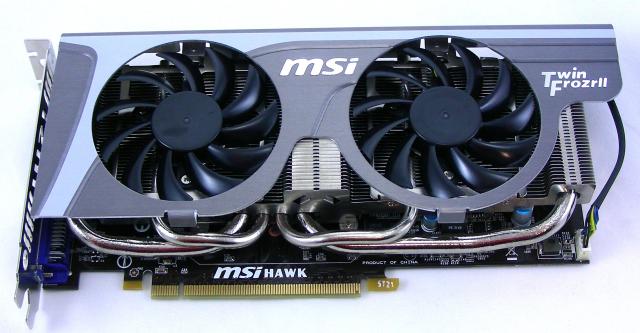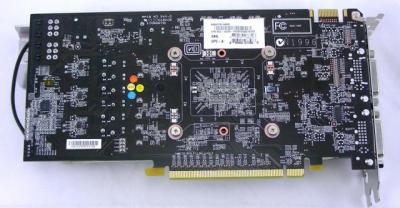 The N460GTX HAWK Edition card has a card length cooler on front of it that is a 2-slot solution. Actually, the cooler is a little longer than the card itself. There are two fans on the cooler, hence the Twin part of the cooler name.  The graphics chip is in contact with a nickel-copper plate that leads out to four heatpipes and a heatsink that runs the length of the card.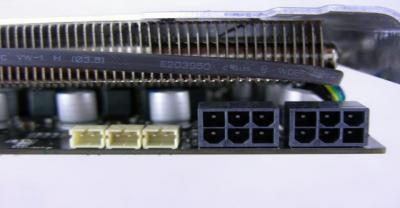 The back of the card has two 6-pin power connectors. Even though the card has the same power connections as other GTX460 cards, the card has a 7+1 Phase PWM providing up to 30 Amps more power to the card without increasing the power connections. There are also three contact points for the voltage monitors on the back of the card. Simply use a multimeter with the voltage leads to read the voltages.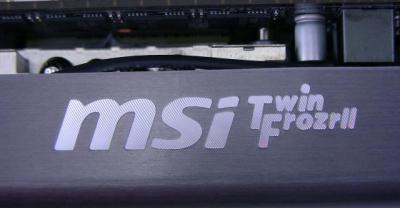 The back of the card has the mounting screws for the N460GTX HAWK card as well as the Part Number and Serial number stickers. There are also six LEDs that indicate the number of active phases just like a motherboard with the same feature.  The top of the card has two SLI bridge connectors to allow the card to work with up to two other GTX 460 cards to improve gaming performance. The I/O on the card is interesting with a mini-HDMI connector and two Dual Link DVI connections present.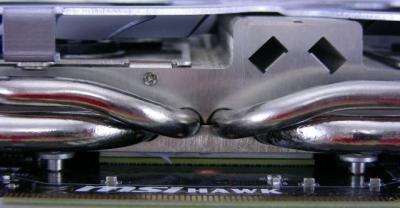 Highly Overclockable and almost as fast as its big brother the GTX460, the new MSI N460GTX HAWK is a smoking gun of a video card!
Pages