Table of Contents:
The Retail Bundle
Driver CD
Mini HDMI to HDMI Dongle
Cables for V-Check Points 3
6-pin power cables 2
Manual
DVI to D-Sub Dongle
MSI bundles the video card inside an attractive black and blue box. If you know aircraft, a picture of the F-117A Night Hawk is on the middle left of the box. The MSI logo is on the upper left hand corner of the box. The right top area of the box contains logos for the various features of the card, including Military Class components, MSI Afterburner overclocking software, SLI and more.
The name of the card and the main features of the chip are in the center of the front of the box. Below that is the caption: "World's First Triple Over-Voltage". The back of the box has a list of the features of the card, the minimum system requirements and the product specifications. The features list is also printed in 30 languages. Opening the box we find that MSI has packaged the card inside a box with a clear cover and an anti-static bag.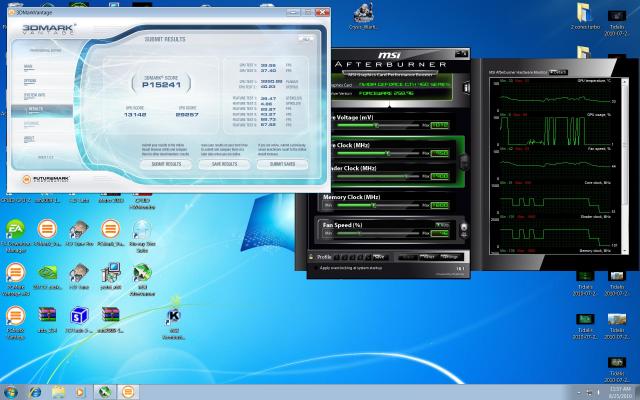 Under that box is the hardware and software bundle for the card. MSI includes the cables to check the voltage at the V-Check points, two 6-pin power cables, a manual, the Driver DVD, a mini-HDMI to HDMI dongle to allow the user to use an HDMI monitor or TV, and a DVI to D-Sub adapter. This bundle is very comprehensive on the hardware side of things. Riva tuner is one of the best graphics card tweaking programs on the market today. MSI in cooperation with the folks at Riva tuner have released MSI Afterburner with their cards to overclock.
The Afterburner interface is very comprehensive and gives the user a lot of ability to tweak their new graphics card.  Afterburner 2.00 allows you to modify the GPU voltage, the memory voltage and the PLL or Aux voltage, the core clock speed, the shader clock speed, and the memory speed. To enable unlocking the voltages you will need to check the option in the Settings menu for Afterburner as it is turned off by default. Using Afterburner I was able to reach 950MHz completely stable on my test bench. Considering the default clock speed of a GTX460 is 675MHz, the nearly 300MHz overclock is pretty good. Temperatures reached a maximum of 64C in stress testing. MSI has reached up to 1GHz under their test labs but every card has different tolerances and a GTX460 running at near 1GHz is still an impressive feat.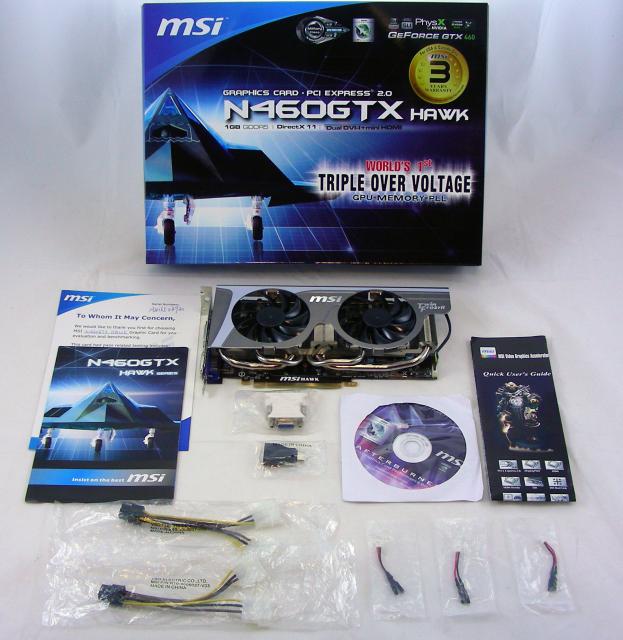 Highly Overclockable and almost as fast as its big brother the GTX460, the new MSI N460GTX HAWK is a smoking gun of a video card!
Pages