Table of Contents:
Logitech Performance Mouse MX: Specifications
Wired with Micro USB to USB cable
Wireless with 2.4 GHz
Logitech Darkfield Laser Tracking
DPI sensitivity switching
Nine Programmable buttons
Unifying Software
Compatible OS

 Microsoft Windows 7, Vista, XP, and Apple MacOS X 10.4 or later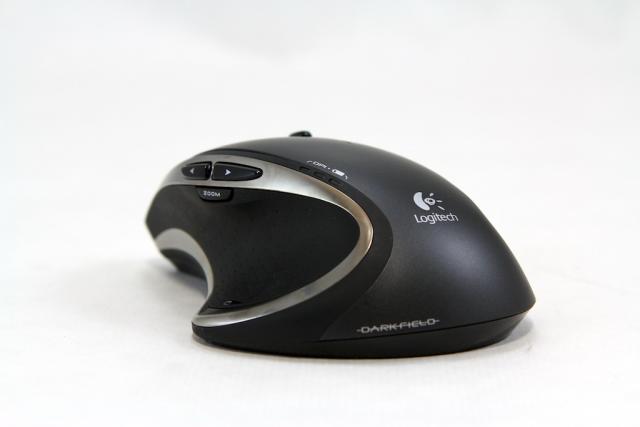 DarkField Laser Tracking
Logitech's Darkfield Laser Tracking is one of the most unique features the Performance Mouse MX offers. This new tracking technology allows it to track on almost any surface. The main terrain Logitech set out to conquer was having the Performance Mouse MX track on a glass table. These days more and more people are opting out for glass tables because it looks great for that ultra-sleek business look, but it is very hard to find a laser mouse that will work well under those conditions. Logitech's Darkfield Laser Tracking lets you glide over any surface with amazing accuracy, slo long as the glass table is at least four millimeters thick. 
Unifying Software
Logitech's Unifying Software is also another great feature they have provided with this mouse. In short, the Performance Mouse MX's nano-receiver can handle multiple devices, like certian Logitech wireless keyboards, so long as they are compatible. This allows you to keep one small nano-receiver in the laptop or desktop at all times that can handle multiple peripherals. With this software, there should be no more hassle of multiple USB receivers plugged into one computer.
Logitech SetPoint Software
Logitech's SetPoint Software has the usual schematic with the picture of the mouse and various settings on the side bar panel. The side bar panel on the left of the window allows the user to select between various mouse settings such as: button settings, pointer and scrolling settings, mouse batteries, game settings, and unifying software. The button setting for programming each button differently is simple and easy to use.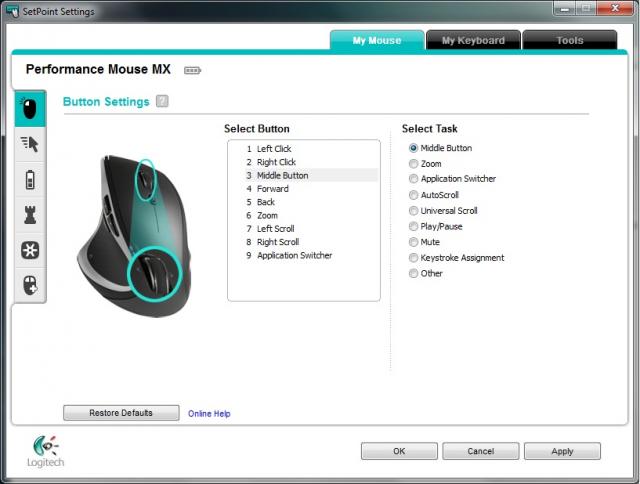 All you have to do is choose which button you want to modify and then adjust it to your preference. What is helpful for me is that the mouse wheel button is specified as the middle button, which is great for programs like Ventrilo, Mumble, or Skype when talking to friends and playing games. You can also program the DPI switcher here which will allow you to change between two levels of DPI from 100 to 1500. The mouse batteries section is not very useful, in my opinion, because there is already a battery indicator on the mouse itself.
Logitech is one the most well-known companies in the peripheral market, historically making great products that are user-friendly, high in performance, and most of all, comfortable. Does their premium Performance Mouse MX stay true to form, or is it a rare miss in the company's portfolio?
Pages