Table of Contents:
Performance Mouse MX Contents
Logitech Performance Mouse MX: Contents
Logitech Performance Mouse MX
Logitech Nano Unifying receiver
Cable storage pouch
Mirco-USB to USB cable
Nano Unifying receiver to USB extension cable
USB Direct Plug-in AC/DC adapter
Installation CD
Quick Start Guide
Tips Guide
Logitech Performance Mouse MX: Aesthetics and Accessories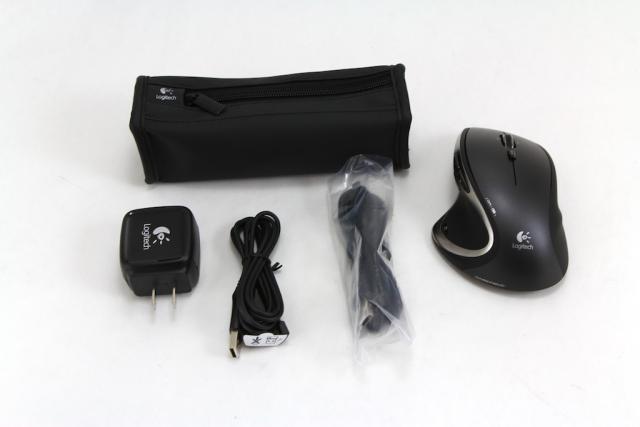 The Performance Mouse MX is one of Logitech's larger mice designs, to say the least. They have always been known to make their full size mice big, bulky, and a bit heavy. The Performance Mouse MX, however, is really comfortable and was not strenuous to my hand over longer periods of use. I will go over the overall performance and comfort of this mouse later on.
The cable storage pouch is great for those on the go because the charger and cables can all fit inside easily. There is no room for the mouse, but it still seems pretty handy and helps keeps things organized.
The installation CD is quick, simple, and easy to install. Also, they have included a quick start guide and tips guide that help users learn about and maximize all the great features the Performance Mouse MX offers.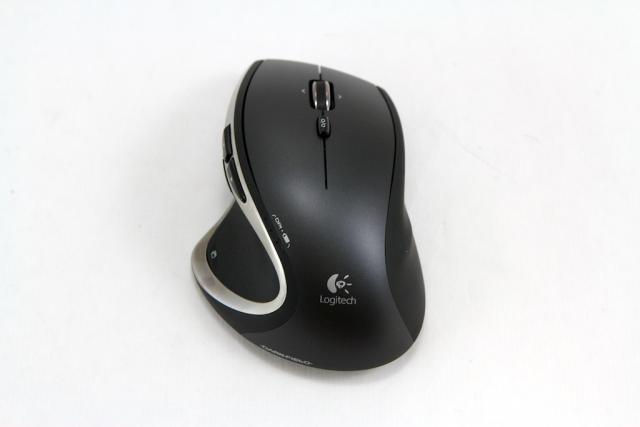 This mouse shows many of the same characteristics of Logitech's MX Revolution mouse. It's much wider than most mice and is made to contour the users hand rather than the opposite. The only downfall to this design is that it is purely made for right-handed people.
Unlike the Revolution MX, Logitech has swapped out the recharging dock in favor of a simple Micro USB to USB cable for juicing the Performance Mouse MX's rechargeable battery. While it first it may seem to be a downgrade, I actually think this approach is better because with just the cable it's is possible to still use the mouse while charging. Waiting for a full charge or overcharging the previous model (MX Revolution) was very common for me.
The battery life on the Performance Mouse MX is pretty standard compared to most casual mice, conking out somewhere around 20 to 25 hours mark. That's is enough time for any user to be on the computer for as long as they wanted. In our earlier review of Gigabyte's Aivia M8600 Wireless Macro Gaming mouse, we saw that they had an unprecedented amount of battery life (50 hours). The battery of Logitech's Performance Mouse MX is definitely not up to par against Gigabyte's; however it is pretty standard for most users that would be looking to buy this mouse.
The Performance Moust MX's scroll wheel has two kinds of scrolling modes as well as side scrolling. The first mode is the "normal" click-to-click scroll wheel setting that lets you scroll down a webpage at a constant rate. The second mode is considered "Hyper-Fast Scrolling" from Logitech, which features an almost frictionless spinning wheel for scrolling down and up. Scrolling up to the top or down to the end of a document or webpage is ridiculously fast in this mode. It makes working with many documents efficient and simple. Also, the side scroll is fast and easy to access on the top of the mouse.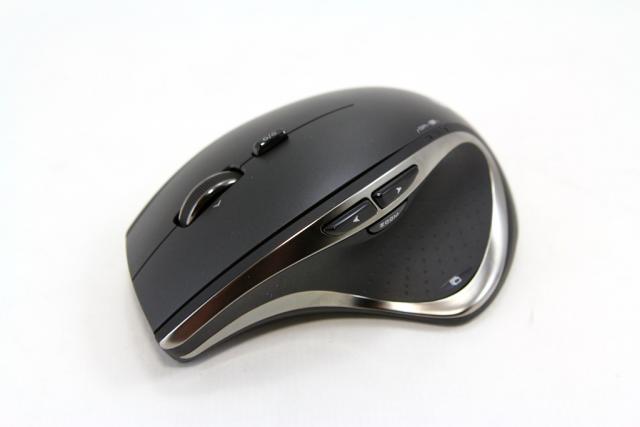 Beyond the wheel, the Performance Mouse MX features four buttons where your thumb resides: back, forward, zoom and an application switcher. The back and forward buttons are a bit high for the thumb which makes it a little uncomfortable. However, I do like the application switcher that Logitech has included because it allows for various applications to be accessed very easily.
Now, that's enough about the aesthetics of this mouse, let's go over the specifications. 
Logitech is one the most well-known companies in the peripheral market, historically making great products that are user-friendly, high in performance, and most of all, comfortable. Does their premium Performance Mouse MX stay true to form, or is it a rare miss in the company's portfolio?
Pages