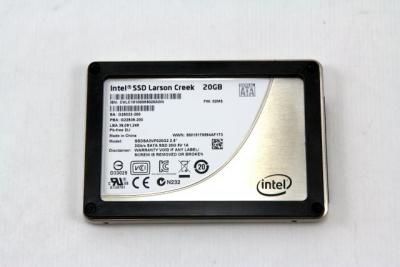 With the release of the new Intel Z68 Chipset we see them also upgrading and advancing their SSD technology with the release of their new 311 series of SSDs that are geared to work in conjunction with Smart Response Technology. The Intel SSD 311 Series combines Intel's 34nm SLC NAND flash memory technology with our innovative high-performance controller to deliver a high- performance, high- endurance solid-state drive (SSD) targeted for solutions that use an SSD as a cache for hard disk drives, such as systems with Intel® Smart Response Technology, or for high- performance embedded solutions.  The Intel SSD 311 Series is available in two form factors: 2.5-inch SATA for traditional SATA designs and mSATA for small form factor designs. These new drives are very fast, very quiet and have almost no heat footprint to really speak of. These drives will be hitting the market at around the $100 range and will work with the Z68 HM67 and QM67 Chipset motherboards that will be available on the market very soon.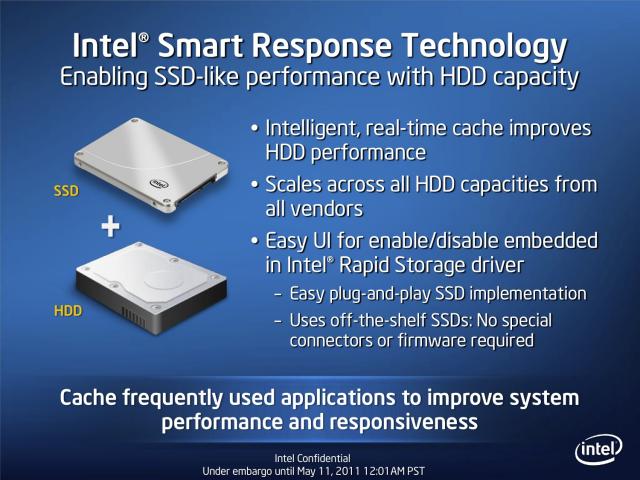 Capacity: 20 GB n Components: Intel® 34nm NAND Flash Memory
Single-Level Cell (SLC) n Form Factors:
— 2.5-inch SATA Thickness: 9.5 mm Weight: up to 88 grams
— Full-sized mSATA Thickness: 3.66 mm Weight: up to 10 grams
Sustained Bandwidth Performance — Sequential Read: Up to 200 MB/s — Sequential Write: Up to 105 MB/s
Read and Write IOPS (Iometer* Queue Depth 32) — Random 4 KB1 Reads: Up to 37,000
IOPS — Random 4 KB Writes:Up to 3,300 IOPS
Latency — Read: 65 ?s (TYP) — Write: 75 ?s (TYP)
Compatibility
— Intel® SSD Toolbox with Intel® SSD Optimizer
— Intel® Rapid Storage Technology
— Intel® Smart Response Technology
— SATA Revision 2.6; compatible with SATA 1.5Gb/s and 3Gb/s interface rates
— ATA/ATAPI-7 — SSD-enhanced S.M.A.R.T. ATA feature set — Native Command Queuing (NCQ)
Command set — Data set management command
Trim attribute
1. 4 KB = 4,096 bytes 2. Device Initiated Power Management (DIPM)-enabled.
Advance Product Specification
Power Management — 5 V (2.5-inch SATA) Supply Rail — 3.3 V (mSATA) Supply Rail — SATA interface power management
Power — Active (MobileMark* 2007 Workload):
150 mW (TYP) — Idle2: 75 mW (TYP)
Temperature — Operating: 0o C to 70o C — Non-Operating: -55o C to 95o C
Shock (operating and non-operating) — 1,500 G/0.5 msec
Vibration — Operating: 2.17 GRMS (5-700 Hz) — Non-operating: 3.13 GRMS (5-800 Hz)
Reliability — Uncorrectable Bit Error Rate (UBER):
1 sector per 1016 bits read — Mean Time Between Failures (MTBF):
1,200,000 hours n Certifications and Declarations
— UL* — CE* — C-Tick* — BSMI* — KCC* — Microsoft* WHQL — VCCI* — SATA-IO*
Product Ecological Compliance — RoHS*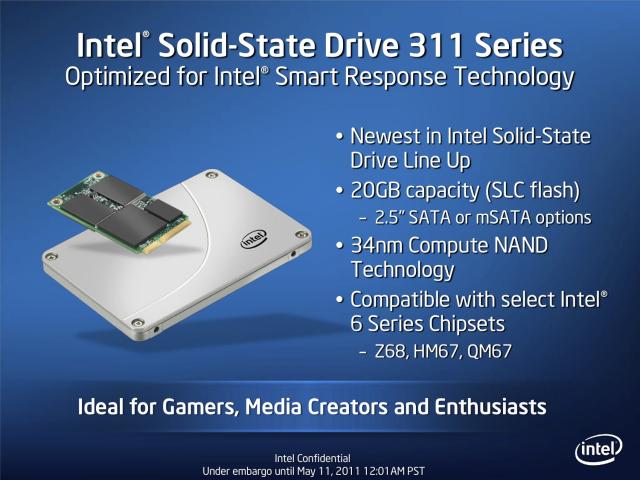 With new technology that touches not only on advanced overclocking, but security as well as excellent graphics I fell Intel has done an excellent job in once again pushing technology forward in a positive direction.
Pages